ADCC 2024 Is Coming
2023 ADCC European Trials Preview: The Biggest Euro Trials Ever?
2023 ADCC European Trials Preview: The Biggest Euro Trials Ever?
A full breakdown of the ADCC's first Trials of the 2024 ADCC season, as the best in Europe compete for their chance at the World Championships.
Sep 11, 2023
by Joe Gilpin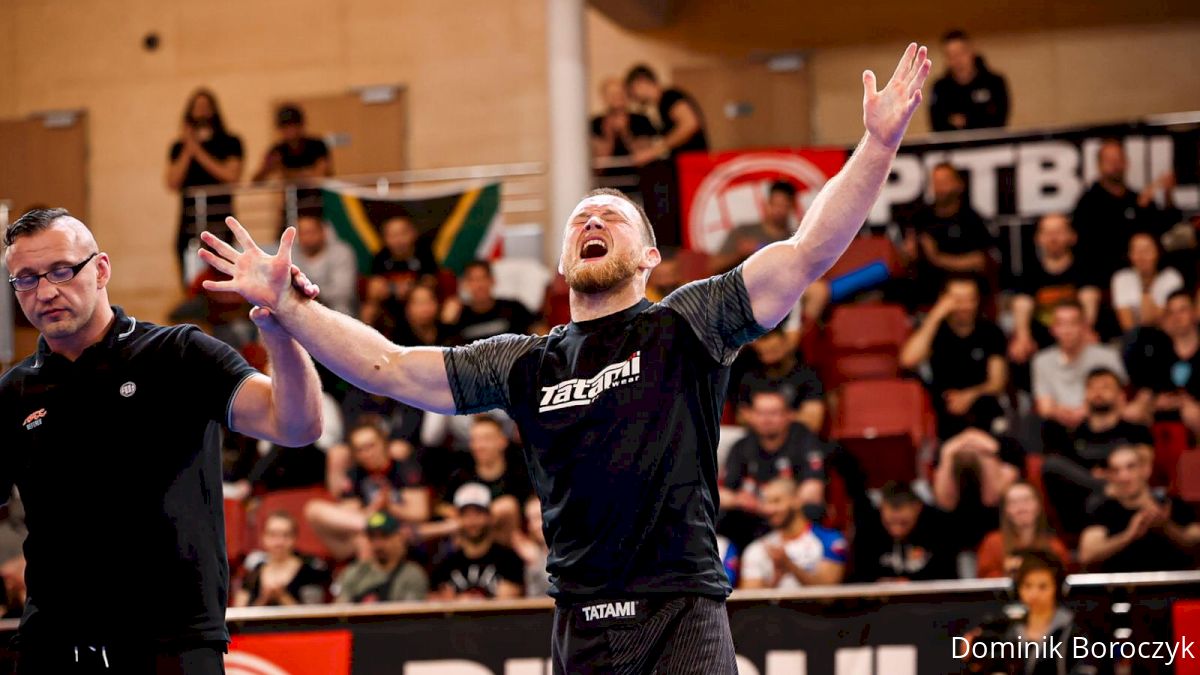 The ADCC World Championships are one year away and the Europe, Middle East, & Africa trials are starting this weekend, kicking off the long road to the toughest grappling tournament on Earth. The best in the region will come together and compete, with the champion of each men's division earning automatic entry to Worlds. Let's take a look at these deep divisions, as this may be the best European trials entries list we have ever seen.
See the full list here, with brackets expected later this week. The action will begin this Saturday, at 3am ET/2am CT, exclusively on FloGrappling.
-66kg
This division will feature both of the Trials winners in the previous cycle, Ash Williams and Sam McNally. Williams lost to eventual champion Baby Shark first round at Worlds, while McNally scored a huge first round upset over Garry Tonon before losing to Josh Cisneros. The darkhorse of the division is B-Team's Robert Diggle, who has plenty of Trials experience and a very well respected leg lock style.
Prediction:
1. Ash Williams 2. Sam McNally 3. Jack Sear 4. Robert Diggle
-77kg
This may be the best division in the tournament, with three top-15 ranked grapplers entered - including previous Trials winners Oliver Taza and Tommy Langaker and World Championships veteran Mateusz Szczecinski. With IBJJF No-Gi Worlds medalist Ellis Younger, B-Team's Jozef Chen, and New Wave junior member Davis Asare, there is a strong mix of new and established faces. Bracket placement will play heavily here, as stylistic matchups will prove a little more important than at other weights.
1. Tommy Langaker 2. Oliver Taza 3. Jozef Chen 4. Mateusz Szczecinski
-88kg
Santeri Lilius will be back to attempt another gold medal Trials run, having won in 2022. Santeri over the weekend took Nicky Ryan to decision at Quintet and has remained on top of the European scene. His recent QUINTET.4 teammate, Jed Hue, has had moments in matches recently with opponents like Fabricio Andrey and Jacob Rodriguez. American-based grapplers Chris Wojcik and Dory Aoun will be darkhorses here to win as well, but Chris usually competes at 170 and Dory is at an experience disadvantage to some in the bracket. Tarik Hopstock is always near the top of the ladder in European grappling and is aiming for his first ADCC Worlds.
1. Dory Aoun 2. Santeri Lilius 3. Chris Wojcik 4. Jed Hue
-99kg
This is another weight where we see two former Trials champions from last cycle, as Luke Griffith and Perttu Tepponen both return to the tournament where they jumped to a new level. Since then, Luke has really jumped levels and seems poised to become a real medal threat at -99. He says his aim is 100% submissions, and it is a real option for the New Wave member.
1. Luke Griffith 2. Declan Moody 3. Perttu Tepponen 4. Thomas Bracher
+99kg
Team New Wave looks poised to own the big man divisions, and no one stands out more at +99kg than Big Dan Manasoiu. The Romanian smother tap artist has been smashing his way through ADCC Opens across America and looks to keep that rolling through Trials.
1. Dan Manasoiu 2. Heikki Jussila 3. Aiden Woodley