IBJJF
Who's In For IBJJF No-Gi Pans? The Top 50+ Black Belts Entered
Who's In For IBJJF No-Gi Pans? The Top 50+ Black Belts Entered
One of IBJJF's major tournaments is around the corner, see who's in for No-Gi Pans.
Sep 21, 2023
by Joe Gilpin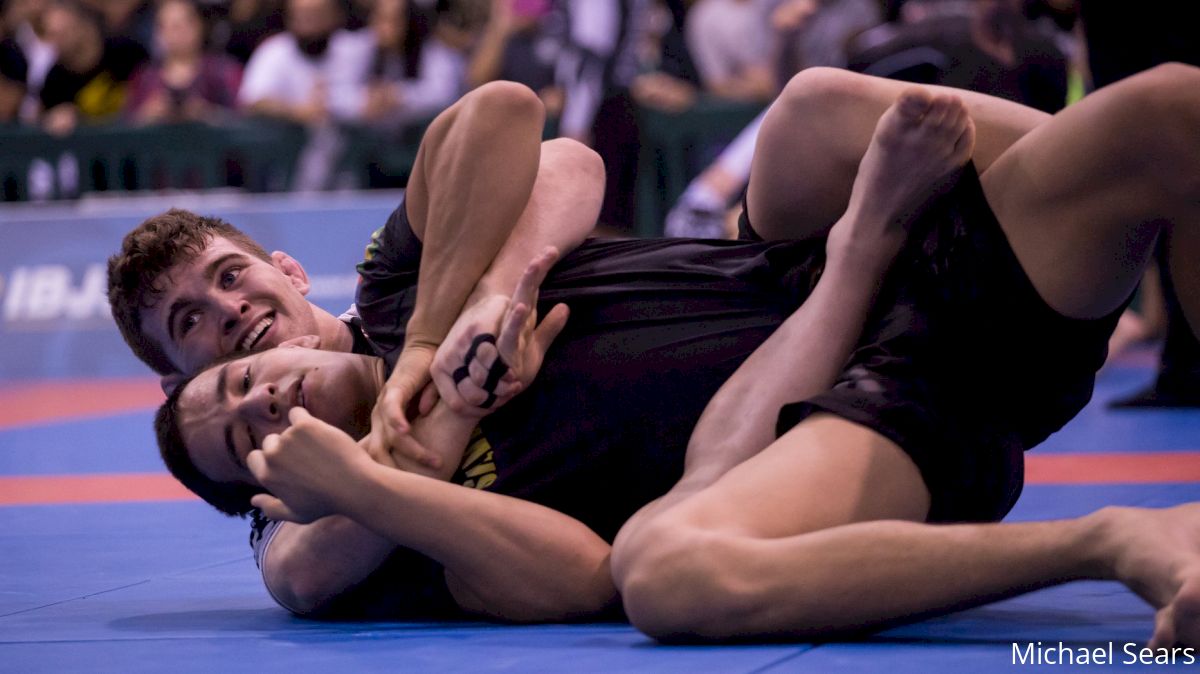 The no-gi season is in full swing now, and the IBJJF is getting ready for one of their biggest events of the calendar; IBJJF No-Gi Pans. Every year this tournament brings out some of the best in the world for this prestigious championship. With registration complete, we can now start to really pour through divisions and see who we can expect to be in contention when action starts September 29th-October 1st. Here are some of the best black belts that are currently entered by weight class, and some of the most notable colored belts that will be there.
It should be kept in mind that these grapplers can still change divisions, so where they are entered now may not be where they end up.
Roosterweight
#6 Roiter Lima
#8 Estevan Martinez
Chris Tran
There are three notable names coming in, including last year's World finalist Roiter Lima. 2021 World champ Estevan Martinez has gained a following with a scramble-heavy style that makes him hard to pin down. Chris Tran is the only returning black belt medalist from last year's event in the bracket. If Roiter and Estevan meet in the finals, it will be a top-ten matchup.
Light-Featherweight
Carlos Alberto Oliveira da Silva
#15 Valor Boyer
#3 Edwin Ocasio
Emelio Alejandro Hernandez Rodriguez
Carlos is the returning champion here, where he beat Hiago George in the finals before placing 2nd at Worlds. #15 Valor won the brown belt division here in 2022 and continues to impress. This will be his first attempt at a major no-gi championship. #3 & IBJJF World medalist Edwin 'Junny' Ocasio is one of the names to watch, but he can have variance in his performance that makes his placement hard to predict.
Featherweight
#5 Gianni Grippo
Marco Mendes
#13 Jose Flores
David Weintraub
Gianni Grippo is entered and is the most notable name in the division. He won Worlds last year after placing 3rd at Pans, so this tournament has given him issues recently. Marco Mendes and Jose Flores are in his debut year of black belt and continue to place highly at tough tournaments.
Lightweight
Daniel Sathler
Rodrigo Francioni
#14 Carlos Henrique
#15 Max Hanson
The two most notable names here are Carlos Henrique and Max Hanson. Carlos is fresh off of a WNO win over Ben Eddy where he called out Dante Leon. For him to keep that momentum, he must do well here. Max Hanson is a tough out for everyone, though, having just run his way through the Enigma 170lb bracket with all submissions.
Middleweight
Mathias Luna
Eduardo Avelar
#10 Oliver Taza
Johnny Tama
Dante Muschamp
Kieran Kichuk
Matheus Galvao
Francisco Cuneo
#4 Jeferson Guaresi
Teammates Jeferson Guaresi and Francisco Cuneo closed out the bracket last year and stand poised to do so once again. However, a deep bracket stands in the way. Oliver Taza is one of the busiest black belts in 2023 and after European Trials silver he is entered. Matheus Galvao is a former medalist at this tournament, Kieran Kichuk is a standout Canadian leg locker, and Johnny Tama is a former black belt no-gi world champion. Deep division.
Medium-Heavyweight
David Garmo
Austin Oranday
Chris Wojcik
Clay Mayfield
#15 Jacob Couch
Shane Fishman
Bruno Matias
#5 Francisco Lo
#9 Felipe Cesar Silva
Gabriel Rocha
This is another deep bracket here at Pans, with a lot of guys who have had great no-gi success. FCS won silver at no-gi Pans & Worlds and Francisco Lo won bronze at no-gi Pans & Worlds and is coming off a WNO win over William Tackett. Jacob Couch won double gold at brown belt here one year ago and should have good success again. Chris Wojcik is fresh off an ADCC European Trials bronze and one of the guys here preparing for North American Trials.
Heavyweight
Sean Yadimarco
#12 Adam Wardzinski
#11 Elder Cruz
#15 Hunter Colvin
#7 Pedro Rocha
Jose Jurema
Calon Sabino
There are some serious heavy hitters at heavyweight, including four guys ranked in the top-10. Adam Wardzinski and Elder Cruz are both ADCC Worlds veterans. Pedro Rocha is coming off of a gold medal at Jiu-Jitsu Con where he beat Lucas Barbosa and punched himself into the top-10. He's the reigning No-Gi Pans champ.
Super-Heavyweight
Eliot Kelly
Luccas Lira
Fellipe Trovo
#1 at 155 Dante Leon
Javier Zaruski
Cassio Fellipe Costa
Devhonte Johnson
Dante Leon at super-heavyweight?!? It's possible he's just camping here until he can switch divisions before the deadline but Dante is our number one ranked 155lb grappler and is competing up above 200lbs here. In his way are IBJJF No-Gi World champions Devhonte Johnson and Fellipe Trovo.
Ultra-Heavyweight
Joao Gabriel Rocha
Guillherme Augusto
#10 Roosevelt Souza
Breylor Grout
Igor Schneider
Pedro Alex
#10 Roosevelt Souza is entered and the gigantic Fight Sports representative is the likely favorite for gold. Still, with Guillherme Augusto, Pedro Alex, and long-time standout JG Rocha entered, there's plenty of interesting matchups in the unlimited class.
Roosterweight
Light-Featherweight
Featherweight
Adele Fornarino
Amanda Bruse
Lightweight
Nathalie Ribeiro
Morgan Black
Middleweight
Thamiris Monteiro
Julia Maele
Deise Leonanjo
Gabriele Schuck
Medium-Heavyweight
Elizabeth Mitrovic
Maggie Grindatti
Heavyweight
Luciana Mota

Maria Ruffatto
Super-Heavyweight
Colored Belts To Watch
Mourece Ramirez
Alejandro Wagner
Dory Aoun
Luke Griffith
Davis Asare
Michael Pixley
Alex Osorio
Helena Crevar