Luiza Monteiro has got some of the most savage leglocks in the female black belt ranks. Her use of kneebars, toeholds and footlocks at the 2016 IBJJF European Championships showed her versatility in attacking the lower limbs, as she tapped out three opponents on her way to winning the gold in the women's middleweight division and a bronze in the absolute.
Taking three of her matches from the Euros, we've isolated the crucial moments that led to her latching onto her opponent's legs.
Toehold to Kneebar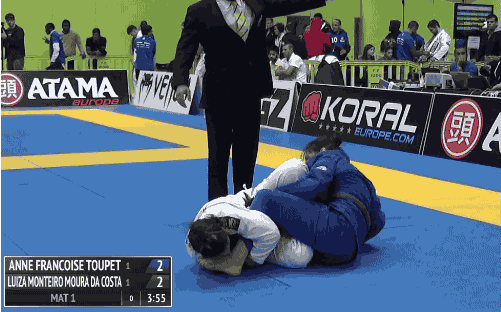 • Deep on a toehold and with a hook in the thigh of the free leg, Luiza cranks the foot until her opponent is forced to roll to alleviate pressure on the foot.
• Luiza follows the roll and starts attacking the knee by arching back.
• Unable to secure the tap (but it's close – look at her opponent's face. Luiza gets an advantage) she rolls once more, pushing her hips into it and getting the finish.
Sequence starts at around 7.30
________
Pass to Footlock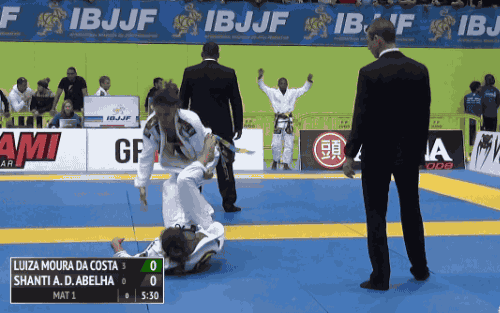 • Luiza goes for her trademark knee-slice pass, but her opponent's flexibility makes it hard to finish.
• Rather than clearing the leg that blocks her completing the pass, Luiza wraps up the nearside leg and drops back.
• Luiza settles for a moment as she looks for the grips, using her legs to prevent her opponent from coming up on top of bailing out of the position.
• With the ankle secured, she arches back and drives her hips forward, getting the tap.
Sequence starts at around 4.58
________
Spider Guard Entry to Kneebar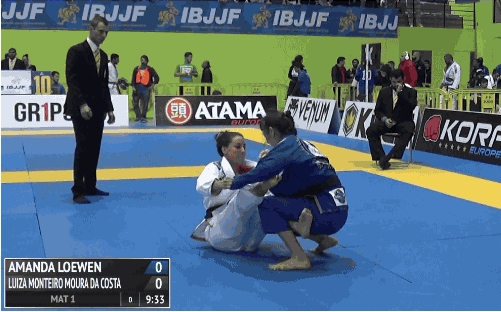 • Playing spider guard with one foot in the bicep, Luiza throws her opponent overhead
• As her opponent bases out to defend the sweep, Luiza uses her free leg to stay connected to the lower body, isolating a leg to attack.
• With her legs crossed around the thigh and strong control of the lower leg, she follows her opponent's attempted escape and locks out the leg for the finish.
Sequence starts at around 2.30
In the video below Braulio Estima shows a similar entry. Luiza throws her opponent overhead in the same manner, but the entry and finish is a little more hard fought for.
Watch more of Luiza Monteiro's matches right here