Movement Training in Jiu-Jitsu & MMA: McGregor (And Ido Portal) vs Diaz
Movement Training in Jiu-Jitsu & MMA: McGregor (And Ido Portal) vs Diaz
Conor McGregor and Nate Diaz will enter the cage on Saturday March 5 at UFC 196 and everybody – fans and analysts alike – have been enchanted by Conor McGre
Mar 4, 2016
by Hywel Teague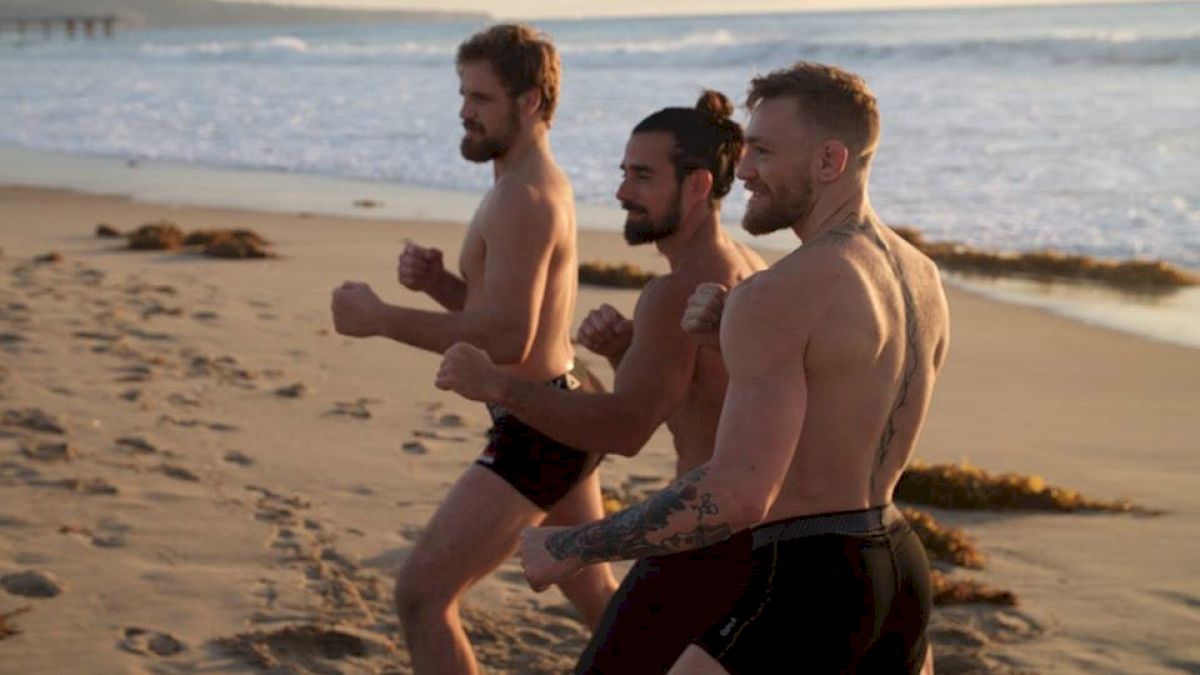 Conor McGregor and Nate Diaz will enter the cage on Saturday March 5 at UFC 196 and everybody – fans and analysts alike – have been enchanted by Conor McGregor's movement training with enigmatic coach Ido Portal.

McGregor is an amazing martial artist: a solid grappler with serious knockout power, and, as the Irish like to say, the 'gift of the gab'.

Since last year, he's also been working with Israeli movement coach, Ido Portal, who claims to be spearheading a 'movement culture [that] represents a contemporary paradigm shift in physicality, moving us away from main culprits in movement and fitness'.

So what does that mean to a world class MMA fighter like Conor McGregor, and what does it have to do with grappling?



A Brief History of Movement Training and Jiu-Jitsu

Jiu-jitsu and MMA fans awoke to the possible benefits of movement training back in 1999 with the release of the seminal Rickson Gracie documentary, Choke.




The doc was filmed during the mid-90s, and in it Rickson was seen working out on a beach in an unusual way. Nobody could quite figure out if it was yoga, gymnastics, jiu-jitsu, or something else. In truth, it was all of the above, and a bit more.

Bio Ginastica was the creation of a Brazilian yoga teacher named Orlando Cani, who's training studio in Copacabana was located just two blocks away from the famous Carlson Gracie academy.

Now over 80 years of age, Cani trained many fighters in his time, including Alliance co-founders Fabio Gurgel and Alexandre Paiva, ATT co-founder Ricardo Liborio, UFC legend Marcus Ruas, jiu-jitsu pioneer Wallid Ismail, former UFC champion Murilo Bustamante, jiu-jitsu and ADCC champion Kyra Gracie and Brazil Olympic judo rep Flavio Canto.




The style of movement training practiced by Cani was a blend of yoga, animal movements and free-flow interpretative movement. Many of the mobility patterns contained within its sequences will appear familiar to jiu-jitsu practitioners.

Alvaro Romano, along with his son Raphael, are both jiu-jitsu black belts. Alvaro, originally a student of Orlando Cani, would later further develop his own style of movement training known as Ginastica Natural. It is characterized by many locomotive exercises, traversing across the mat close to the floor, and dynamic jumping movements.

The Romano family have worked with many professional fighters and jiu-jitsu practitioners, including UFC champion and legendary grappler Antonio Rodrigo 'Minotauro' Nogueira and former UFC champ Vitor Belfort. Their system is widely practiced by people around the world, and is a favorite among jiu-jitsu practitioners.





Conor McGregor and The New School of Movement Training

What led Conor McGregor to start training with Ido Portal is the Irishman's constant study of all types of movement. He's been known to use techniques from many different martial arts, and even admitted to watching how animals move for inspiration.

"I like looking at people who have complete freedom of movement and complete control of their frame. I feel it is to do with more than their body, I feel it is something in their mind as well," says McGregor.

"I will analyze a man walking down the street to see how they carry themselves. I feel you can tell a lot about someone by the way they carry themselves so I try to move cleanly and efficiently."

Portal hails form Israel, and has a background in modern dance, acrobatics and capoeira. These are not qualities you would imagine somebody like a professional MMA fighter would identify with, but McGregor's affinity for Portal's thoughts and philosophy on movement has led to them forging a strong bond. Portal has become something of a guru to McGregor.

Portal described his role with McGregor in an interview with MMA Fighting. "The movement game takes the technical side, and takes the strength and conditioning side, and takes the mobility, and takes the pattern and the re-patterning work, and it blends everything together," says Portal.




For a stylist as unorthodox and unpredictable as McGregor, the type of movement training he's been doing with Portal is something that could be very beneficial. McGregor's use of body movement to throw off and confuse his opponents isn't a skill you imagine many fighters consciously develop – it usually comes naturally. Think about UFC fighter Anderson Silva's often bizarre trickery, or legendary boxer Muhammad Ali's famous head movement.

But by increasing his ability to work in ranges that most people cannot comfortably navigate, McGregor is furthering an attribute that has seen him become so successful.

The question we want to know the answer to is whether this movement training can also help McGregor's jiu-jitsu. As yet, we've not seen a massive amount of how this type of training has been adapted to McGregor's grappling game, only his striking.



Nate Diaz and Jiu-Jitsu Movement Training

Nate Diaz is a jiu-jitsu black belt and a close friend and training partner of Kron Gracie, son of Rickson. He believes McGregor's work with Portal is nothing new and a gimmick.

A dangerous submission artist as well as in-your-face boxer, Diaz says that Rickson's workouts were an early inspiration for him coming up through the ranks in jiu-jitsu.

"All that movement stuff that Conor is bringing to the table, I was already around that, that's what inspired us to begin with. They're acting like he's ahead of the game," says Diaz.

"That movement stuff they've got going on that they're trying to preach to everybody, we already got. Rickson Gracie started that, and I've got my partner here Kron Gracie, he comes over here and trains with me, helps me out a lot for the fights."

"I started watching Rickson Gracie's Choke, and all that workout on the beach. I've been there, done that. It's nothing new to us – you might be fooling all these other people but we ain't fooled by that."





Different Types of Movement Training in Jiu-Jitsu

Rickson Gracie isn't the only famous movement artist representing jiu-jitsu. We've picked out a couple of amazing movers who compete at the highest level of grappling.



Rubens 'Cobrinha' Charles – Capoeira

Cobrinha got his nickname, which means little snake, from his days of practicing capoeira as a youngster in Brazil. Thankfully for us he made the swicth to jiu-jitsu, but the Alliance star still has some nice moves! He even teaches many drills in his jiu-jitsu classes to help his students develop mobility throughout common jiu-jitsu movements.









Geo and Richie Martinez – Breakdancing

Brothers Geo and Richie Martinez are jiu-jitsu black belts under Eddie Bravo and represent the 10th Planet Team, but they're also hardcore B-boys who have a crew call the Freakshow.

Geo and Richie have recruited a number of other B-boys onto their jiu-jitsu team in Oceanside, California, and the '10th Planet Freaks'.

It's not conventional movement training by any stretch of the imagination but the strength and flexibility these guys possess surely helps their jiu-jitsu – especially a style as tricky as the 10th Planet jiu-jitsu system.