The Top 10 Celebrities Who Train BJJ
The Top 10 Celebrities Who Train BJJ
Even the rich and famous get bitten by the jiu-jitsu bug -- stars of Hollywood blockbusters and award-winning musicians are taking to the mats in droves. He
Mar 30, 2016
by Hywel Teague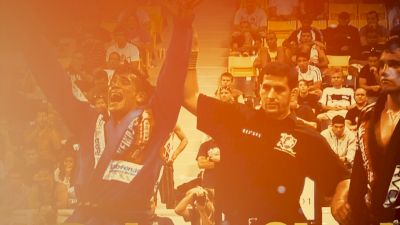 Even the rich and famous get bitten by the jiu-jitsu bug -- stars of Hollywood blockbusters and award-winning musicians are taking to the mats in droves. Here's a list of 10 of the most famous jiu-jitsu practitioners.
10: Anthony Bourdain

This TV presenter is one of the most passionate devotees to the art of jiu-jitsu on the list. He nearly curated an entire episode of his CNN-broadcast show,
Parts Unknown
, around his love for the art. At 59 years old, he's also the second-oldest celebrity practitioner behind Ed O'Neill. A blue belt who trains primarily out of the Renzo Gracie Academy in Manhattan, Bourdain can be found on the mat no less than seven days a week. Yes, seven! When asked how he manages it, he says "You've just got to get past the first couple of days, which sucks. Then after that, it's OK. You just keep going."
Level of Fame: C

9: Maynard James Keenan
The lead singer of alt-rock bands Tool and Puscifer is universally known by the mononym Maynard, and he's another old-school grappler who spent 19 (!!!) years as a blue belt before earning his purple last year. You can find him on the mats at Fifth Dimension Studios in Arizona. Maynard will forever be remembered for grappling a stage invader to the floor and putting him a (relatively loose) chokehold -- without stopping singing!
Level of Fame: C

8: Kelly Slater
Surfing star Kelly Slater is one of the most famous and decorated watermen in the world. An 11-time World Surf League champion, the 44-year-old is a blue belt in jiu-jitsu and often drops in to train at the Mendes Brothers' Art of Jiu-Jitsu Academy in Costa Mesa, California. He's also trained with the likes of BJ Penn on trips to Hawaii.
Level of Fame: C

7: Ed O'Neill
Forever known as Al Bundy, but also one of the principal cast members of the sitcom Modern Family, O'Neill is the second-most-famous black belt on our list. A student of the Gracie Academy in Torrance, California, O'Neill is a long-time practitioner of the art of jiu-jitsu who's been training since the early 90s.
Level of Fame: B

6: Guy Ritchie

The director behind movies like
Sherlock Holmes
,
The Man from U.N.C.L.E.
and
Snatch
is a long-time practitioner of jiu-jitsu and reportedly a very, very tough black belt. But that shouldn't come as a surprise since Ritchie (who's also a black belt in judo) regularly trains one-on-one with Roger Gracie and is close friends with Renzo, who awarded Ritchie the black belt in 2015. Sources from the director's movie sets claim that he even sets up mats so he and his crew can get some rounds in before shooting begins.
Level of Fame: B

5: Vince Vaughn

Funnyman Vaughn is one of the most prolific comedy actors of the last 20 years, and starred in smash-hit movies such as
The Wedding Crashers
and
Dodgeball
. One of the best things about jiu-jitsu is you can start at any age, and at 46 years old, Vaughn has strapped a white belt around his waist and is now a student at the Gracie Academy in Torrance, California, with Ryron and Rener Gracie. Well done, Vince.
Level of Fame: A

4: Ashton Kutcher

One of the higher-ranked practitioners on this list, Kutcher is best known for his film and TV work in sitcoms such as
Two and a Half Men
and
That 70's Show.
He is a purple belt under Rigan Machado, who has something of a monopoly when it comes to training Hollywood A-listers.
Level of Fame: A

3: Usher

R&B singer Usher is a recreational practitioner of Muay Thai and grappling, which he trains for with world-class exponents Anderson Silva and Andre Galvao. Maybe it was MMA fighter Silva's dance moves that attracted the eight-time Grammy Award winner into the gym.
Level of Fame: A+

2: Tom Hardy

It seems that the ever-present Tom Hardy is cropping up in more and more roles lately: Bane in
​The Dark Knight Rises
​;
the titular character in the
Mad Max
reboot; alongside Leonardo DiCaprio in
The Revenant
and
Inception
​; and
gritty gangster flicks such as
Legend
or
The
Drop
. He even picked up a nomination for an Oscar along the way.
Hardy played a troubled military veteran-turned-MMA fighter in the 2011 movie
Warrior
, and he looked the part both on and off the mat. Hardy completed some of his training with the British Royal Marines, where the actor familiarized himself with the positions and techniques commonly used in the ring.
Level of Fame: A+

[facebook url="https://www.facebook.com/sam.sheriff.566/posts/1681765172063171"]
1: Keanu Reeves

Star of
The Matrix
trilogy,
John Wick
, and many other films in the past 25 years, Keanu Reeves is one of the best-known film stars in the world (and the highest paid). Reeves, who has appeared in a number of films that grossed over $100 million worldwide, has trained in many forms of martial arts during his career, including kung fu, sword fighting and most recently, Brazilian jiu-jitsu.
Reeves was pictured training with the Machado brothers, pioneers of Brazilian jiu-jitsu in the U.S. Cousins to the Gracie family, the Machados settled in the U.S. in the 80s and 90s. Rigan (pictured with the beard) has worked as a fight coordinator for many Hollywood movies. Keanu linked up with Rigan and his brothers to prepare for the filming of the
John Wick
sequel.
Level of Fame: A+