Bernardo Faria: 'The Most Valuable Lessons I Learned From My Teachers'
Bernardo Faria: 'The Most Valuable Lessons I Learned From My Teachers'
Five-time world champion Bernardo Faria writes exclusively for FloGrappling about the most valuable lessons he learned from his three main teachers in jiu-jitsu: Ricardo Marques, Fabio Gurgel and Marcelo Garcia.
Nov 17, 2016
by Rayron Gracie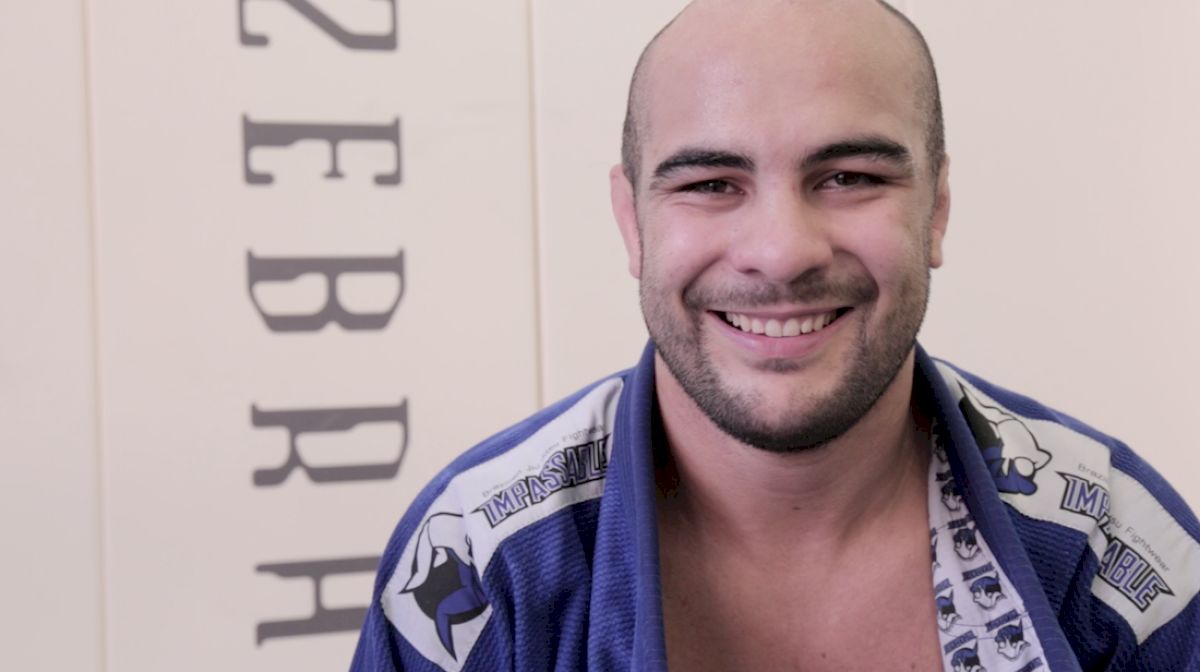 Five-time world champion Bernardo Faria writes exclusively for FloGrappling about the most valuable lessons he learned from his three main teachers in jiu-jitsu: Ricardo Marques, Fabio Gurgel, and Marcelo Garcia.
I believe that in jiu-jitsu we become a mix of our instructors' characteristics. For example, if you visit a school and the instructor is a nice guy, most likely all of the students will be nice too. If the instructor is a bad person, then probably all the students will be bad people.
The students are the reflection of the instructors. The same thing happens with jiu-jitsu techniques. At Marcelo Garcia's school, most of the students are very good with butterfly guard, the guillotine, and all of the main positions from Marcelo. That's why I believe it's very important to find a good instructor, because it really influences your jiu-jitsu journey both on and off the mat.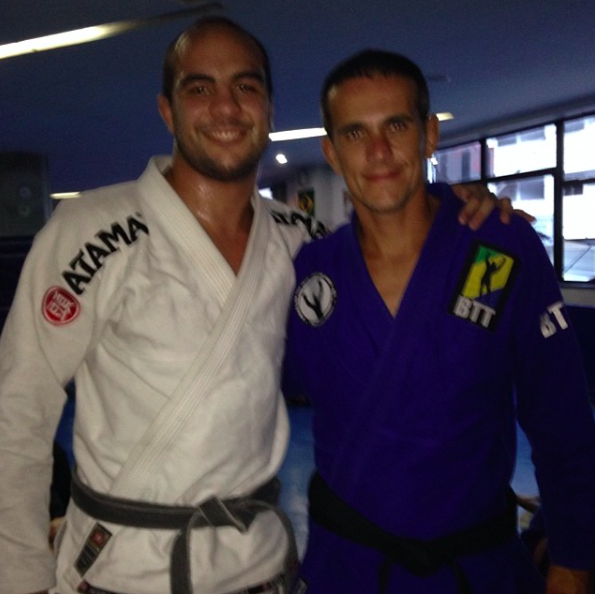 I have been very lucky with all of my instructors. My first teacher, Ricardo Marques, was probably the nicest person I ever met in my life -- he was the type of guy who wants to help everybody. He had a great personality, and he was the kind of guy who you would want to train your son.
Also, he had very good fundamentals, so that was all I needed to start and build my jiu-jitsu journey through to the black belt. I got all of my belts from him, and I'm super proud of it.
Once I got my black belt and I finished college (I studied business), that was the time for me to focus 100 percent on jiu-jitsu as I wanted to make it my career. My first teacher gave me full support toward it and suggested me to move to Sao Paulo, Brazil, to train under Fabio Gurgel. He believed that under Fabio I would have the best chance of making my dreams become true. It's one more reason why I respect Ricardo Marques a lot -- he was thinking more about my career than about himself.
Under Fabio, I had an another view of BJJ. In Sao Paulo, I was training with a bunch of guys who had already accomplished what I was trying at that time: to win the Worlds. It was huge for my confidence. It's different when you train with your friends in your hometown than when you train with world champions, because you see that you too can rise to their level. Also, Fabio was great in showing me many techniques and adjustments that I didn't even know existed in jiu-jitsu. He probably knows more jiu-jitsu than anyone I have ever seen in my life.
Fabio was very important in my career as a mentor, too. On and off the mat he has lived everything I was dreaming about. I believe that for those who want to do jiu-jitsu professionally, having an instructor who has done everything you aspire to is crucial. He will become your mentor, and he will see things that you cannot see thanks to his experience. Fabio is the person I call every time I have a question or doubt in my career. I listen to him, and he says exactly what I should do.
After four years living in Sao Paulo under Fabio, I moved to New York City in 2013 to train with Marcelo and become one of the instructors at his school. Having Marcelo as a coach was one of the most important things in allowing me to accomplish my biggest dream: double gold at Worlds in 2015.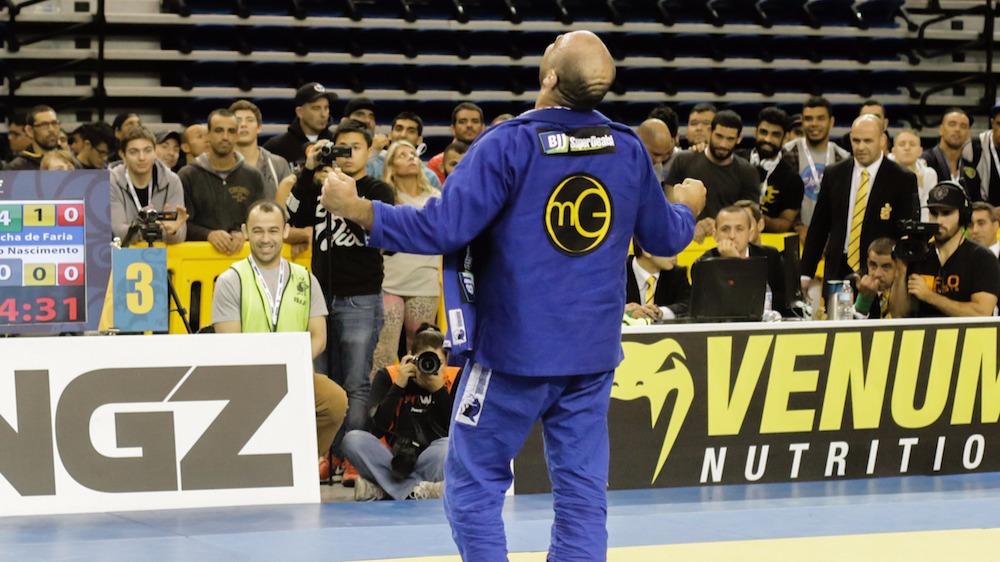 Bernardo Faria wins the absolute final at the 2016 IBJJF Pans. Photo: Chase Smith / FloGrappling
To see with my eyes what Marcelo Garcia is like every day was definitely a dream come true and an amazing experience. Marcelo is probably the most mentally strong guy I have ever seen in my life. If he is training with you and he is super tired, he is never going to show it. He is going to attack you from the first second until the time you give up and tap.
His discipline and dedication to jiu-jitsu is something that I think everyone, from any type of work or career in life, should copy. Anything can happen in his life, and he is never going to be with his head down or stop following his goals. After all, you understand why he is who he is. It's all about an unbelievable dedication and determination, an unstoppable desire to improve.
When I talk with Marcelo and ask him what drove him to do everything he did, he just says that he wants to keep going to see how far he can reach and how much he can improve. You can easily see that this is how he is in every aspect of his life. He wants to improve and still get better everyday on everything he focuses on in his life.
Visit Bernardo Faria's website
The most important things Bernardo Faria learned from his coaches:
From Ricardo Marques:

- How to be a nice person and instructor
- All of my jiu-jitsu fundamentals
- How to treat people well and create a family on the mat
Fabio Gurgel

- How one mentor is important
- How to be professional and have jiu-jitsu as a successful career
- He adjusted all of my jiu-jitsu with fine details
Marcelo Garcia

- Dedication is the key to the success
- How to enjoy BJJ
- How to become mentally strong
---
Bernardo Faria: Unstoppable


How to Watch Bernardo Faria: Unstoppable
Watch Episode One here
ON TV:
Now available on Roku and Apple TV 4 -- download the FloSports app today.
STREAMING:
Available only on FloGrappling for $20 monthly or $150 yearly. A yearly FloPRO subscription provides access to ALL FloSports sites.
SIGN UP HERE
Sign up to the FloGrappling newsletter and never miss an event or a story