Baret Yoshida has been in the jiu-jitsu scene for multiple decades at this point, and whether it's all that experience, his upbringing, or just his nature, he doesn't do a whole lot of boasting when it comes to his high status in the community.

Instead of talking up a big game, he just brings it.

On Friday, Jan. 13, two world champions will take the stage in Houston, Texas, at Fight to Win Pro 21, which is streaming live on FloGrappling.

Local superstar Pablo Silva of Pablo Silva BJJ will be doing his best to take down Yoshida (view profile), the featherweight champion who fights out of The Arena MMA in San Diego, California.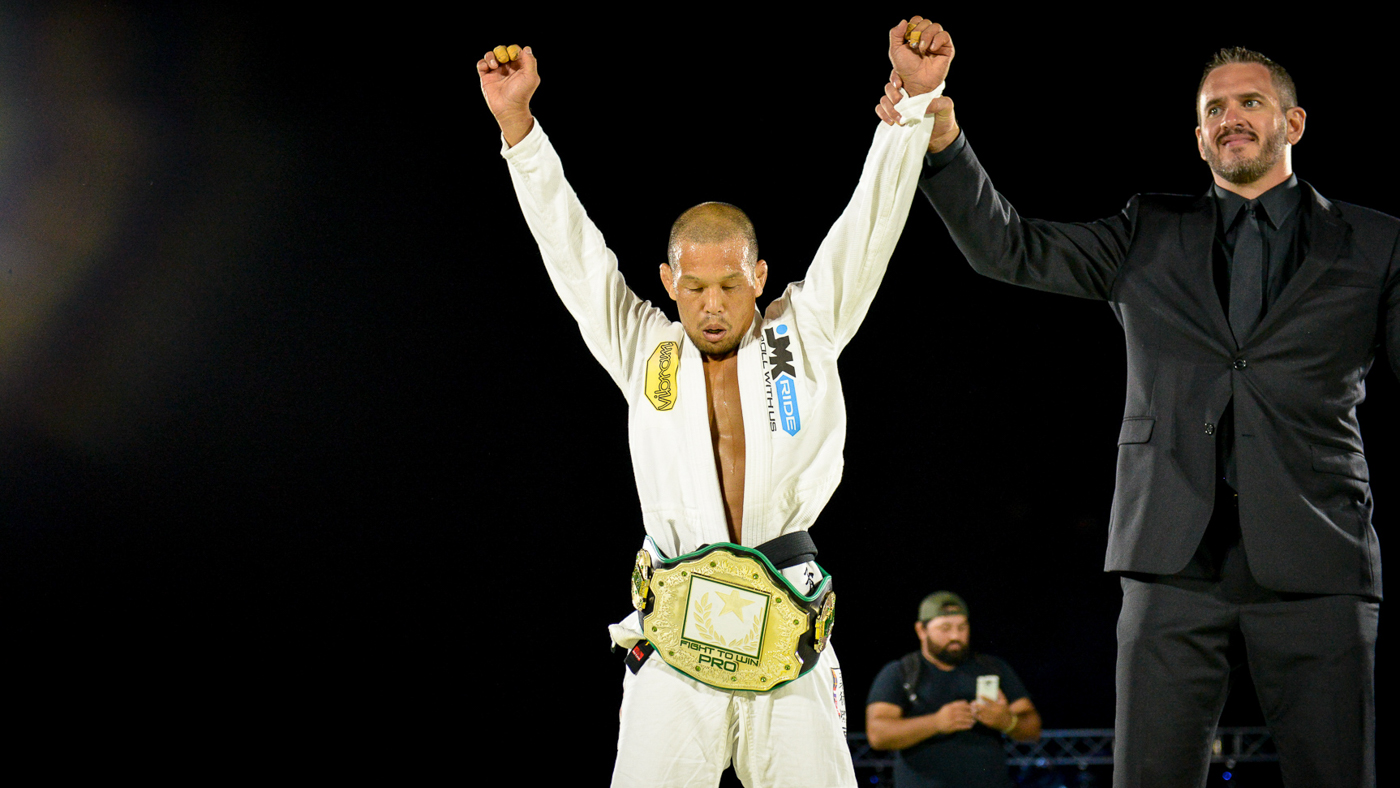 All about letting the technique speak for itself
Their match has been highly anticipated since it was announced and for good reason: both athletes are fierce and successful competitors with numerous major championships to their names.
But you'd never know it based on Yoshida's humble (but confident) demeanor.
I want to improve my skills and test myself. I push to get to the next level. I'd rather keep to myself and let my own technique show if I am any good or not.
It's a strategy that seems to have worked for him even in an age where a strong social media presence has helped many BJJ athletes hype themselves up and get matches that make or break their careers.
Baret Yoshida vs Nobuo Yagai -- Fight to Win 4

What it means to be the champ
Yoshida has fought for almost every tournament and promotion on the current jiu-jitsu landscape.
But achieving -- and keeping -- that Fight to Win belt is something that he says means a lot to him.
"[To win a belt and defend it several times] is something I wanted to do for a long time," he says, recalling the times when he fought for Shooto Japan when he was younger.
"The best I could do was be ranked number two in Shooto. However, I always admired the champion [Alexandre] 'Pequeno' Nogueira. He was a great champion and defended the Shooto belt so many times. He almost always submitted his opponents and many times by guillotine choke."
Through Fight to Win, Yoshida has reached a great milestone by making it to the top. Now, like Nogueira, Yoshida fully intends on staying there.
"I am optimistic, so I plan on defending the belt I fought hard to win," Yoshida said.
He knows he can rely on what he's learned over the years to carry him to victory yet again.
I try to [stay] updated. My combination of classical and modern styles gives me my edge. I am like a hybrid of different generations.
[album albumId="450490"]
Milton Bastos vs Baret Yoshida Fight To Win Pro 5

Repping both the old and the new
Given that Yoshida is a full decade older than Silva, that mixture of old and new might just end up giving him the edge he needs to emerge victorious in Houston.
Even though jiu-jitsu has shown us time and time again that age really is nothing but a number, even the 41-year-old Yoshida can acknowledge that there are some disadvantages to having taken significantly more trips around the sun than most of his opponents.
"Physically, I am not athletic like I once was," he said. "Mentally, I have a lot more wisdom, but I also have scars on my head from many wars."
However, he says that he's "indifferent" when it comes to any advantages or disadvantages that he may have as a result of his age; he's just going out there to do what he does best.
Baret Yoshida vs. Woolf Barnato Fight To Win Pro 8
Even with how much that belt means to him, Yoshida never loses sight of what really matters, and he tries to instill the same values in his students.
I want my students to always fight with their best effort. I want them to have no excuses...to value the spirit of the fight over the color of the medals.
For a man whose fighting spirit does all the talking necessary, it's safe to say that his students will be some of the many viewers of F2W 21 who are guaranteed to be impressed by this talented and dedicated athlete -- regardless of the outcome.
Make sure to watch on Friday, Jan. 13, to see Baret Yoshida, Pablo Silva, and many more incredible athletes battle it out in Houston. Watch it LIVE or on demand exclusively
on FloGrappling.
Related Posts:
•
Baret Yoshida's Road To The Fight To Win Featherweight Title
How to Watch Fight To Win Pro 21
ON TV:
Now available on Roku and Apple TV 4 -- download the FloSports app today.
STREAMING:
Available only on FloGrappling for $20 monthly or $150 yearly. A yearly FloPRO subscription provides access to ALL FloSports sites.
SIGN UP HERE
Sign up to the FloGrappling newsletter and never miss an event or a story