The ADCC West Coast Trials just added two more stellar superfights to the event. Marcus 'Buchecha' Almeida will go head to head with Rafael Lovato Jr, and Geo Martinez will face Bruno Frazatto on Saturday April 15, in Anaheim, California.

As if the anticipation to see who will be the next to receive invites to the ADCC World Championships wasn't enough, event promoter Mo Jassim arranged a total of three superfights as a special attraction for grappling fans.

2013 champion Marcus 'Buchecha' Almeida will meet 2013 silver medalist Rafael Lovato Jr. in a 20-minute match with ADCC overtime if needed.

"I already received my invitation to compete in Finland later this year," says Lovato Jr. "So being able to compete under the ADCC rules and get in that vibe now, I believe will make me that much sharper at the World Championships in September."


I have faced nearly every legendary champion that jiu-jitsu has seen for over a decade now, except Buchecha. He is one of the best of all times and I was dreaming of the opportunity to face him.
When I got the invitation, it felt like destiny. I will prepare myself to be at my absolute best and I am hoping for a beautiful battle. This will be a match that nobody will want to miss!
Buchecha missed out on ADCC 2015 due to knee surgery, and this will serve as his first return to no-gi competition since his return.
"In my opinion, Lovato Jr. is the best American jiu-jitsu fighter," says Buchecha. "He's a world champion in the gi and no-gi, who had a great campaign at ADCC as well. He's a really great guy, very respectful and a really technical fighter. We never met before in the Gi or No Gi, so it will be a really great opportunity."
I love to compete with guys that I respect, and he's one of those. And especially fighting in an ADCC event -- it's going to be a great match and a great show. I love ADCC Rules. Finally in 2017 I have another opportunity to fight, and I cant wait.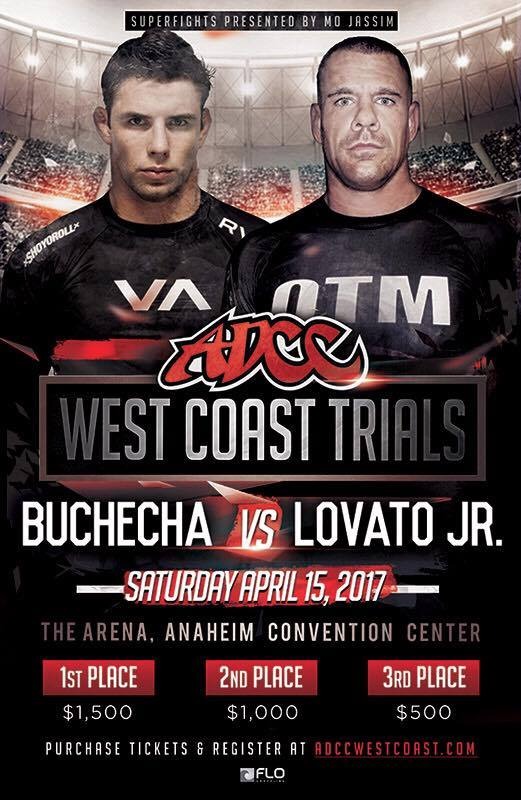 Martinez vs Frazatto rematch, Cyborg and Vinny M to settle the score
There are now a total of three superfights on this event, one of which will be a rematch from ADCC 2015.
Atos black belt and 2015 ADCC silver medalist Bruno Frazatto will face off with EBI champion and 10th Planet rep Geo Martinez.
Frazatto defeated Geo in the semifinals of ADCC 2015 with a score of 2-0, but it was Frazatto who campaigned to make this superfight happen. This will definitely be an interesting match with Geo now coming back with the momentum of recently winning EBI.
As we
already announced
, Roberto Cyborg will face off with Vinny Magalhaes
About the ADCC West Coast Trials
The ADCC West Coast Trials is the second and final chance for residents of North America to receive invites for the 2017 ADCC World Championships in Finland in September.
Division winners will receive all-expenses-paid trip to ADCC Worlds, but for the first time ever the Trials will also offer substantial cash prizes money for the competitors who make the podium.
The winners will receive $1,500, silver medalists will get $1,000 and third place competitors will get $500.
With this prize money on the line and the marquee superfights as an added bonus, the ADCC West Coast Trials is set to be one of the biggest ever.
This is the chance for grapplers to mar their mark in the history books of the sport! Registration is open (
click here to enter your name
) and no-gi grapplers are invited to sign up for the event.
---
How to Watch
On TV:
Now available on Roku and Apple TV 4 -- download the FloSports app today.
STREAMING:
Available only on FloGrappling -- a yearly FloPRO subscription provides access to ALL FloSports sites.
SIGN UP HERE
Sign up to the FloGrappling newsletter and never miss an event or a story