Forget everything you thought you knew about Jeff Glover. Well -- maybe not everything.
He's inarguably one of the most innovative grapplers in the sport. He's madly passionate about jiu-jitsu, rocks a pair of spats like a boss, smokes weed on the daily, and likes his whiskey and women.
But if you thought that was all there is to Glover, you're wrong.
Getting to know the real Jeff Glover
I met with Glover on a Sunday afternoon at his place in south San Diego. After showing me his project travel van -- recently tagged by some neighborhood punk -- we walked to the backyard of a house where he rents a small apartment.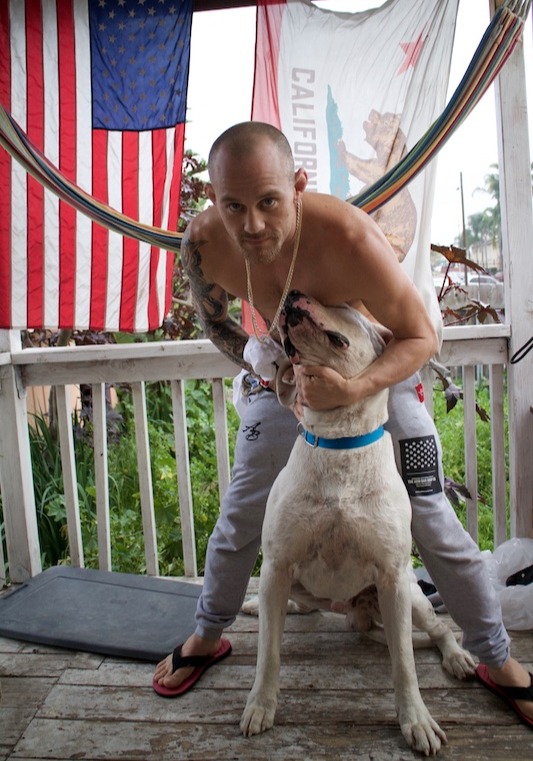 Charlie, his giant white Dogo Argentino, met us at the gate with a low growl. At 130 pounds, Charlie looks like he could eat a small child. After an introductory sniff, he seemed to be more interested in a scratch behind the ear.
The backyard is overgrown with weeds, well-fertilized by Charlie. To one side, black puzzle mats are laid out on a wooden platform, constructed by Glover's own hands. An American flag and a California flag proudly hang side by side from the weathered rafters of the porch.
The apartment itself isn't what I had imagined a jiu-jitsu superstar like Glover would call home. Sparsely furnished, a bit dark, with a few framed photos sitting on the desk and a handwritten note hanging on the refrigerator, the apartment contained little more than the essentials.
But it was where I could imagine a man who valued life experiences far more than material objects lived.
"I'm rich in many ways. I don't have a lot of money, you know. I make enough to buy toys every month and smoke as much weed as I want. But you see how I live… I live in a f***ing studio in the back of a house that's an AirBnB," says Glover.
"But I'm rich in knowledge of cultures. I can speak a second language, almost fluently. I've seen the world. I have so many friends and so many acquaintances. I have fans. I have fans! What the f***? It's crazy, and it's beautiful. And I reap the benefits of it everywhere I go."
As he spoke, one thing became apparent: Glover doesn't just talk with his hands, he talks with his entire body.
Constantly in motion, he paces the floor, shirtless and in his usual pair of sweatpants, with two gold chains around his neck. Remarkably articulate, he gestures with his hands as he speaks, and your gaze is caught between the distinctive "J-I-U J-I-T-S-U" tattooed across his knuckles and his direct, unwavering eye contact.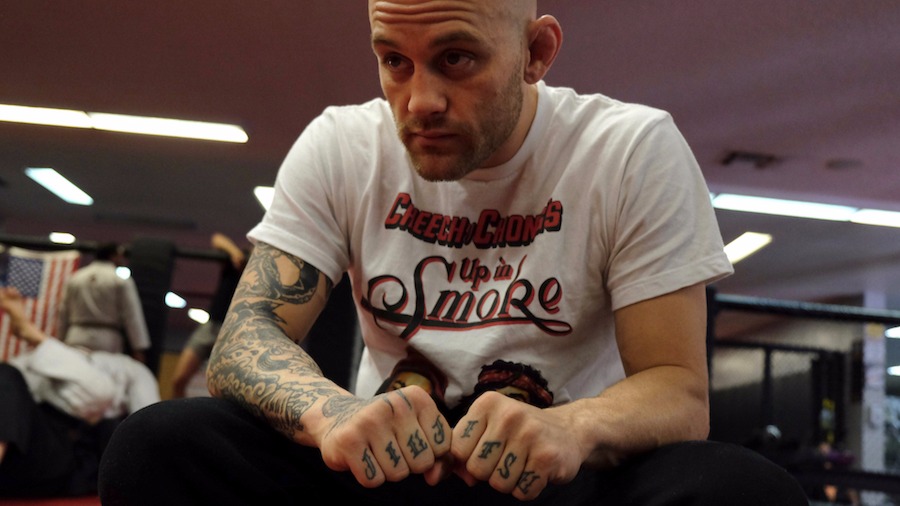 J. I. U. J. I. T. S. U. -- Photo by Heather Raftery.
Glover will be the first to tell you he's not perfect.
He smokes, he drinks, and he occasionally "flips out" on his students and friends. He was diagnosed with ADHD as a child, and self-diagnosed himself with slight obsessive compulsive behavior, social anxiety, and possibly even a bipolar disorder.
His childhood may have had something to do with that, or it at least exacerbated it.
"I had no guidance. Because, you know, I had a dad who was a drug addict. He wasn't there, but he'd make his presence known every once in a while, just so I could see him all f***ed up. So there was a real lack of male leadership in my life, which was crazy because there were three of us boys."
His mother was left to raise him and his two brothers by herself, in a two-bedroom apartment in East Los Angeles, where the three boys all shared a single room.
And Glover was, he admits, a handful.
The small, malnourished and attention-deprived Glover was always getting in trouble. He was suspended at least twice a year in every year of school, including once in the third grade for mooning a teacher in front of the entire class, and another time for biting a fellow student.
"I had a lot of f***ing energy. I was a wild little kid. I was all over the place. You couldn't sit me down. I needed something to do. And everyone was like, 'F***, how do we deal with Jeff? His ADHD is so bad. Let's just get away from him, or lock him in a f***ing room.' I needed jiu-jitsu. That's all there is to it. I needed this shit."
If Glover hadn't been introduced to jiu-jitsu, there's no telling where he would be now. Though he does have some idea:
"I would say there are three options for somebody like me: jail, jiu-jitsu or JiffyLube."
Glover admits that he didn't really find jiu-jitsu. It found him.
Read Part II to find out how jiu-jitsu became such an important part of Jeff Glover's life.