Imagine being suspended not once but twice by the IBJJF. That's exactly what happened to 21-year-old black belt Jamil Hill, a product of Team Lloyd Irvin in Camp Springs, MD, where he has been training since he was 9 years old.
Hill spent a fair time off the competition scene over the last few years due to no less than two IBJJF suspensions, a victim of his own success. He was suspended shortly after winning Worlds as a purple belt in 2015 for being promoted to brown belt before completing the mandated time at purple as required by IBJJF and then again in 2016 when he was promoted from brown to black after winning Worlds.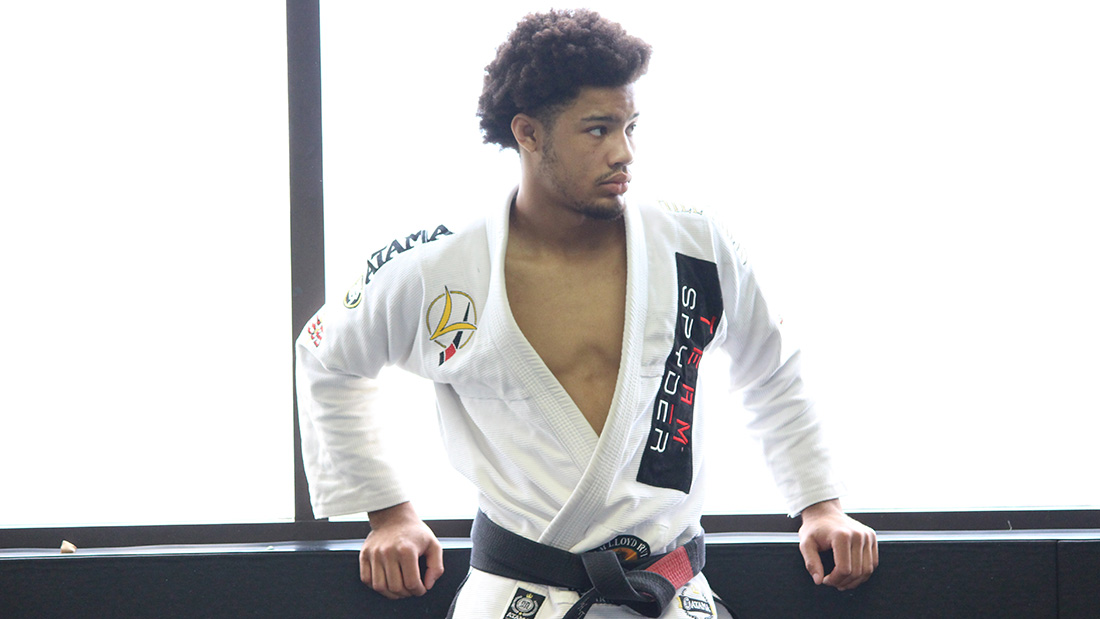 Jamil Hill at Team Lloyd Irvin in Camp Springs, MD. Photo: Nico Ball
He returned to competition in March this year, taking a bronze medal at Pans. That's in addition to a title belt at NAGA Worlds and a gold medal at the IBJJF New York Open as well as
competing for the first time on foreign soil
at the Spyder Invitational in South Korea.
With over 13 years in the sport and several world titles, Hill is a young veteran of the sport -- even if many people may not be familiar with his name.
He's what Lloyd Irvin considers to be an innovative athlete who "never shies away from a challenge," and Hill is surrounded by other talented competitors such as DJ Jackson, Tim Spriggs, Mahamed Aly, and Aarae Alexander.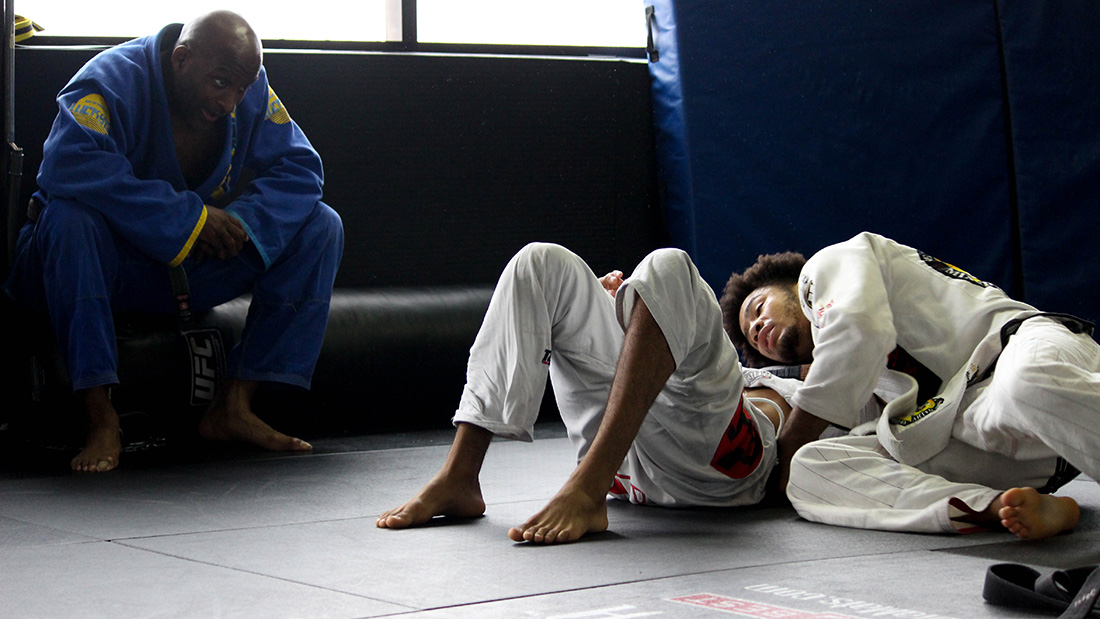 Hill trains under the supervision of Lloyd Irvin (left). Photo: Nico Ball
Still Waters Run Deep
Hill is a quiet, laid-back kind of guy, so it's easy to see how he can go unnoticed among the legions of athletes clamoring for attention. In class, his tall, lanky stature makes him easy to spot. He walks with the same calm attitude and quiet demeanor whether he's talking to friends, warming up, or dominating in a tournament.
His budding afro is an unspoken proclamation to his dedication to the arte sauve. His long dreadlocks that used to give him his unique style had to go -- not because he wanted them to, but because once you step on the scale at a competition, you can't get off. Missing weight was not an option, so someone passed him some scissors. It was the end of his long locks but the beginning of a very successful career in jiu-jitsu.
Hill didn't seem too upset about it though. In fact, he doesn't seem like the kind of guy who gets upset or raises his voice about anything.
Except maybe when it came to his shoes.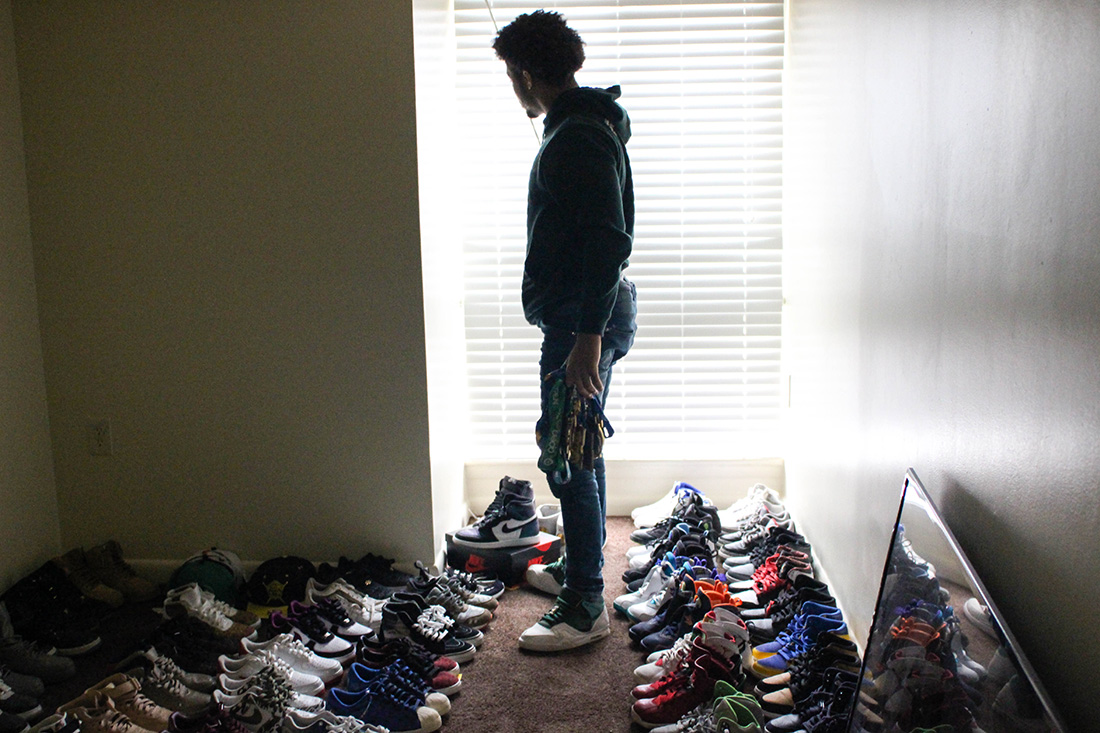 Jamil Hill at home in the room in which he keeps his sneakers. Photo: Nico Ball
The Black Belt Sneakerhead
In the spare room of his house, just past a small closet from which he produces a random assortment of semi-forgotten medals, was a small room with Hill's prized collection. No, it's not his medals -- behind the door were six neatly organized rows of sneakers running from wall to wall.
There are Tan Tuskegee Air Force 1s, black and white Bruce Lee Vans, and royal blue Nike high tops with a map of the Parisian metro lines lined up alongside the faded white Nikes with mismatched green and white laces he wore to his first adult tournament.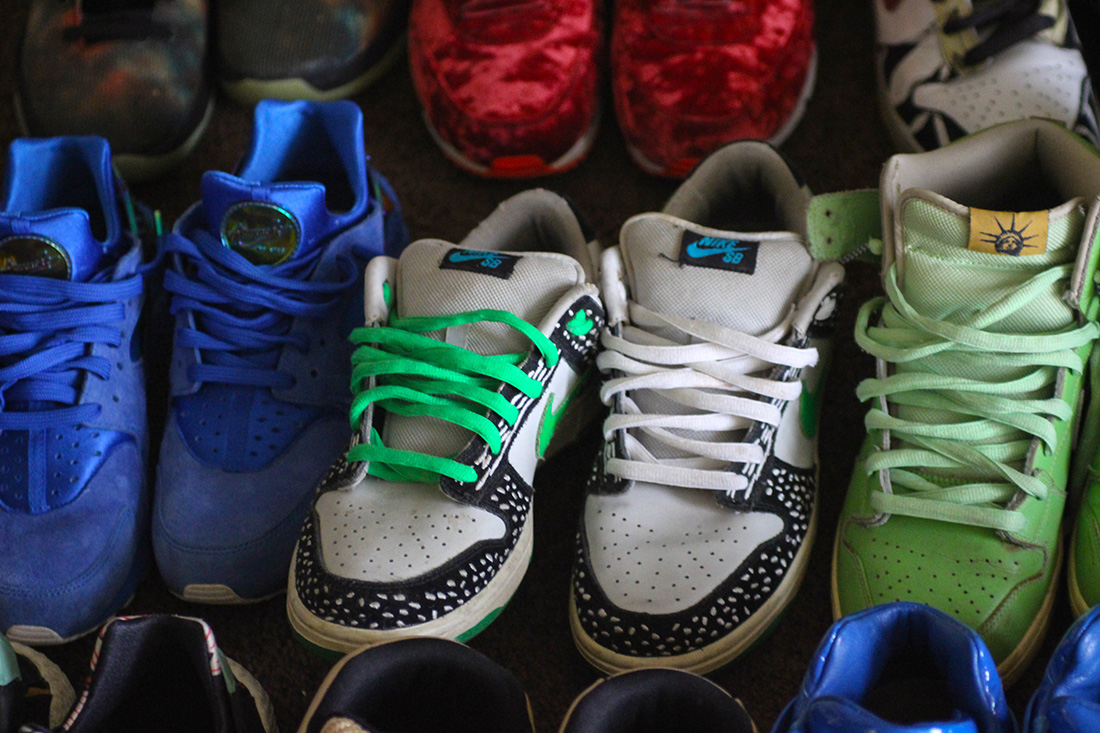 The sneakers Hill wore to his first adult jiu-jitsu tournament. Photo: Nico Ball
Next to his discarded flat-screen TV are a pair of faded white Jordans with green accents on the lacing (next to a pair but without the accents) -- his first gold at juvenile Worlds. The actual medal is probably at his mom's house or in his grandmother's possession.
"I don't keep track of the physical medals," Hill said. "Getting first at the tournament is the main goal, and that's what we aim for."
Each shoe has a story about why it was made and another story why he bought it, he explained before returning the sneaker to its place at the head of the row.
Jiu-Jitsu Over Everything
Growing up, Hill lived in several rough parts of Washington D.C. where it was common for kids to make the wrong choices. He credits his parents, teachers, and role models -- such as kids program head coach Donny Achnick -- for keeping him out of trouble.
"My older brother, he stopped doing jiu-jitsu and kind of started going down rough patches," Hill said. "I could see myself in that same situation if I didn't have Master Donny and the program to keep me going straight."
Hill started training seriously in high school, when, motivated by the desire to compete at IBJJF Worlds with the rest of the kids, he quit playing other sports and focused his energy entirely on jiu-jitsu.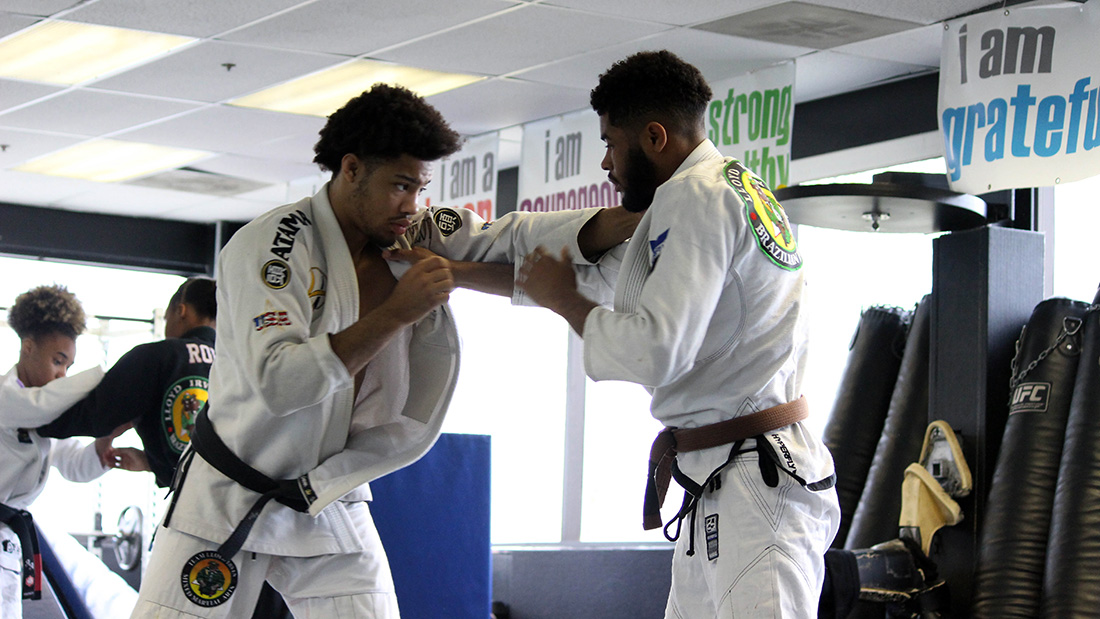 Hill trains at Team Lloyd Irvin in Camp Springs, MD. Photo: Nico Ball
To this day, Hill and his teammates still maintain the disciplined work ethic that they learned training with the kids competition team. Even though they have aged out of the kids program, you can still find them at the academy Saturday mornings with the rest of the juvenile team at their competition class.
After high school, there was no question if he would go to college -- his main concern was where. Like the rest of the competitors at TLI, Hill chose to go to a local college so he could continue to train and compete.
Hill is attending college for sports management. Although he is currently taking the semester off to get his money right and focus on training, he has every intention of completing his degree. According to Hill, the team's high standards weren't exclusive to the gym.
At the gym, it's honor roll or you're not where you need to be. It keeps you going for the highest grades.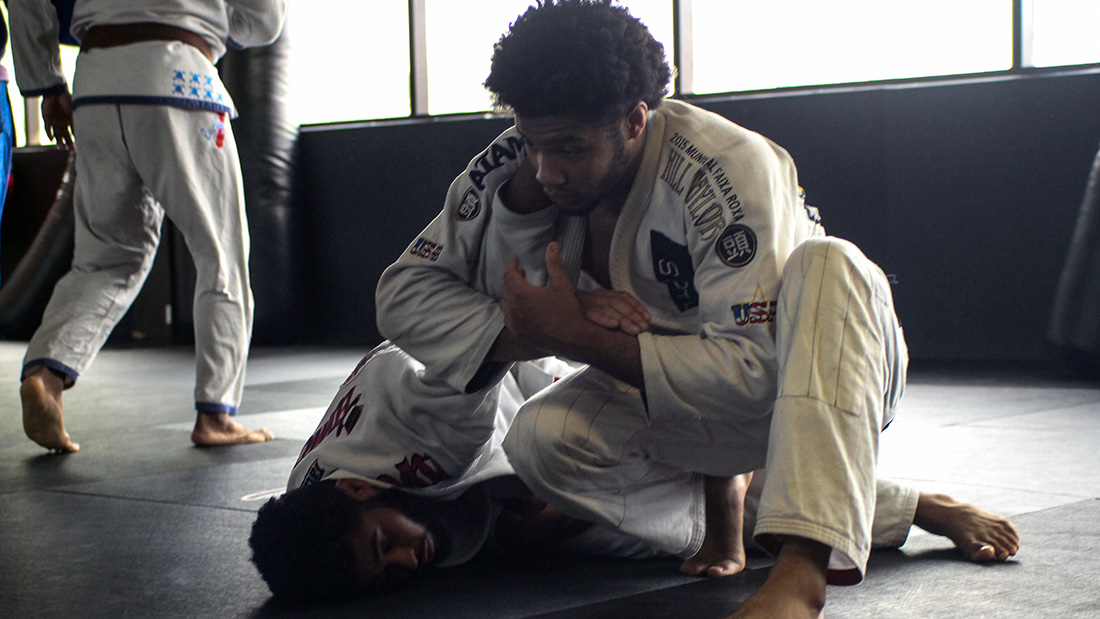 Hill trains at Team Lloyd Irvin in Camp Springs, MD. Photo: Nico Ball
A Promising Future
After the suspension levied in 2016, Hill was finally eligible to compete again in IBJJF tournaments at the 2017 Pans. He didn't get the results he wanted, but he did get a victory over well-known Marcelo Garcia black belt Gianni Grippo in the opening round.
"That's exactly what we wanted," Achnick said when talking about the tough matchup. In true TLI fashion, they were looking to compete against the best, and Grippo (who falls at No. 57 on IBJJF rankings list) was a great way for Hill to make his debut in a stacked black belt featherweight division.
Hill later went on to the semifinals, where he was disqualified in a controversial reaping call against Osvaldo "Queixinho." Hill didn't come home with the gold, but Irvin still speaks highly of his performance at the tournament and his future in the sport.
He does phenomenal stuff and I don't say that lightly. I believe he's going to be one of the best guys I've ever had.
Looking Forward
Hill went back to the gym to study more and was able to redeem himself by winning first place at the IBJJF New York Open a couple of weeks later.
Financial limitations keep Hill and some other members of his team from competing in more of the IBJJF Opens across the United States. Major competitions such as Brazilian Nationals and Europeans are out of his reach, but you can often find TLI cleaning up at local tournaments.
Hill left the United States for the first time to compete in Seoul, South Korea, at a Spyder Invitational tournament that took place on April 30. Hill faced off against Korea's Youngseung Cho in an action-packed match that Achnick assures was one of the crowd's favorite matchups of the night.
Now, Hill is back in Maryland preparing for upcoming tournaments, primarily IBJJF Worlds. "I'm very excited for Worlds," he said. "I had a good showing at Pans and I feel like I've improved a lot since then."
Hill will be competing alongside Mahamed Aly, Aarae Alexander, Malachi Edmund, and the juvenile squad that Hill helps to coach. Despite being in a stacked division, Hill is looking forward to the new challenge and an opportunity to add another pair of gold medal shoes to his extensive collection.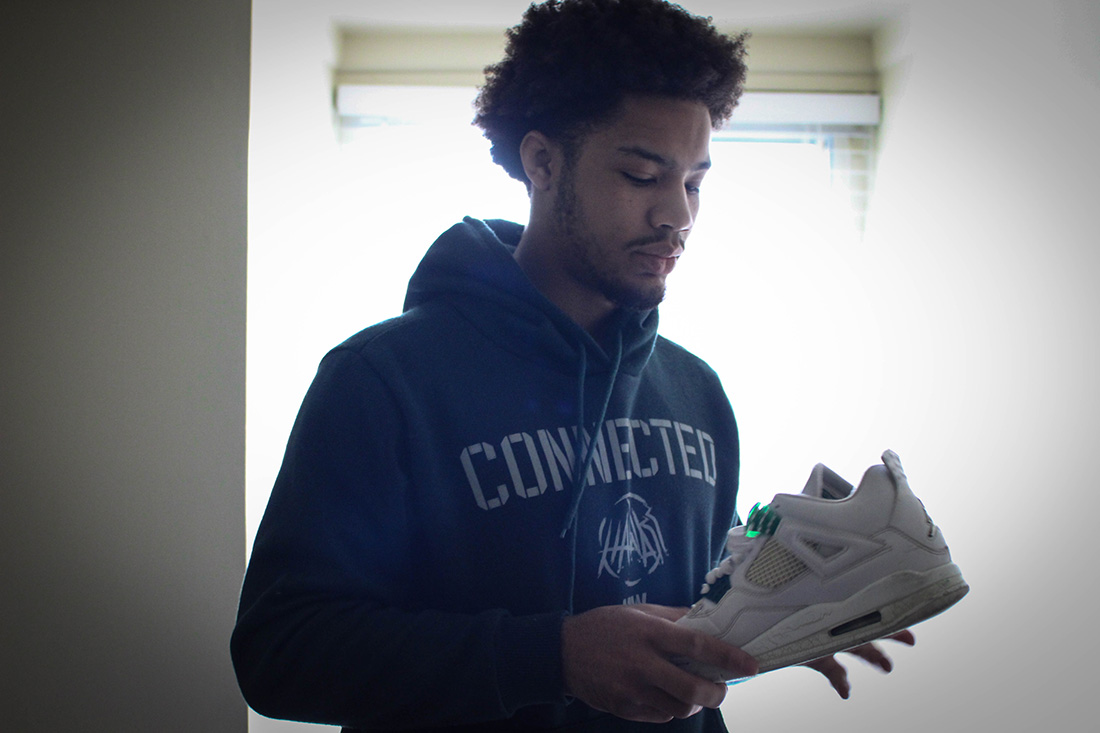 Jamil Hill with the Nike Air Jordans that he wore when he won his first gold at juvenile Worlds. Photo: Nico Ball


Watch: Jamil Hill Taylor vs Youngseung Cho