Miyao, Grippo, Leon, Malyjasiak, Bastos and more all won big at the 2018 IBJJF Pan No-Gi Jiu-Jitsu Championship. Here's what went down.
Gordon Ryan, King of New York
Gordon Ryan made a big statement in his IBJJF black belt debut on Saturday, submitting all four of his opponents on the way to double gold at No-Gi Pans.
Ryan utilized an all-around strategy on the day, mixing in takedowns, guard play and passing along with some impressive leg control from the cross ashi-garami position. Ryan won both of his finals by rear naked choke. First he would defeat Max Gimenis in the ultra-heavyweight division, followed up by tapping rising Atos star Kaynan Duarte in the open class final.
"It felt good to be back to competing period. I've been so sick lately and it feels great to just get out and do what I love. The IBJJF ruleset presents an interesting number of problems. Normally nobody would engage in an ashi-garami type of game with me because they would just get heel hooked. But without heel hooks 50/50 becomes a whole different story. I wanted to use No-Gi Pans as an experiment, not only to practice my new moves but to see how the ruleset would fit the game that I play. It will be interesting to see how I adapt to the rules as I transition to the gi simultaneously."
"How would you rate your performance out of 10?"
"Close to a 10"
– Gordon Ryan, 2018 Pan No-Gi champion. pic.twitter.com/gteHYk7GBS

— FloGrappling (@FloGrappling) September 16, 2018
---
Malyjasiak wins double gold
Poland's Maria Malyjasiak took home double gold in the women's black belt divisions. Previously having taken third place at both ADCC and No-Gi Worlds, Malyjasiak submitted two out of four opponents in her division and the open. The open class final saw Maria submit featherweight champ Jessica dos Santos, who had earlier in the day defeated No-Gi World champions Talita Alencar and Catherine Perret.
"I was very happy to win the open class, even more happy that I managed to get a toe hold from a position that I've been working on for months. You can find the position on my Instagram, but in the gi: @grumpy_bjjgirl."
---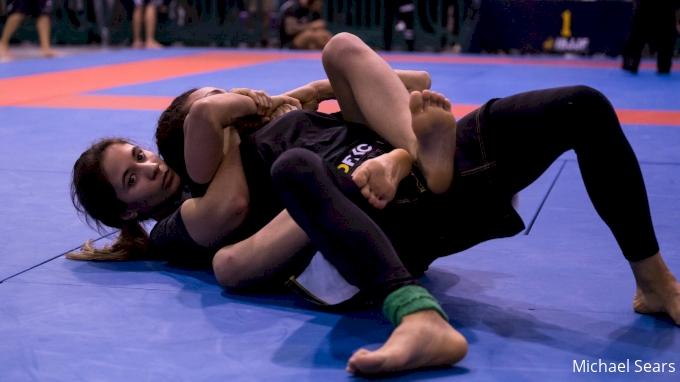 Mayssa Bastos scores HOW many points?
GFTeam's rookie black belt Mayssa Bastos completely dominated the women's light-featherweight division, outscoring her three opponents by a combined 47 points. A berimbolo on Miriam Cardoso in the opening round led to a 4-point lead and eventually a rear naked choke. Up next would be 2017 No-Gi Worlds bronze medalist Fiona Watson, whom Bastos ran up a 23-point lead on.
Waiting for Mayssa in the finals was 2017 No-Gi World champion Patricia Fontes. In maybe the most impressive performance of any black belt in the tournament, brand new black belt Bastos defeated reigning black belt No-Gi World champ Fontes by a staggering 20 points.
---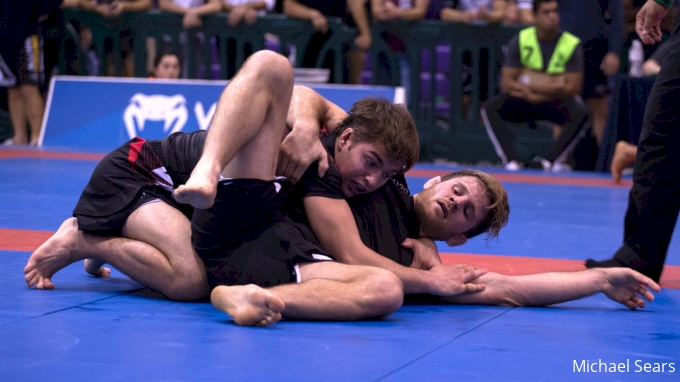 Three-peats for Grippo and Miyao
Gianni Grippo of Alliance Marcelo Garcia won his third No-Gi Pans title in his hometown of New York. Grippo defeated four opponents on the way to gold. Matched up with No-Gi World champ AJ Agazarm in the lightweight final, Grippo would secure a sweep, pass then mount to win 9-0 in impressive fashion. Grippo's teammate Marcos Tinoco also brought home gold in the medium-heavyweight division.
Two-time No-Gi World Champ Joao Miyao, based out of Manhattan's Unity Jiu Jitsu, won No-Gi Pans for an incredible fifth straight year. Joao defeated Alex Ecklin by a score of 18-0 in his opening match, followed by an armlock on Alexis Alduncin in the final. Miyao's Unity teammate Aaron "Tex" Johnson won his third straight No-Gi Pans title, submitting Jackson Souza with a footlock in the super-heavyweight final.
---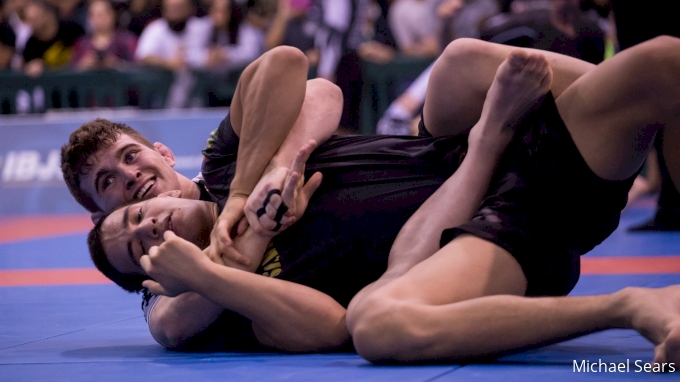 Tinoco and Leon secure second Pan No-Gi golds
Canadian Dante Leon won the middleweight division at No-Gi Pans for a second straight year. Two rear naked chokes put Leon in the semifinal, where he would defeat Enrique Galarza 6-0. A 2-0 win over Michael Trasso put Leon on top of the No-Gi Pans podium in back to back years.
Marcos Tinoco of Alliance-Marcelo Garcia ran through his first two opponents in the medium-heavyweight division, beating Piotr Frechowicz with an estima lock before tapping Isiah Wright with an armlock from a modified crucifix. The final was a hard-fought wrestling match with the tough Nick Calvanese, which Tinoco won via referees' decision.
Results
Black / Adult / Male / Rooster
1 - Kristian R Woodmansee - Atos Jiu-Jitsu
2 - Christopher Michael Noonan - The Hive Martial Arts Academy
Black / Adult / Male / Light-Feather
1 - João Ricardo Bordignon Miyao - Cicero Costha Internacional
2 - Alexis Alduncin Barragan - Renzo Gracie Mexico
3 - Alex Ecklin - Masterskya
3 - Perez R. Figueroa Jr. - Team Redzovic
Black / Adult / Male / Feather
1 - Ian Phyllip Sanders - Rodrigo Freitas Brazilian Jiu-Jitsu
2 - Pablo Mantovani Dutra - Atos Jiu-Jitsu
3 - Adam Benayoun - Fifty/50 Jiu-Jitsu
3 - Silvio Duran de Barros Saraiva - Vitor Shaolin BJJ
Black / Adult / Male / Light
1 - Gianni Paul Grippo - Alliance
2 - AJ Agazarm - Gracie Barra
3 - Herbert Mitchell Pontes Burns - Associação Oriente
3 - Matheus Evangelista Gonzaga - Alliance Marcelo Garcia
Black / Adult / Male / Middle
1 - Dante Leon - GF Team
2 - Michael Trasso - Gracie Humaita San Diego Competition Team
3 - Enrique D. Galarza - Silver Fox BJJ
3 - Olivier Kee-Seng - Sampa BJJ International
Black / Adult / Male / Medium-Heavy
1 - Marcos Vinícius da Silva Tinoco - Alliance
2 - Nicholas Patrick Calvanese - TAC Team BJJ
3 - Isiah Olajide "ShoNuff" Wright - Easton BJJ
3 - Michael Anthony Perez - Atos Jiu-Jitsu
Black / Adult / Male / Heavy
1 - Romulo de Souza Azevedo - Vitor Shaolin BJJ
2 - Thiago Sá Fortes Silva - CheckMat
3 - Benjamin Zachary Lenyard - Brazilian Top Team
3 - Diogo Sampaio Araujo - Soul Fighters BJJ Connecticut
Black / Adult / Male / Super-Heavy
1 - Aaron Michael Johnson - Unity Jiu-jitsu
2 - Jackson Sousa dos Santos - CheckMat
3 - Alexandre Bueno de Oliveira - GF Team
3 - Roberto Torralbas - Team Lloyd Irvin
Black / Adult / Male / Ultra-Heavy
1 - Gordon F. Ryan III - Renzo Gracie Academy
2 - Max dos Santos Gimenis - GF Team
3 - Charles Kilyan Mcguire - American Top Team Fort Lauderdale
3 - Kaynan Casemiro Duarte - Atos Jiu-Jitsu
Black / Adult / Male / Absolute
1 - Gordon F. Ryan III - Renzo Gracie Academy
2 - Kaynan Casemiro Duarte - Atos Jiu-Jitsu
3 - Jackson Sousa dos Santos - CheckMat
3 - Max dos Santos Gimenis - GF Team
Black / Adult / Female / Light-Feather
1 - Mayssa Caldas Pereira Bastos - GF Team
2 - Patrícia Maria N. Fontes dos Santos - CheckMat
3 - Fiona M. Watson - Fight Club
3 - Sofia Rosa Amarante - Fight Sports
Black / Adult / Female / Feather
1 - Jessica Cristina C. A. dos Santos - Elite Brazilian Jiu Jitsu Redmond
2 - Ana Talita de Oliveira Alencar - Alliance
3 - Gabriella E. Romero - Legacy Jiu-Jitsu - Team Alberto Crane
Black / Adult / Female / Light
1 - Catherine Fuhro Perret - CheckMat
2 - Aarae Alexander - Team Lloyd Irvin
3 - Heather H. Raftery - Atos Jiu-Jitsu
Black / Adult / Female / Middle
1 - Gabrielle McComb Lima - Gracie Humaita South Bay
2 - Vanessa Sue Wexler - Gracie Barra
Black / Adult / Female / Medium-Heavy
1 - Monique Ricardo Carvalho - CheckMat
Black / Adult / Female / Heavy
1 - Maria Malyjasiak - Zenith BJJ - Las Vegas
2 - Samantha Lea Cook - CheckMat
Black / Adult / Female / Super-Heavy
1 - Alison Victoria Tremblay - Brazilian Top Team