Create a free account to unlock this article!
Get Started
Already a subscriber? Log In
The finals of the men's black belt and women's brown-black belt divisions were a mixed bag of impressive submissions and interminable stalling.
Seven out of 12 finals ended via submission (or 58% of the showcase matches, which were held on the central mat) . Of the remaining five matches, three results were delivered via referee decisions, something that could have been avoided by more assertive refereeing.
Inconsistent application of staling penalties allowed many finals matches to end us as anticlimactic 0-0 finishes. As many of the referees operate across various rulesets, more orientation is needed to ensure they remember that they are not overseeing 10-minute matches.
It is imperative that the action cannot be allowed to slow down during six-minute matches. A packed arena, a global viewing audience and stakeholders at all levels expect action, and rightly so. Referees should not be afraid to intervene and insist that the athletes be more active.
Read on for a rundown of each of the black belt finals from Day 3 of the 2018 Abu Dhabi Grand Slam Rio de Janeiro.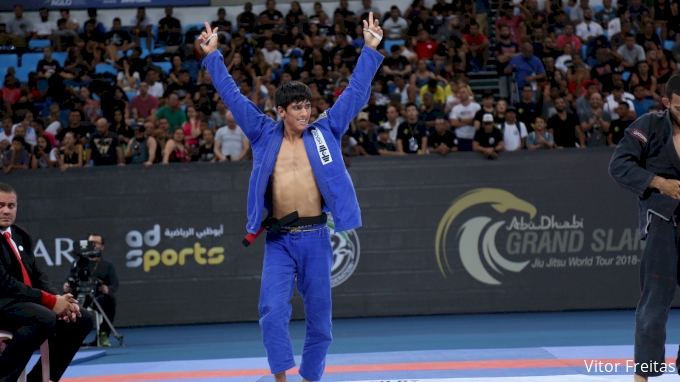 56kg Carlos Oliveira def Fellipe Melo via submission – watch video
GF Team's Carlos "Bebeto" Oliveira is being tipped as the next big thing at roosterweight, and he looked unstoppable at the ADGS Rio. With two submission and two points win, Oliveira took gold by defeating Fellipe Melo in the final with a choke from the back in the final 10 seconds of the match.
Carlos Alberto Da Silva
Fellipe Melo
Frederico Guimarães
49kg Mayssa Bastos def Rita Reis via submission (cross choke) – watch video
Three matches, three submissions for 2018 ADGS Rio champion Mayssa Bastos. The young black belt, who represents GF Team, easily choked Rita Reis in the final. There are few opponents who can come close to touching Bastos.
Mayssa Caldas Pereira Bastos
Rita Reis
Julia Pareja
62kg Hiago George def Gabriel Sousa via submission (footlock) – watch video
Hiago George of Cicero Costha is one of the best-known lighter weight black belts and is extremely consistent with his results. In four matches to gold George won two by points and two by submission, including a footlock over Gabriel Sousa in the final. Sousa's ankles were heavily taped possibly hinting at an injury, but he had three matches to get into the final and beat out George's notoriously tough teammate Jose Tiago along the way.
Hiago George
João Gabriel Batista De Sousa
Fernando Soares
55kg Talita Alencar def Amanda Nogueira via decision – watch video
Alencar and Nogueira know each other well– maybe too well. The former teammates are now frequent opponents, and their contests are always razor thin with neither willing to concede the other any advantage. That's what happened in this match, with Alencar taking a decision win over Nogueira in a lackluster match with no significant action.
Ana Talita Alencar
Amanda Nogueira
Ana Rodrigues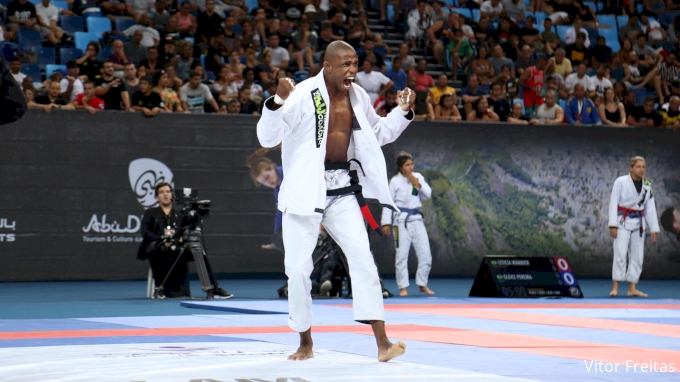 69kg Isaque Paiva def Joao Mendes via submission (armbar) – watch video
The long legs of Isaque Paiva proved a decisive factor in the 69kg final, as the lanky Brazilian tied up and frustrated Mendes. Paiva's one of the most criminally underrated featherweights in the game, a veteran athlete who has competed at the highest level. Mendes may be a promising up and comer but Paiva proved experience can trump youthful energy. A tight closed guard armbar reminiscent of the 'dead Orchard' finished the match.
Isaque Paiva
Joao Mendes
Victor Moraes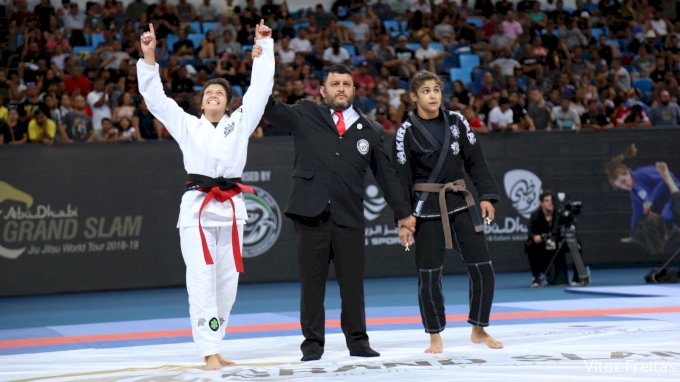 62kg Bianca Basilio def Michele Oliveira via decision – watch video
Usually one of the most exciting women to watch, Bianca Basilio played it cool when facing Michele Oliveira of Nova Uniao in the final. Basilio had scored two submissions to get into the final, but needed to grind out a decision win to become 2018 ADGS Rio champ. Not what we're used to seeing from Basilio.
Bianca Basilio
Michele Oliveira
Renata Melo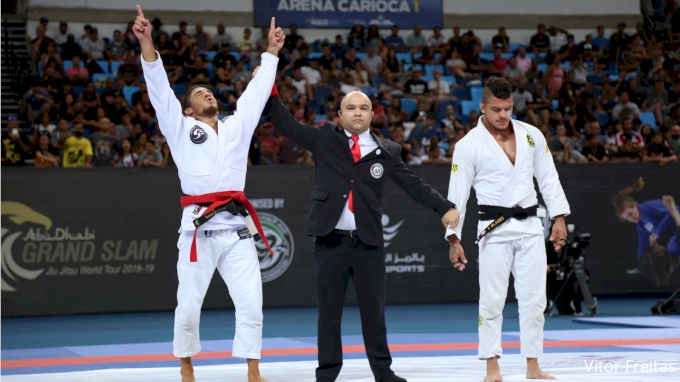 77kg Hugo Marques def Yan Paiva via split decision – watch video
The 77kg final promised to be an explosive encounter between two dynamic athletes in Marques and Paiva, but ended up a stalemate characterized by passive refereeing. The officials have a responsibility to make sure the action is constant and there was a distinct lack of that in this match. Marques won by decision to take his second ADGS Rio title in two years. =
Hugo Marques
Yan Paiva
Jaime Canuto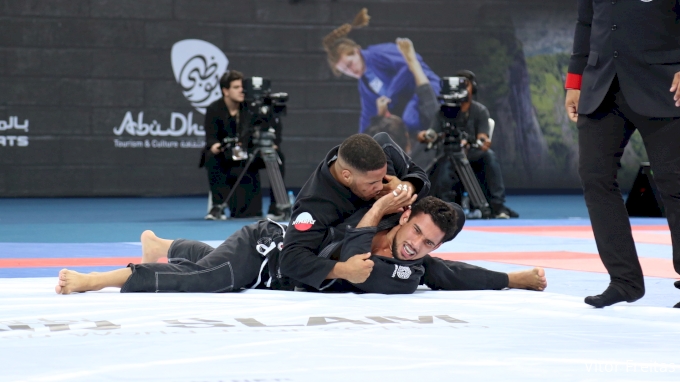 85kg Isaque Bahiense def Diego Ramalho 11-0 – watch video
Here's an incredible statistic: Bahiense has only lost twice all year, and at one point had a 25+ match winning streak. Ramalho had a tough task ahead of him in this match and though the match started even it quickly became one-way traffic once Bahiense got on top. The end result was 11-0 for Bahiense, who looked close to locking in a deep choke just as time ran out. This is the first time we've seen Bahiense back in UAEJJF competition since he won the Abu Dhabi World Pro in April.
Isaque Bahiense
Diego Ramalho
Matheus Spirandelli Souza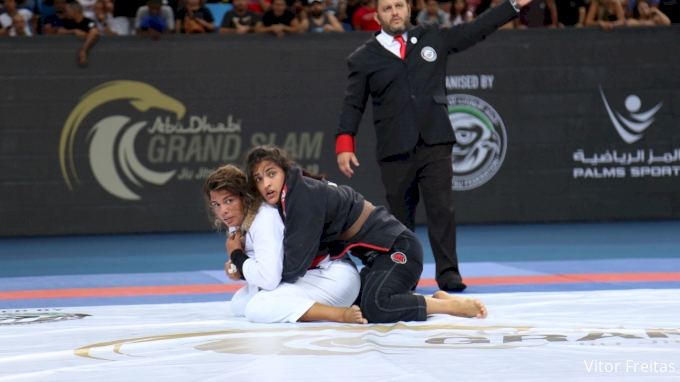 70kg Thamara Ferreira def Julia Boscher via submission (armbar) – watch video
One of the fastest rising talents in the women's divisions, 22-year-old brown belt Thamara Ferreira (aka Silva) had already taken a bronze medal at World Pro and a gold medal in Los Angeles. Now she adds a gold medal at Rio de Janeiro to her resume, and in the stacked 70kg brown-black division no less. A hard-fought submission over the very tough Julia Boscher of Soul Fighters, using an armbar from closed guard in the last 10 seconds of the match.
Thamara Silva
Julia Boscher
Emilly Silva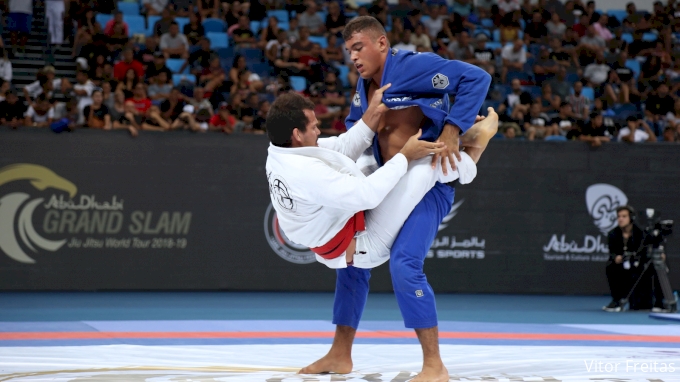 94kg Kaynan Duarte def Helton Junior 2-0 – watch video
Going into the 94kg final there were questions whether this match would be authentic. UAEJJF tournaments prevent teammates from closing out (gentleman's agreements over who takes gold) and so in order to avoid a double DQ, teammates will often "compete" but with prior agreement as to who wins, and how. We've see it a lot in past tournaments, with suspect submissions and blatantly obvious unrealistic outcomes. Duarte and Junior may both represent Atos, but they do not train together and it appeared that their match was legit. This is not the first time we have seen teammates face off in the final, a fault of the bracketing that is supposed to eliminate this by matching them no later than the semifinals.
Kaynan Duarte
Helton Junior
Adam Wardzinski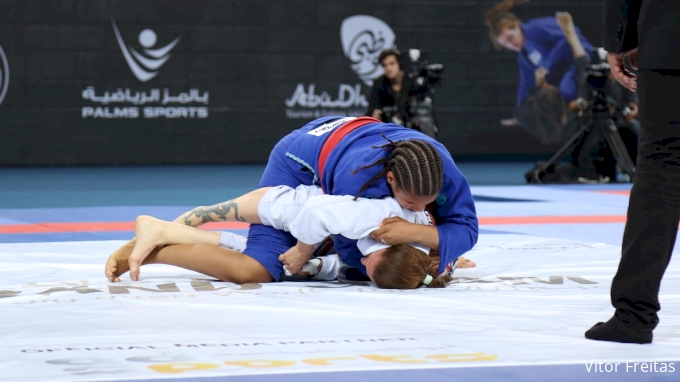 90kg Gabrieli Pessanha def Francisca Floras via choke – watch video
It's not secret just how talented the young lady from Rio de Janeiro is, but in case you need a reminder Gabrieli Pessanha stormed through the 90kg division with two submissions in three matches. An ezekiel from the back against Francisca Flores in the final gave Pessanha her third Grand Slam victory this season, following on from gold medals in Tokyo and Los Angeles.
Gabrieli Pessanha
Francisca Floras
Carina Santi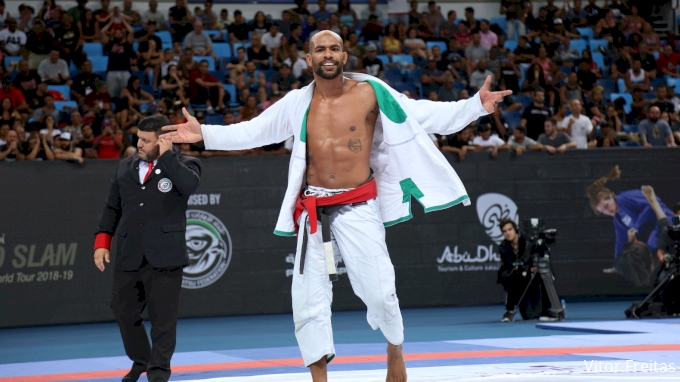 110kg Erberth Santos def Fernando Reis via choke – watch video
The big bad wolf rocked Rio de Janeiro with another trademark performance, submitting Fernando Reis with a choke in the 110kg final. Santos thrives under the UAEJJF rules, with his attacking style perfect for the six-minute rounds. He can throw around his opponents before the gas tank runs empty and that's exactly what he did with Reis, reversing a takedown attempt and pressuring from top before finding the back for the finish.
Erberth Santos
Fernando Reis
Guilherme Cordiviola
For links to finals matches click here
Visit the FloGrappling event archive to search through three days of jiu-jitsu from the Abu Dhabi Grand Slam Rio de Janeiro