Create a free account to unlock this article!
Get Started
Already a subscriber? Log In
Press release from DANTANI, Inc. Sports
President elect, Mr. Jair Bolsonaro, attended the third and final day of the championship at the Arena Carioca 1.
He was welcomed by Ibrahim Al-Alawi, Consul General of the UAE in Brazil, H.E Yousuf Al Batran, UAEJJF Board Member, Mr. Tariq Al Bahri, Director of Abu Dhabi Grand Slam, Mr. Walter Matos, President of Brazil Jiu-Jitsu Federation and Brazilian jiu-jitsu legend, Mario Sperry.
During his visit, Mr. President Jair Bolsonaro, commented – "Brazil has strong relations with the United Arab Emirates, I have a firm desire to deepen these relations during my term in office, especially all the things that we have in common between the two countries."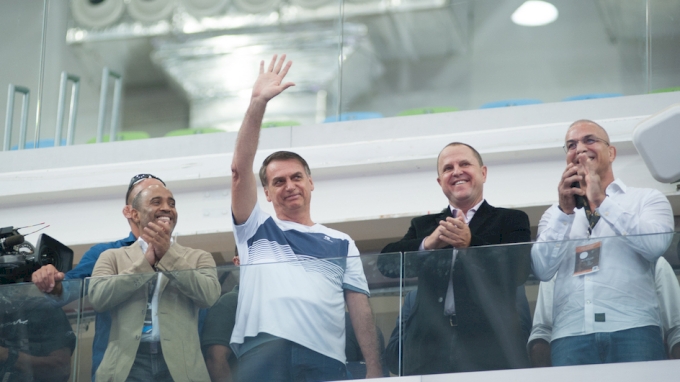 Left to right: Mr. Tariq Al Bahri, President elect, Mr. Jair Bolsonaro, Mr. Walter Matos, Mario Sperry
"I appreciate what His Highness Sheikh Mohammed bin Zayed Al Nahyan, Crown Prince of Abu Dhabi and Deputy Supreme Commander of the UAE Armed Forces, has done for the sport of jiu-jitsu around the world, and organizing the Abu Dhabi Grand Slam championship in Rio de Janeiro. I congratulate the UAE Jiu-Jitsu Federation, the organizing committee on the success of the championship and I wish them with continuous progress."
The President-elect added: "I have great respect for the UAE, the government and the people; I have strong relations with them. I have already visited them and I am very happy with the development of bilateral trade between the two countries. We will work to strengthen our joint communication in the next phase in order to provide prosperity for our people."
The fourth leg of the Abu Dhabi Grand Slam Jiu-Jitsu World Tour Season 4 [2018-19] heads to Abu Dhabi on January 10-12, 2019.
For a recap of the black belt finals click here. For full results and match links click here.