Unlock this article, live events, and more with a subscription!
Get Started
Already a subscriber? Log In
John Combs just submitted five out of six opponents to take home top honors at the ADCC 2019 West Coast Trials and punch his ticket to the World Championships later this year.
The stunning performance left many in the jiu-jitsu world with a simple question: "Who the hell is John Combs?"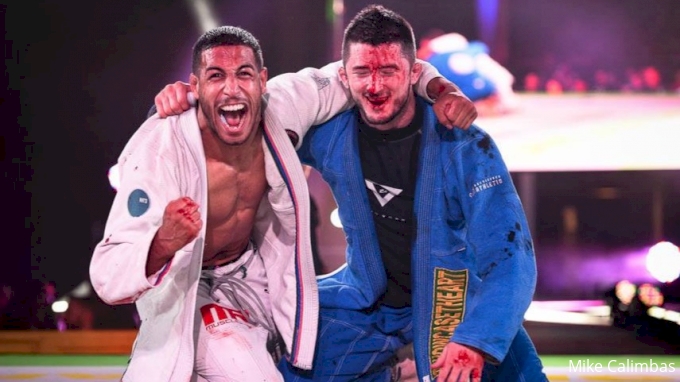 Thomas Keenan (left) & John Combs (right) share a moment after their bout on Fight 2 Win.
It's not the first time the unassuming Colorado native has turned heads.
Combs leapt onto the FloGrappling team's radar in 2016 when he submitted his way to gold at the Pan Championships as a brown belt, accumulating less than five total minutes of match time. He finished Isaque Bahiense via guillotine in 52 seconds in the final.
Isaque Bahiense vs John Combs – 2016 Pan Championships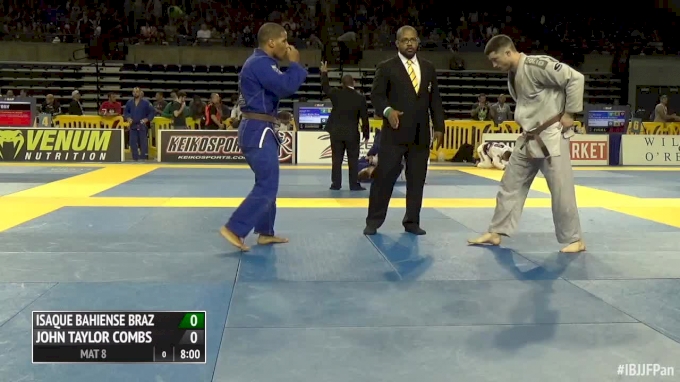 Unlock this video, live events, and more with a subscription!
Get Started
Already a subscriber? Log In
Shortly after Pans, John Combs starred on the very first Fight 2 Win event ever shown on FloGrappling (F2W Pro 4 – as it was known then) and submitted his opponent, again via guillotine, in short order.
He has since become one of the promotion's star athletes is a regular feature, especially when they head back home to Denver.
Combs' impressive campaign also caught the eye of Copa Podio, who invited the recently promoted black belt John Combs down to the 2016 Middleweight Grand Prix in Argentina and placed him in a bracket with monsters like Erberth Santos, Claudio Calasans, and more.
Words and mere results can't do Combs' performances form that night justice: the undersized young man won over the crowd and became a hero that night with his gutsy performance and devil-may-care attitude as he hucked Erberth around the stage. The showing was so good, in fact, that we made a short film about it: On Night in Argentina – The Legend of John Combs.
The next few years of competition for Combs saw it's a fair share of ups and downs – a submission win over Marcos Tinoco at 2017 Pan was a high, but there were many tough losses and even tougher draws in the brackets. The lightweight was often paired up with monsters like Renato Canuto, Clark Gracie, Edwin Najmi or some other beast for his very first match of a major tournament – a scenario that typically didn't end well for the burgeoning competitor.
Thought Combs did have some fantastic showings at Fight 2 Win and regional IBJJF tournaments, he wasn't getting the gold medals that he so desired.
In 2018, Combs switched gears and began focusing on teaching more than competing, unsure of what would happen next.
In a twist of fate that only life could write, and just months after shifting his focus to coaching, Comb's most important competitive performance came in the opening moments of the new year – he tore through the bracket at ADCC, submitting five out of six opponents on his way to securing his ticket to the biggest event of 2019: the ADCC World Championships.
John Combs: 2019 ADCC Trials Gold Interview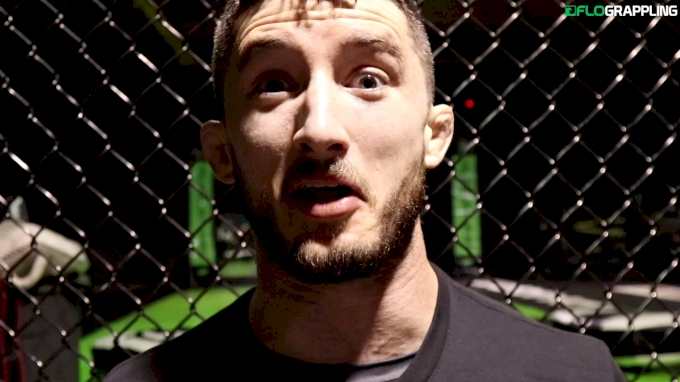 Unlock this video, live events, and more with a subscription!
Get Started
Already a subscriber? Log In