It's the final day of the 2019 IBJJF Pan Jiu-Jitsu Championships and I'll be running live updates from matside.
Join me as I recap key matches and results – watch the live stream here.
I'm sat right here.
Sat matside at @ibjjf Pans with my @FloGrappling comrade Will Safford. I'm doing live PBP, he's running social media. Bring us coffee. pic.twitter.com/HEj0pgnvfC

— Hywel Teague (@hywelteague) March 24, 2019
Don't forget we've got FloZone running today with expert analyst Shawn Williams and three-time IBJJF No-Gi World champion Josh Hinger on commentary!
---
Let's begin with the match coverage.
Cleber Sousa vs Carlos Alberto Oliveira
Crazy finish to this roosterweight quarterfinal. Sousa was down 4-4, 3-1 adv when he came up on the back and managed to sink the choke in. Great dramatic finish.
Winner: Sousa by choke from the back. Watch video here
---
Joao Miyao vs Shimon Kagiyama
Easy armbar win for Miyao, who is competing at light-featherweight alongside his brother Paulo.
Winner: Miyao via armbar – watch video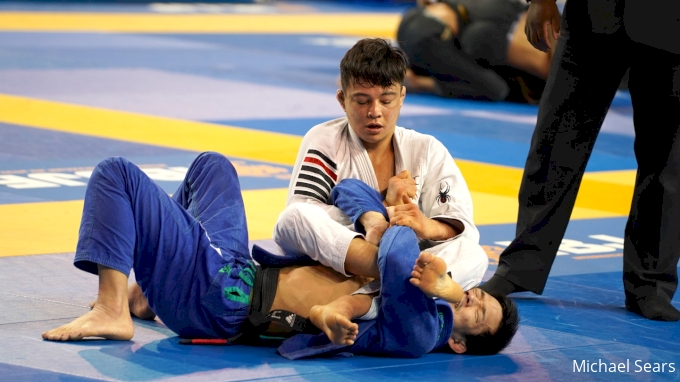 ---
Jamil Hill-Taylor vs Thiago Macedo
Jamil looked on FIRE yesterday absolutely tearing through Brandon Walensky. He's one of the favorites for the featherweight gold, let's see how he deals with the tough Macedo.
Man, Jamil's footwork is incredible. Macedo is fighting out of some tough spots here but Jamil is so aggressive with his movement and it's like he just doesn't respect his opponents as a threat. He looks in completely control no matter where they go.
Incredibly, there is no score in this match but Jamil wins via five advantages.
Winner: Jamil via points 0-0, 5-0 adv – watch video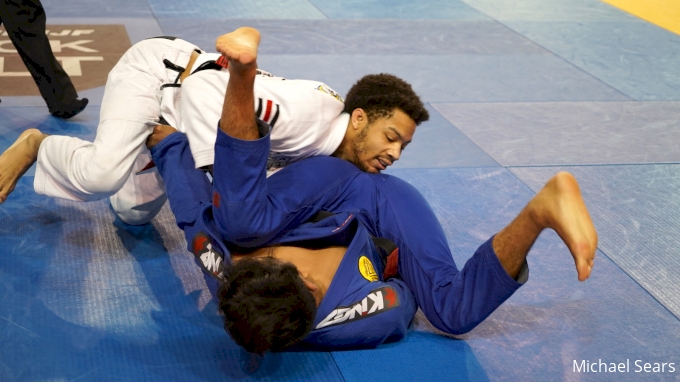 ---
Isaac Doederlein vs Joao Mendes
Wow! Quick finish for Doederlein as he hits an unexpected armlock from bottom. Razor sharp, great submission.
Winner: Doederlein via armlock – watch video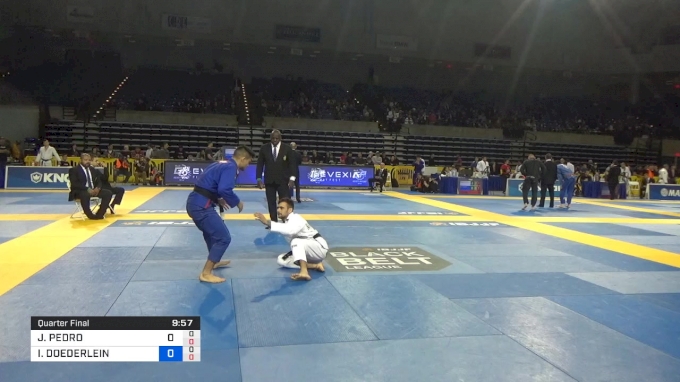 Unlock this video, live events, and more with a subscription!
Get Started
Already a subscriber? Log In
---
Quick updates:
First-year back belt Matheus Gabriel defeated two-time World silver medalist Leonardo Saggioro 6-2 and will face the winner of Samir Chantre and Rafael Mansur. – watch video
Don't forget brown belts are running on mats 4, 7, 8, 9 and 10. Those guys are killers and always a lot of fun to watch.
---
Jamil Hill vs Isaac Doederlein
Featherweight semifinal match: Huge start for Isaac, who dives on an arm and nearly passes. The TLI crew are going crazy. Jamil's flexible guard kicks in and he slows things down. Know how I said it looked like he didn't respect his opponents' jiu-jitsu? Isaac just earned that.
Jamil threatens the back and scores two from a 50-50 sweep. Isaac fights from bottom but Jamil stays in control and wins 2-0.
Winner: Jamil via points 2-0 – watch video
---
Quick updates:
Hiago Gama wins over Koji Shibamoto in a roosterweight match tied 2-2, squeezing by via one advantage.
Joao Miyao wins a split decision over Alexssandro Sodre in a tied light-featherweight semifinal.
---
Levi Jones-Leary vs Breno Bittencourt
Slow start in this match as they both get two penalties for the double guard pull. On the restart Levi goes after it and gets the back via a nice crab ride switch, deftly avoiding Bittencourt's attempts to pull him into 50-50. That's what I like to see– rather than somebody accepting the leg game Levi goes right around it and to the back.
Look at how he hooks the calf to come up into the leg drag.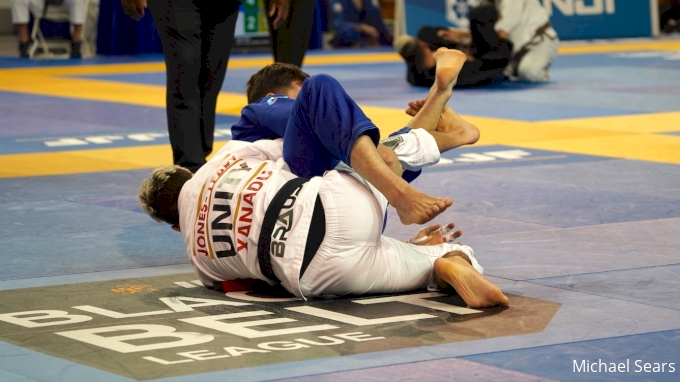 Bittencourt slips out and gets two but it's a clear win for Levi.
Winner: Levi Jones-Leary via points 6-2 – watch video
---
Francisco Iturralde vs Gabriel Rollo (lightweight QF)
It was pretty even up until the last minute when Rollo just ran wild, going 16-4 against the Ecuardorian. Impressive win.
Winner: Rollo via points 16-4 – watch video
---
Quick results
Lightweight QF: Osvaldo Queixinho Moizinho def Alexandre Molinaro 8-6 in a 50-50 battle
Middleweight QF: Isaque Bahiense tapped out Leo Lara wit a rear naked choke – watch video
Middleweight QF: Chippy match between Renato Canuto and Athos Ribeiro. Canuto almost scored two froma BIG shoulder throw. It was tied 0-0, 1-1 adv but there was a penalty against Ribeiro. – watch video
Middleweight QF: Michael Liera Jr tapped Chad Hardy with a collar choke from the back – watch video
---
Murilo Santana vs Mateus Diniz
The last time I remember seeing these two fight at Pans was in 2016 when Murilo ran over Matheus, sweeping him and mounting him, taking his back and choking him. A very different match so far this time around. Diniz scores takedown and Murilo plays exclusively from bottom, mostly closed guard. Penalties make the score 4-2 and Diniz advances.
Winner: Matheus Diniz via points 4-2 – watch video
---
Quick results
Matheus Gabriel beats Rafael Mansur 4-2 to move into the featherweight semifinal vs Jamil Hill – watch video
Otavio Sousa had a hard time with Alexandre Joaquim of Atos, but went from down 2-0 to going up 10-2 and winning via submission with a minute left. Amazing comeback. – watch video
Medium-heavyweight QF: Lucas Barbosa wins 5-0 vs Tarsis Humphreys – watch video
Levi Jones-Leary just about squeezed past the criminally-underrated Gabriel Rollo of Checkmat. It was 2-2, 1-1 adv but there was a penalty against Rollo. Close match. – watch video
---
In case you missed it, up and coming MMA fighter Jay Jay Wilson got a solid come-from-behind win in the brown belt divisions.
Bellator MMA fighter Jay Jay Wilson wins via kneebar at @ibjjf Pans while down on points! @BellatorMMA pic.twitter.com/lEntDlBCz2

— FloGrappling (@FloGrappling) March 24, 2019
---
Quick results
Jaime Canuto earned a 0-0 decision over Manuel Ribamar in a middleweight quarterfinal. He'll go on to face Otavio Sousa later.
Isaque Bahiense won 6-4 over Michael Liera Jr and is through to the final. – watch video
Adam Wardzinski scored 15-2 and won via collar choke over Fellipe Trovo of Gracie Barra and is through to the heavyweight semifinal. This is the first time he's ever competed at Pans, by the way. – watch video
---
Patrick Gaudio vs Aaron Tex Johnson
Fast start! Tex runs straight at Gaudio who has to play matador. He gets in underneath the legs, no secret what he's about. They go into the leg fighting and get stuck in 50-50. OK so Tex is a great leg locker, but you need to be careful giving Gaudio your feet.
Gaudio gets a pass and goes into north-south, 3-0. He mounts: 7-0 to Gaudio, but Tex finds a way out and gets on a leg, Gaudio passes again and gets another 3. Takedown. Pass. North-south choke. Gaudio is running away with this.
Winner: Gaudio via pointa 15-0
---
Renato Canuto vs Queixinho
Lot of fun in this scramble-fest. Canuto scores two for a shoulder throw. We almost never see Queixinho playing from the feet. Fun match, Canuto wins with two takedowns.
Winner: Canuto via points 4-0 – watch video
---
Quick updates:
Lucas Barbosa beats Matheus Diniz 0-0, 3-1 adv – watch video
Kaynan Duarte def Arnaldo Maidana 5-0 and will face Patrick Gaudio in the heavyweight semifinal – watch video
---
Otavio Sousa vs Jaime Canuto
Middleweight semifinal here, the winner will face Isaque Bahiense. It's 2-2 and Sousa dives on the back, sinking in both hooks as they roll out of bounds. He gets the four!
Restart in the center and Jaime on top now, Sousa playing a situp guard with lapel control, Canuto trying to kick out. Really scrappy performance from Sousa who wins 6-2. Great match.
Winner: Sousa via points – watch match
---
Quick results
Mahamed Aly beats Leo Nogeuira on points and will get Tanner Rice in the super-heavyweight semifinal.
Gustavo Batista beats Rudson Mateus 2-0 in the semifinal. That means him and Hulk close out medium-heavyweight.
---
Leandro Lo vs Vinicius Ferreira
Alliance black belt Ferreira is nicknamed "Tractor" for his heavy top pressure. He's a longtime training partner of Bernardo Faria, a man who always had success in beating Lo with the heavy pressure passing. Ferreira taking a page out of Bernardo's book and grinding forward. 0-0, less than a minute left. If Leandro doesn't get busy he could lose a decision here. Time runs out, split decision in favor of Lo.
Winner: Lo via referees' decision – watch video
---
Quick results
Kaynan Duarte taps Patrick Gaudio with a toehold! He's into the heavyweight finals. Shocker! Watch video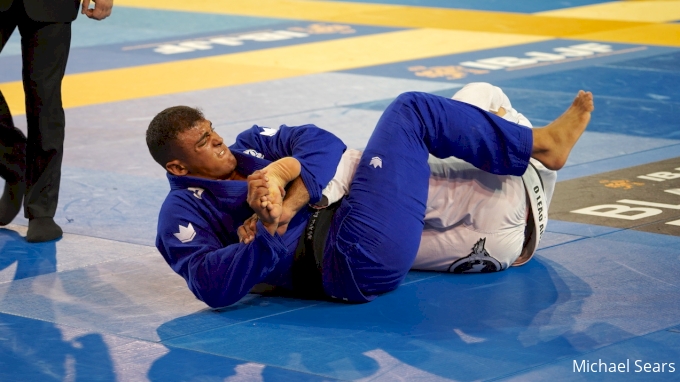 ---
Quick results
Fellipe Andrew is known for his footlock and triangles... and he just footlocked Fernando Reis of Alliance. He'll face Gutemberg Pereira in the super-heavyweight semifinal – watch video
---
Tanner Rice vs Mahamed Aly
Rice throws up a dangerous omoplata and tries to hit a straight armlock. He has the arm locked out but Mahamed escapes. Advantage for Rice.
Aly passes the open guard and gets top. Three for the pass and another two for knee ride. 5-0 to Aly. Rice recovers but Aly passes again. He goes for the same side-stomach throw he hit yesterday – he reposted our clip of it and said he always wanted to hit that technique since he saw Megaton use it!
8-0 for Mahamed Aly right now, snd he's cruising to a win. Wait– two mins left and there is a clash during a guard pull. Rice has got a bad gash on the inside of his mouth and can't continue.
Winner: Aly via default (injury) – watch video
---
HUGE UPSET!
Adam Wardzinski just dismantled Leandro Lo. He held off a passing blitz, got his back taken (no points for crossed feet) but escaped. Wardzinski swept Lo, passed to mount and then took the back before choking out the legend. Incredible.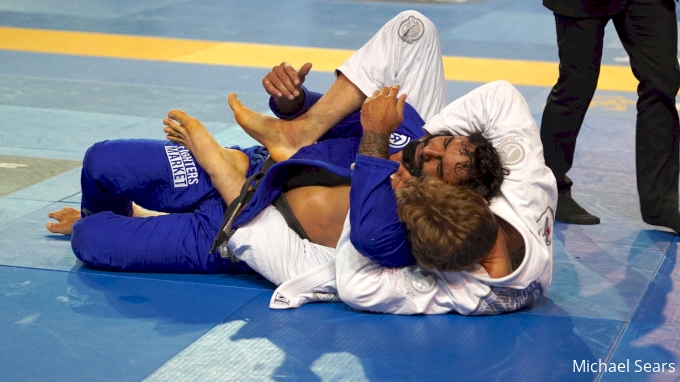 ---
Quick updates
Fellipe Andrew beats Gutembeg Pereira 2-0 in the super-heavyweight semi. (Watch video) Fellipe will face Mahamed Aly.
Max Gimenis chokes Guillherme Soares of Alliance in the ultra-heavyweight semifinal – watch video
---
Annnnnd we're on to the finals...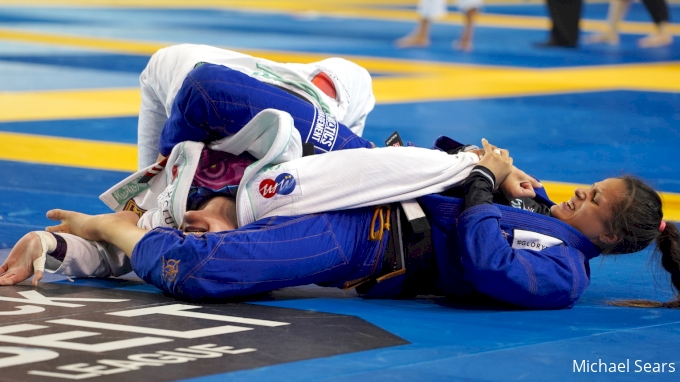 Women's Finals Results
Female roosterweight final: Mayssa Bastos def Serena Gabrielli via choke – watch video
Female light-featherweight final: Amanda Monteiro def Talita Alencar 0-0, 1-0 adv – watch video
Female featherweight final: Ffion Davies def Karen Antunes 4-2 – watch video
Female lightweight final: Gabi Mccomb def Nikki Sullivan via choke – watch video
Female middleweight final: Ana Carolina Vieira def Laura Hallock 12-0 – watch video
Female medium-heavyweight final: Luiza Monteiro def Monique Elias 2-2, 2-1 adv – watch video
Female heavyweight final: Nathiely de Jesus def Talita Nogueira via armbar – watch video
Female super-heavyweight final: Gabi Garcia def Carina Santi via choke – watch video (starts 9min)
Female absolute final: Gabi Garcia def Nathiely de Jesus 0-0, 1-0 adv – watch video
---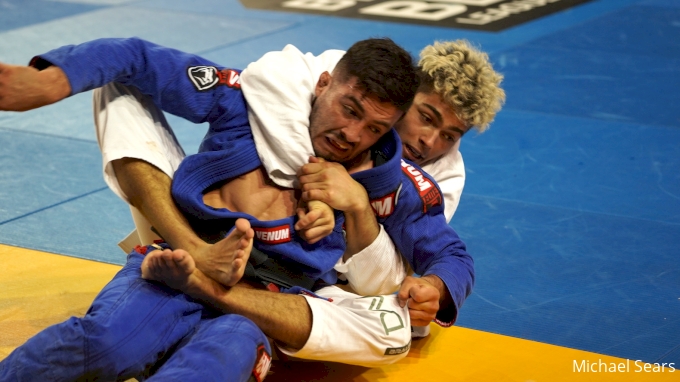 Men's Finals Results
Roosterweight: Cleber Sousa def Hiago Gama via referee's decision – watch video
Light-featherweight: Closeout between Joao Miyao and Hiago George
Featherweight: Matheus Gabriel def Jamil Hill-Taylor via points (4-4, 2-2 adv, 2-3 pen) – watch video
Lightweight: Levi Jones-Leary def Renato Canuto 6-4 – watch video
Middleweight: Isaque Bahiense def Otavio Sousa via points 2-0 – watch video
Medium-heavyweight: Closeout between Lucas Hulk and Gustavo Batista
Heavyweight: Kaynan Duarte def Adam Wardzinski 2-2, 1-0 adv – watch video
Super-heavyweight: Fellipe Andrew def Mahamed Aly 18-2 – watch video
Ultra-heavyweight: Closeout between Ricardo Evangelista and Max Gimenis
Absolute final: Lucas Barbosa def Leandro Lo via split referee's decision – watch video
---
And that's it! Thanks for following along. The matches from the event are now up in our event archive. You can search for and filter to find match videos. Enjoy, there was a lot of good jiu-jitsu this weekend.
See you at the next one!