This year is the 21st anniversary of women competing at the IBJJF World Championships. Women made their debut at "Mundials" in 1998, two years after the first tournament was held for men.
Two decades later many of the most dominant competitors and strongest female teams that we see represented at Worlds are still influenced by– or even led by– the women who pioneered a way for female competitors to flourish in the sport.
Let's take a look at the teams with the strongest female representations at Worlds and how they got there.
Checkmat
Affiliations like Checkmat are so big now, it's not guaranteed that all competitors who are technically "teammates" train together on a regular basis, or even at all. Still, there are affiliations that tend to be associated with strong female competitors. Checkmat is one of those teams, maybe because the first full-time female competitor, three-time World Champion Alessandra "Leka" Vieira (1999, 2002, 2005) now coaches under their flag and runs Checkmat Valencia. She is invested in unifying women through jiu-jitsu with her social project, Wonder Women BJJ.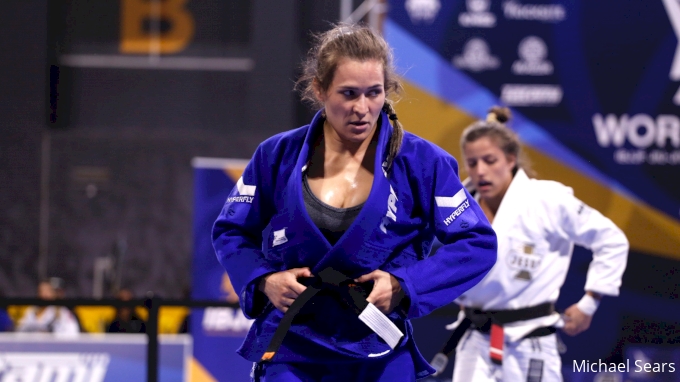 Karen Antunes
The Checkmat affiliation has grown into one of the most prominent competition teams for women. At the 2019 IBJJF Worlds they are bringing a squad of five black belt women for a chance to take home three of the female black belt titles. Karen Antunes, 2018 World Champion and owner of Checkmat Phoenix, is joined by teammate and Checkmat La Habra women's team leader Nathalie Ribeiro in the absolutely stacked featherweight division. Every match in this division is a believable finals match up. Checkmat's Catherine Perret takes on the lightweight division, while Samantha Cook and Raquel Canuto will contend for middleweight gold.
Gracie Humaita
Leticia Ribeiro took her first steps toward her legacy as an icon in women's jiu-jitsu in 2000 when she claimed her first of an incredible nine World titles. She was still a brown belt when she defeated the already-established black belt champ Leka Vieira, and since went on to become one of the best-known competitors and coaches in the sport, regardless of gender. Ribeiro has created arguably the most established female team in the sport, dominating every generation. Ribeiro herself claimed the era of the early 2000s while raising her protégés Ana Carol Vidal and the "Lady GOAT" Beatriz Mesquita, with the latter still dominating the game today.
Beatriz Mesquita
With newcomer black belt Gabi Mccomb Ribeiro has another athlete ready to carry the torch into the next decade. Mccomb has already made a statement in her inaugural black belt year by taking gold at Pans and nearly every tournament she has entered. It doesn't stop there, as Ribeiro has raised an army of kids like Emily Leyva– already dubbed "the next Bia Mesquita"– and Giovanna Canuto, a recent addition to her team, who will be making her final appearance as a juvenile at next week's World Championships.
Once the only woman in the training room, Leticia's camps now attract women from all over the world who want to prepare for the biggest stages. With over 14 countries represented her camps are notorious for producing champions at every belt rank, from all over the world.
Brazil 021
Continuing the growth of women's jiu-jitsu we have five-time World Champion Hannette Staack, a title she first claimed in 2002. Now, it's time to clarify something that could be confusing: while Leka Vieira was the first female black belt to win a world title she was not the first woman to ever win Worlds.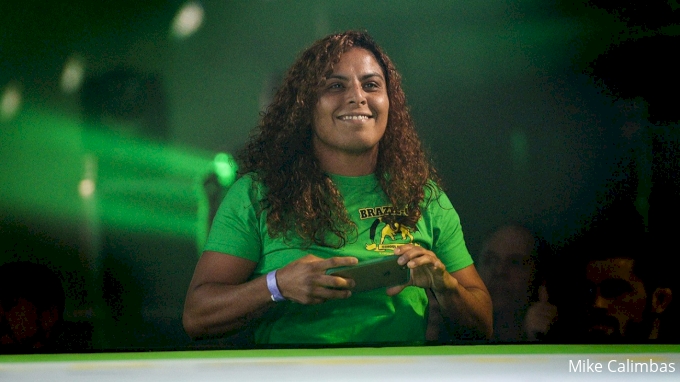 Hannette Staack
All belts were combined in a single division until 2005 (but it wasn't until 2012 that brown and black belts had their own divisions). With the edge of being a multiple disciplinary martial artist, Rosangela Conceicao claimed the first women's world title as a purple belt. However, in 2007 Staack would make a statement by defeating the World Champ and Olympian in the ADCC absolute finals, cementing her place as one of the greatest competitors in women's jiu-jitsu.
It's not always the biggest teams that make the biggest impacts. Staack is returning to the Worlds stage for the first time since 2013, competing alongside her student and teammate Kristen Mikkelson. You can find Staack back in the middleweight divisoin, while Mikkelson takes on the lightweights.
---
The Continued Growth of Women's Jiu-Jitsu
Though many of today's dominant female teams have their roots with the founders of women's jiu-jitsu, the sport has come a long way from the days of combined belt divisions, and limited weight classes. We have a new wave of innovators taking women's jiu-jitsu by storm and opening up new doors for women in the sport. The future of the sport is looking bright with these teams representing...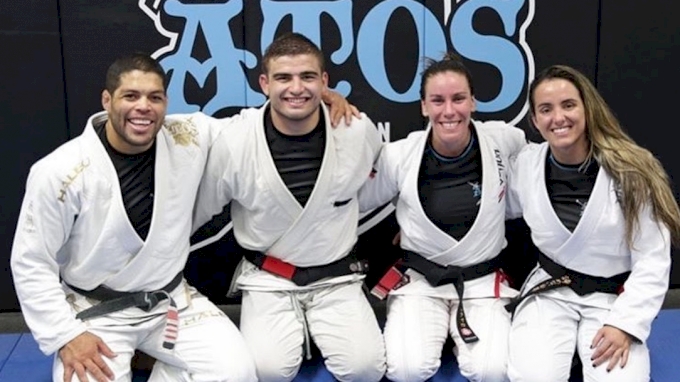 Luiza Monteiro and Angelica Galvao (right)
Atos
Angelica Galvao established herself as a fierce competitor at all belt ranks. Recently though she has been more focused on building what has come to be known as "Angelica's Army". Galvao has assembled a team composed of both seasoned champions such as Luiza Monteiro with up-and-coming talent including new black belt Nicole Sullivan and rising purple belt bulldog Crystal Gaxiola. Her team is rapidly growing and bringing serious numbers to the women's divisions next week, making Atos known for more than just their men's team.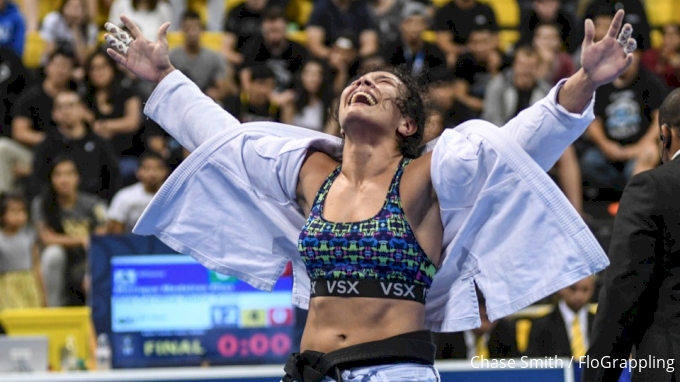 Ana Carolina Vieira
GF Team
Like Atos, they might not be founded by one of the OG female competitors, but they are making the future exciting for women in the sport. With competitors like Ana Carolina Vieira (aka "Baby"), Mayssa Bastos, and Amanda Monteiro they are responsible for some of today's most consistent and entertaining champions.
Past or present it is outstanding to see the female flag represented strong at the highest level, regardless of team affiliation.
There's still a lot of room to grow, but thanks these women it's possible for the next generation to take it to new levels. Catch these power house women and more and the 2019 IBJJF World Championships to see just how far women's jiu-jitsu has come.
Live or On Demand | May 30-Jun 2 | Click for more