In case you've been living under a rock, FloGrappling released the very first entry into their new ongoing documentary series 'The New Guard' featuring Roberto Jimenez last Wednesday and the reception has been overwhelming! But if you're still on the fence about watching the single greatest piece of jiu-jitsu content, allow me to further convince you.
1. "Roberto is the future"
It's no secret now, Roberto Jimenez is good at jiu-jitsu. There is only so much room on this hype train so get on while you still can. Just about everyone from the Alliance team has predicted great things to come for the standout competitor but the best is surely yet to come. Roberto has had so much success in fact that they started calling him 'Bluechecha'. And if that's not an endorsement for greatness I don't know what is.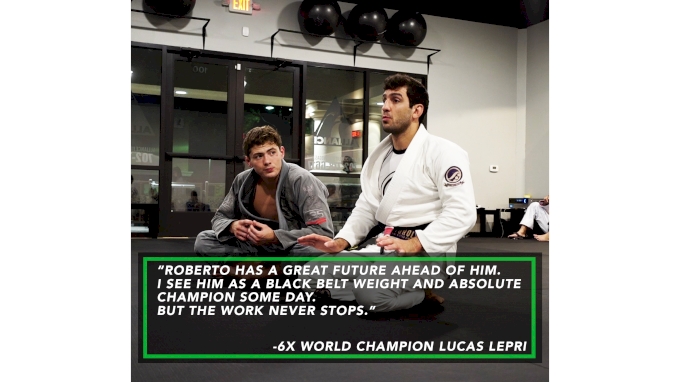 2. Roberto hated jiu-jitsu!
Even world champions go through some growing pains in jiu-jitsu! I was certainly surprised to find out that Roberto hasn't been a blood thirsty killer his whole life! He used to be a normal kid who hated jiu-jitsu like just about everyone does at some point.
But luckily he outgrew his disdain for the gentle art and started racking up the gold medals at orange belt. If it weren't for those early NAGA medals who knows where Roberto would be.
3. Roberto vs Gutemberg
One of the craziest moments in my career covering jiu-jitsu was in 2016 at the first ever Royal Invitational. After both the brown belt and purple belt brackets concluded (and so I thought the event) there suddenly was all this commotion behind me. Luckily I kept the camera rolling as Joel Tudor, AJ Agazarm and Raul Jimenez haggled back and forth to set up an epic super fight.
Raul wasn't going to let his son walk away empty handed and they settled on a price and within seconds Gutemberg Perreira and Roberto Jimenez were on the mats ready to square off. It was a truly authentic moment that still raises the hair on the back of my neck.
4. The Submissions
If it's jiu-jitsu you're after, look no further. The New Guard highlights some of the biggest moments from Roberto's entire career and it includes quite a few slick submissions (go figure). For real though, we paid extra special attention to the jiu-jitsu here and made sure it would satisfy even the most dedicated of fans.
5. Lucas Lepri
We're all very lucky to have such a great ambassador in our sport like Lucas Lepri who is taking time not only to shatter records in the lightweight division but also shepherd the next generation of competitors. Lepri is a 6x World Champion and possesses all the wisdom one needs to become a champion. In The New Guard Lucas gives us a glimpse into his mental process and how he helps his up and coming competitors tackle the mental side of the game. It's great advice for all aspiring competitors.