Create a free account to unlock this article!
Get Started
Already a subscriber? Log In
Fight 2 Win 118 did not disappoint with two titles on the line, and a main event between two of the most anticipated competitors of this era: Marcio Andre and Kennedy Maciel.
Marcio Andre has had a lot on his plate so far this year: he's opened a new gym in Arizona and welcomed his first child into the world. He is now a dad, full-time athlete, and full-time coach. But the evolution of his life hasn't negated his performance at all. In fact, he is looking better than ever in the competitive landscape, and has climbed the rankings to no.3 in the featherweight division.
The 10-minute main event was exactly what should have been expected in a sub-only match up between two of the sport's best featherweights: a perfect balance of patience and aggression. We got to see both Kennedy and Marcio display every aspect of their games. From dynamic and threatening guards, to heavy and persistent passing, both athletes fought tooth and nail for the duration of the match.
With two minutes left in the main event and no significant submission attempts, the stakes heightened and the pace quickened. Kennedy latched on to an ankle lock, and Marcio retaliated with an ankle lock of his own, transitioning in the last minute to a cringe-worthy toe-hold. With grimacing faces, and feet getting twisted at angles no foot should have to sustain, the match ended. Marcio Andre improved his F2W record to 2-0 with the unanimous decision victory over Kennedy Maciel.
Hashimoto becomes first Japanese grappler to win F2W title
The co-main event featured a black belt roosterweight title fight between Tomoyuki Hashimoto (Carpe Diem) and Jose Carlos Lima (GF Team). Some might say that the berimbolo game is dead but players like Tomoyuki Hashimoto are proving it is alive and well. At the start of the match Lima exploded on the stage, nearly jumping straight to full mount.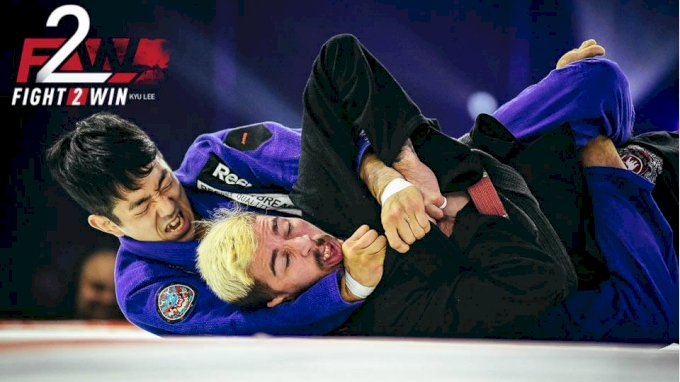 Hashimoto, unphased, kept his composure, methodically recovering his guard and immediately setting up his first berimbolo attempt. At first he did not succeed, so he tried and tried again. With persistence, and an insatiable hunt for anything less than what he wanted, Hashimoto successfully took the back, and finish the match with a bow and arrow choke, winning his Fight 2 Win debut and claiming the title via submission.
Hashimoto admits that as an IBJJF player the submission only format was a new challenge for him. He proved that the purpose of points is to reflect the danger of various positions. He was able to capitalize on his adept points game, to sink in the submission.
Talita Takes Back F2W Title vs Monteiro
There was a clash of champions in the women's flyweight title match. Amanda Monteiro (GF Team) defending her belt against former F2W Flyweight Champ, Talita Alencar (Alliance). Every time these women meet, whether its IBJJF Worlds or F2W, it seems that there is a title on the line. They are frequently the last two standing, one the challenger, and one the current champion.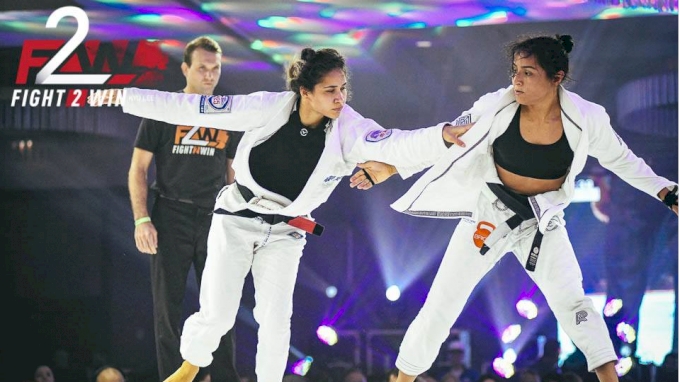 Both known for their fast paced, brazen styles, this match was exactly that. Talita looked particularly unstoppable hitting a beautiful sacrifice throw and transitioning directly into an armbar attempt. Amanda was able to thwart all of Talita's attacks, but seemed to be reacting for most of the match instead of attacking. With just a couple minutes left and the pressure to lock in a submission attempt, Amanda threw herself into a fury of passing attempts, but it was too little too late. Talita Alencar reclaimed the Fight 2 Win flyweight belt by unanimous decision in what could be the most exciting match of the night.
Watch all of the matches from Fight 2 Win 118 in the FloGrappling match archives