What happens when a jiu-jitsu black belt and an international freestyle wrestler face off? It's one of those questions that comes up every so often, a fantasy scenario that usually only plays out in heated conversations between friends after training is done.
There are so many styles and sub-styles in submission grappling that jiu-jitsu competitors are used to taking on different kinds of opponents from no-gi specialists to judo practitioners, and catch wrestlers to sambo stylists.
Freestyle wrestlers rarely step out of their area of speciality and are highly focused on their chosen sports. Top grapplers from the world of jiu-jitsu often flip-flop between gi and no-gi competition, but wrestlers will usually favor one style– they won't switch between freestyle and greco, for example.
The rules matter too– success will depend on how a match can be won. If takedowns and pins score, a wrestler will beat a jiu-jitsu practitioner nine times out of 10. That number gets thrown out of the window when submissions are allowed as it becomes fair more weighted in favor of the submission grappler.
A special rules match in Korea between Byungmin Gong, a member of the national wrestling team, and jiu-jitsu black belt Inseong Jang gave us the perfect look at how this plays out.
Held at the recent Spyder Wrestling Open Championship, the match consisted of two back-to-back rounds with a short break. The first round was international freestyle rules, the second utilized the Grappling ruleset as devised by United World Wrestling, which looks very much any standard points-based no-gi jiu-jitsu format.
WATCH: Byungmin Gong (Korean National Wrestler) vs Inseong Jang (Jiu-Jitsu Black Belt) Spyder Wrestling Open Championship Special Match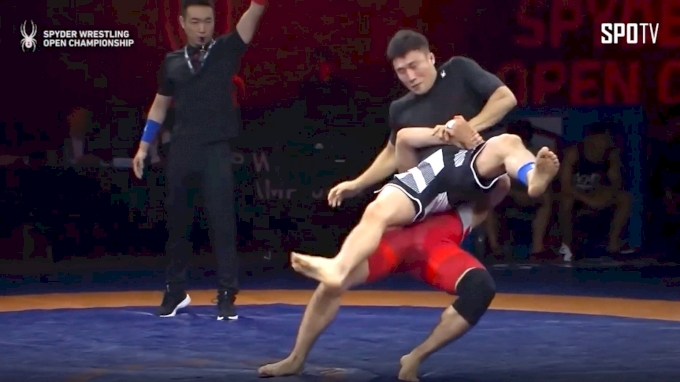 The results were as you'd expect. Gong took down Jang at will and won via tech fall in 2:30 during the wrestling round. When it switched to submission grappling Jang tapped Gong with a leg lock with only 17 seconds left in the round.
The importance of wrestling in any kind of grappling match is universally understood: the ability to dictate where the match takes place and the positional control are strong weapons in any grappler's arsenal.
John Danaher recently discussed wrestling in the context of ADCC, telling us:
"The wrestling you see in ADCC is significantly different from say freestyle or college styles of wrestling. It has to be because there's submission holds involved, and the the rules for the take down are massively different. And so you'll see techniques drawn from wrestling, but the actual wrestling itself in ADCC, as I said, is significantly different from just pure freestyle or collegiate. And so the athletes who manage that distinction best are going to do very, very well in ADCC."
Not all wrestlers transition well to grappling competitions– some, such as the surging Nick Rodriguez, found his dynamic style of grappling allowed him to quickly integrate submissions and he earned his ticket to ADCC after less than a year of submission grappling experience. A perfect example of Danaher's adaptive athlete.
Gong's attributes as a wrestler showed that he could manhandle Jang in most positions during both the grappling and wrestling rounds. But his lack of submission awareness in the lower body exposed a gaping hole to be exploited. Without knowledge of submissions, even the most capable wrestlers are vulnerable to basic jiu-jitsu attacks.
Watch the 2019 ADCC World Championships– Sept 28-29, 2017.