Unlock this article, live events, and more with a subscription!
Get Started
Already a subscriber? Log In
Good morning jiu-jitsu fanatics, it's Monday morning – and you may be shocked to learn that the biggest news this morning ISN'T related to any ADCC bracket changes. (Though, the day is young– let's see what happens).
Without further ado, get that delicious bean water in your mug and read on to find out the biggest stories in the jiu-jitsu world.
Rodolfo & Burns Shine at UFC Uruguay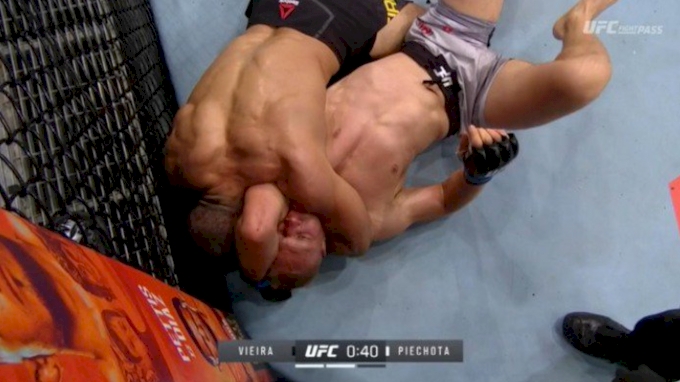 Some of the biggest news in jiu-jitsu this weekend didn't take place on the mats, but in the cage!
The long-awaited UFC debut of jiu-jitsu legend Rodolfo Vieira went down at UFC Fight Night 159, and it couldn't have gone more to plan.
The 29-year-old Brazilian faced polish fighter Oskar Piechota (11-1-1) in a main card out. Vieira made his intentions known early with two quick takedowns in the first round, and we saw more of the same in the second– except this tome the Polish challenger was unable to stave off Rodolfo's relentless attacks.
Vieira made effective use of brutal ground and pound from the mount in order to open up the submission opportunity and sealed the deal with a head an arm choke with 34 seconds remaining in the round.
The stunning performance extends Rodolfo's perfect record to 6-0 in the cage.
The Blackbelt Hunter adds another to his list.

Vieira submits Piechota in his Octagon debut! #UFCUruguay pic.twitter.com/oJe0MQml9n

— UFC (@ufc) August 11, 2019
Rodolfo wasn't the only storied jiu-jitsu on the card at UFC Uruguay on Saturday – Gilbert Burns also turned in a stellar showing when he defeated the 20-0 Russian fighter Alexey Kunchenko via unanimous decision.
The former IBJJF World Champion and regular jiu-jitsu superfight competitor leaned heavily on his grappling throughout the bout, racking up takedowns, vicious ground and pound, as well as demonstrating a continued evolution in the striking department. The showing is even more impressive considering that Burns took on the fight on just two weeks notice!
Burns putting on a show in round 1!@GilbertDurinho #UFCUruguay pic.twitter.com/OAQ5bYowgx

— UFC (@ufc) August 10, 2019
---
Nathiely de Jesus Defeats Gabi Garcia At F2W 121 To Claim The Heavyweight Strap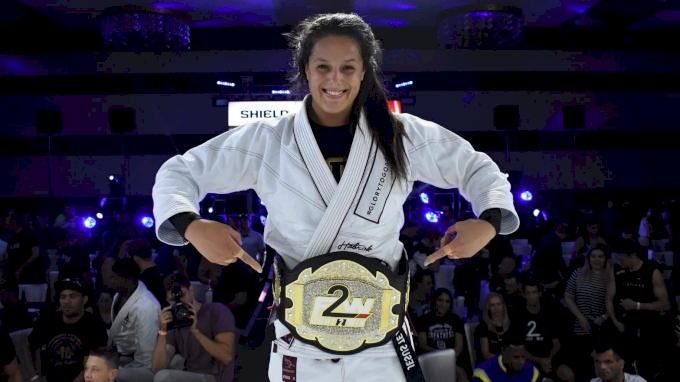 Whether it's MMA or jiu-jitsu, Gabi Garcia certainly knows how to bring attention to a fight; the hype surrounding the black belt heavyweight title fight between the Alliance star and Nathiely de Jesus had captured the jiu-jitsu worlds attention, and fans wanted to know if the F2W format would be a difference-maker the second time these athletes got a crack at one another.
The two competitors had met once before at the pan Championships with Gabi earning the win, but this time it was the RPBJJ athlete Nathiely that took the decision win after a 10-minute battle that saw both competitors aggressively hunting submission attacks in a frenzied, relentless pace.
Watch F2W 121: Gabi Garcia vs Nathiely de Jesus - Full Event Replay
Other notable results include a solid decision victory for Jon Satava over surging athlete Kody Steele, dual wins for William and Andrew Tackett; Nisar Loynab defeated Yago De Souza by decision; Manuel Ribamar also won his bout by unanimous decision.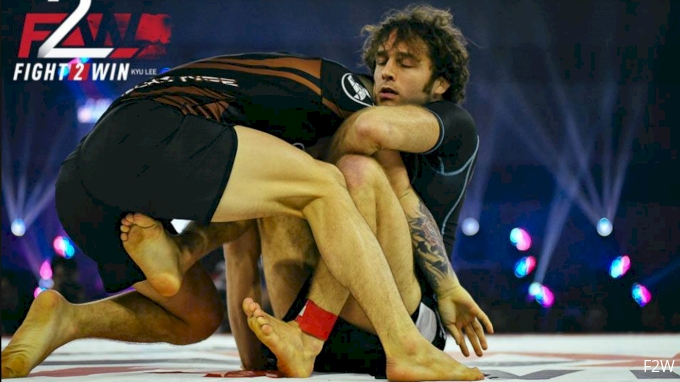 Stava's excellent butterfly and SLX guard were on display throughout his Co-Main event match with Kody Steele.
---
In Case You Missed It
Top Youth Prospect Cole Abate To Join AOJ - Read News
In two weeks time, the prestigious Art of Jiu-Jitsu Academy will gain one of the most exciting prospects in the juvenile division in teenage phenom Cole Abate. The teenage phenom defended his F2W youth belt in Austin on Saturday night and seems to be destined for great things.
Jordan Burroughs: King of The Double Leg - Read Analysis
We profiled what makes the greatest USA Wrestling of a generation so damn good.
Chasing Greatness With Mikey Musumeci - Watch Interview
The 3x World Champion posses the kind of work ethic and mindset that is unique onto himself, and in this thirty-minute episode, we dive into how he approaches training and learning techniques, the burden of being a world champ, his pivotal match with Bruno Malfacine, and how his career even began.
---
Upcoming Live Events on FloGrappling:
KASAI Pro 6 – August 17
An 8-man 135lb tournament featuring Geo Martinez, Joao Miyao, Jon Calestine and many more. Also, Josh Hinger vs Matheus Diniz and Kaynan Duarte vs Yuri Simoes.
IBJJF Masters Worlds – August 21-24
The biggest and best tournament for grapplers over the age of 30, which always sees some legendary names come out to play!
IBJJF Heavyweight Grand Prix – August 24
With a cash prize $40,000 this heavyweight tournament is no easy warm-up for ADCC. Featuring Joao Gabriel Rocha, Patrick Gaudio, Lucas Hulk Barbosa, Cyborg, Mahamed Aly, Luiz Panza, Yuri Simoes and Gordon Ryan (injury permitting).
ADCC World Championships – September 28-29
The BIGGEST no-gi event of the year.