Unlock this article, live events, and more with a subscription!
Get Started
Already a subscriber? Log In
Gabi Garcia's performance from the 2017 ADCC World Championships was among the most brutal and efficient of all the gold medalists.
Out of the three ADCC Champions profiled so far (Cobrinha, JT, Bia), Gabi Garcia was the most expeditious on her route to gold: she totaled just over 12 minutes of match time and finished two out of three opponents with submissions.
Watch ADCC 2019 ONLY on FloGrappling
September 28-29 | Click for more
Watch The Supercut: Gabi Garcia Runs Through +60kg Division At ADCC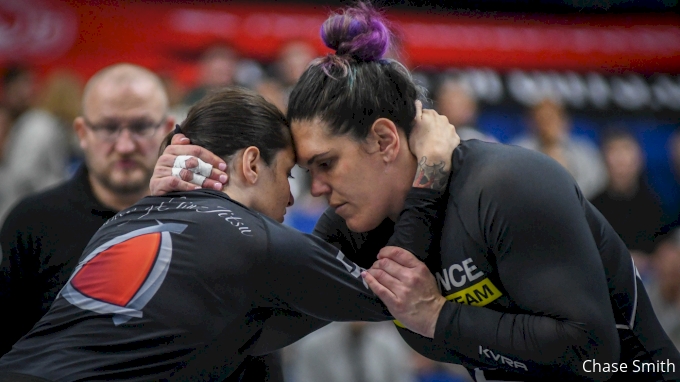 Unlock this video, live events, and more with a subscription!
Get Started
Already a subscriber? Log In
The three-time ADCC Champion had an impeccable game plan — and given the speedy nature of her wins, it's relatively easy to point out major factors of success.
Keys To Victory:
Let the other athlete pull guard, or face the consequences of wrestling.
Heavy use of classic wrestling techniques like the cradle and front headlock.
Opportunistic with submission attacks.
The female divisions at ADCC are -60kg and +60kg, and there's no use denying the split favors the 90kg competitor. The strength advantage was most clearly in the rock-and-the-hard place decision: Wrestle with the significantly stronger woman, or pull guard and give her the position that she looking for?

Tubby Alquein pulls guard and can't contain Gabi, Treta goes face-to-mat for her attempt to stand with Gabi.
Both approaches were seen over the course of Gabi's three matches, and it seemed to make little difference which one was utilized. Gabi Crushed both Tubby Alequin after to pulled guard. Jessica Flowers did a sold job of exchange attacks on the feet but was eventually taken down by the Alliance Superstar
Gabi's snap down in the final against Amanda 'Treta' Nogueira set up the beginning of the end.
Garcia: Strength Alone Didn't Sub 2 Opponents in 2 Minutes
Though size and strength were both factors in Gai's wins, we should point out that those two features alone are not enough to submit two high-level black belts in under a minute each. Garcia was so dominant, but submitting two high-level black belts in two minutes also should speak to her skill as an athlete.
Her creative response to Alequin's inverted leglock attacks saw Gabi both maintain the dominant position and set herself for the quick toehold finish.
Watch All of Gabi Garcia's Matches