Unlock this article, live events, and more with a subscription!
Get Started
Already a subscriber? Log In
The day has come! The 2019 IBJJF Heavyweight No-Gi Grand Prix is going down now! Follow along in real-time as we make our way through the stacked bracket.
The Bracket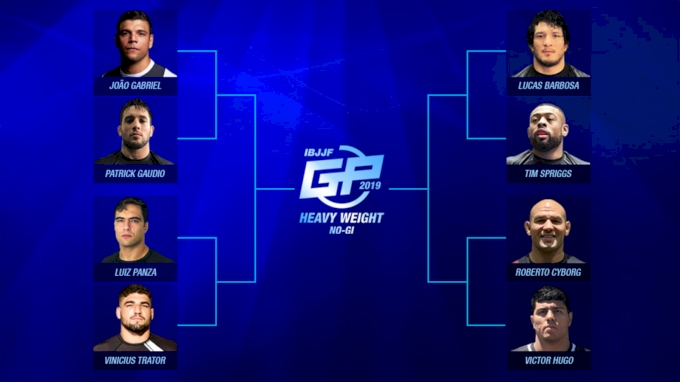 Round 1
Joao Gabriel Vs Patrick Gaudio - Watch Match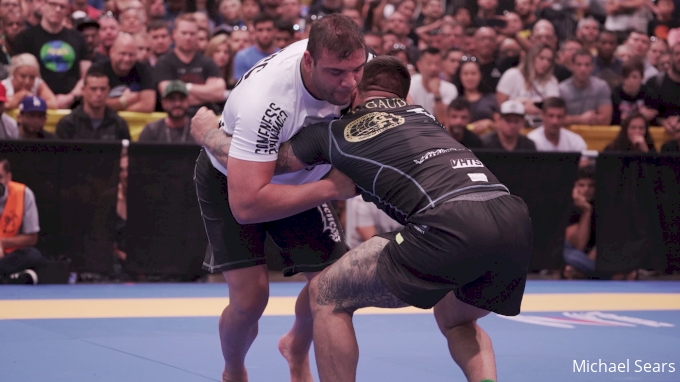 The match opens with heavy collar ties. Early headbutt splits Patrick's lip and the match is forced to briefly pause. Big foot sweep attempt, Penalties are given for inactivity.
Wild exchange after the plenty, Patrick shoots and guadio attempts a big uchi mata style counter with a hard Whizzer. The scramble continued, with Joao briefly diving on a guillotine attack and the athletes rolled out of bounds. Joao was awarded an advantage for his efforts.
A second round of penalties was given at the four-minute mark for inactivity. Guadio remains down by one advantage. The size advantage for Joao is becoming more evident as the round goes on, his heavy collar ties and sprawls seem to be taking a toll of the GF Team athlete.
Patrick shoots on a low single and drags Joao to the ground and they end up out of bounds, tieing the score with two advantages.
The score ends in a draw, and the decision win was awarded to Joao Gabriel by the referees.
Result: Joao Gabriel Advances to Semis
Luiz Panza vs Vinicius Trator - Watch Match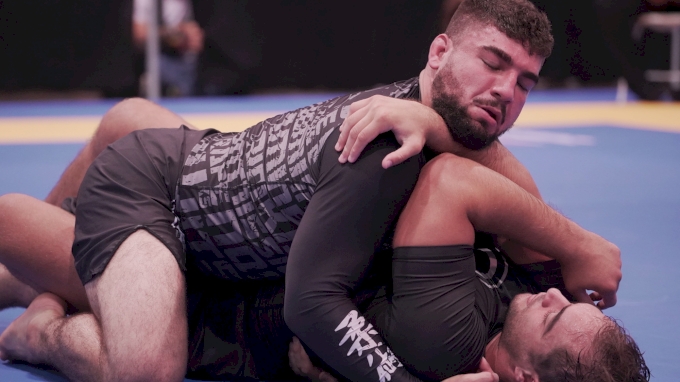 Luiza Panza pulls guard and immediately stars hunting for his well-known leg attacks, but Trator defends well and is able to evade the matrix style back take.
Tractor enters the over-under passing position looks very comfortable, however Panza's agile guard is on full display, frequently inverting to remove himself from the over-under position and get back to butterfly guard.
Tator switches to a bodylock style pass and is successfully at trapping Panza's hip mobility and is in a good position to pass if he can free his left leg from Panza's half guard. Trator was awarded the advantage for his passing efforts.
Result: Vincius Trator Advances to Semis (1-0 advantages)
Lucas Barbosa vs Tim Spriggs - Watch Match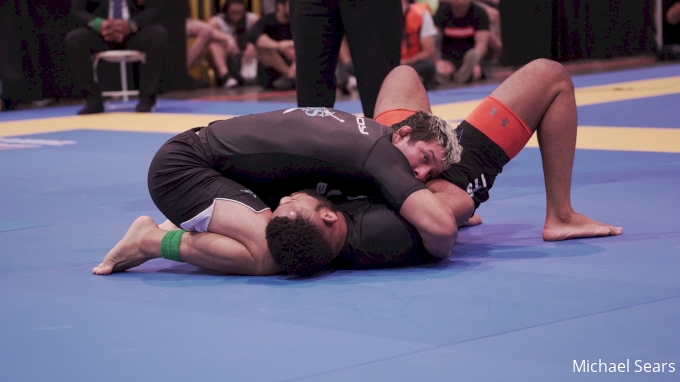 The two began circling with brief tie-ups and non-commital shots before Lucas snatched up a single leg. Tim defended on one leg for a few moments before Hul was able to finish for the two points and landing in Sprigg's closed guard.
The pace slowed considerably while Hulk remained inside Tims closed guard; Sprigg seems intent on climbing his guard and using a 2-on-1 grip to try and isolate one of hulks arms, but is having little success.
Hulk finally pries open the closed guard and is able to hit a bodylock pass almost instantly. Spiggs re-guards and Hulk is again able to pass the guard.
Hulk passes the guard directly into the mount to make the final score 12-0.
Result: Lucas Barbosa advances into the Semi
Roberto Cyborg vs Victor Hugo - Watch Match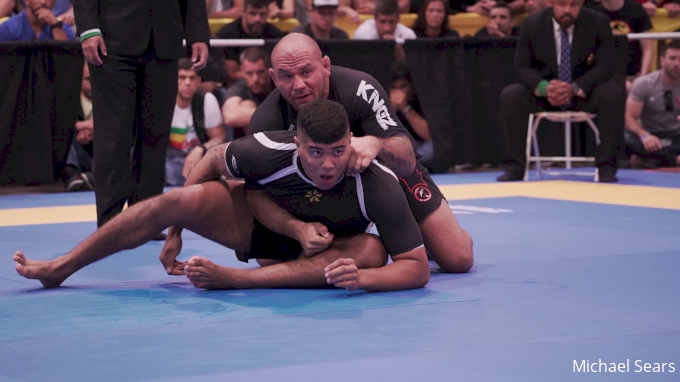 The final match of the opening round saw young gun Victor Hugo take on the legendary Cyborg. A brief scramble t the opening bell sees Cyborg get the quick two points from a takedown attempt.
The FightSports leader is really pouring on the pressure with his passing but Hugo's guard hold up well, despite getting close to completing a pass several times, Cyborg is held to only two advantages.
With one minute left Cyborg again comes exceptionally close to passing the guard, but Victor is able to turtle and escape one last time.
Result: Cyborg Advances to Semi-final
---
Semi-Finals
Joao Gabriel Rocha vs Vinicius Trator - Watch Match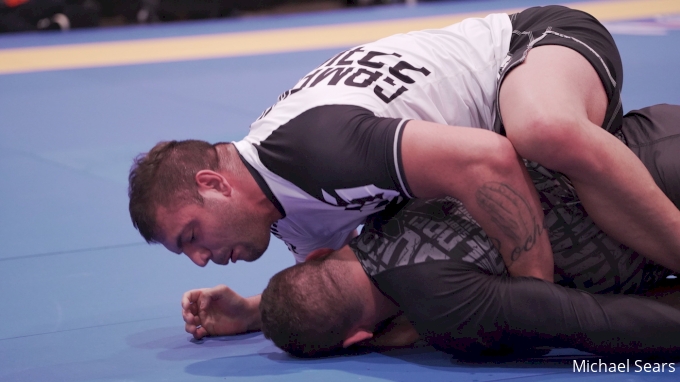 Tator pulls guard and goes straight to DLR. Joao's passing is looking exceptional, he knee cuts and quickly backsteps to nearly take Tartors back, but the Alliance competitor is able to Granby roll and swiftly recompose his guard.
Tator inverts and enters the saddle position for a moment while hunting a kneebar attack, but Rocha is able to untangle himself and return to the task of attack Tators RDLR guard.
Trator is insistent on getting into the saddle position pays the price as Joao is able to flatten out the Alliance athlete with a heavy crossface and nearly pass the guard on multiple occasions.
Tator is forced to turtle to avoid being passing and Joao all over him, clever positioning on Trator end keeps Joao from officially getting awarded any back control points.
Result: Joao Gabrel Advances To Final (4-0 Advantages)
Lucas Hulk vs Cyborg - Watch Match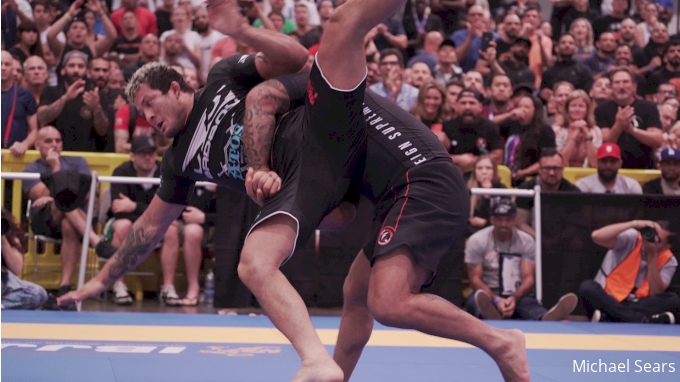 Both athletes look to test their wrestling skills early, Lucas shoots in on a single leg but Cyborg deftly limp legs out danger. Lucas goes for the single leg again and is able to kick the leg out for two points.
Cyborg doesn't let Lucas settle into any passing attempts and is back on his feet quickly. Again Lucas snatches up the single leg, changing to the blast double to finish the takedown and make the score 4-0.
Cyborg fires back with a single leg attack of his own near the edge of the mat, Lucas defends by taking the action out of bounds and is hit with a penalty, awarding Cyborg two points.
Cyborg defends two single attacks from Hulk and his confidence is growing. He shoots in on a double and spins to the back, big suplex attempt sees Hulk bounce off the mats before getting back to his feet, but Cyborg is still on his back. Cyborg again tries to pick up and dump Hulk and they roll out of bounds. Lucas is again penalized, awarding Cyborg two points and giving him the lead.
Lucas looks for more single leg attacks but is unable to bring Cyborg back to the mat, and Cyborg takes the lead.
Result: Cyborg Wins 4--4- (Lucas had 2 penalty points)
---
Final
Joao Gabriel Rocha vs Roberto Cyborg Abreu
$40,000 is on the line as these two monsters square off in the final of the IBJJG heavyweight Grand Prix.
The opening minutes are best characterized as wrestling battle, both competitors fighting for collar ties and inside control.
Cyborg comes close to catching a snatch single-leg takdown at the 5-minute mark, but Joao is able to extra his leg and returns to neutral, standing position.
With 1:30 remaining, cyborg takes a deep shot and lands underneath Joao's sprawl. Joao sits back in an attempt to reverse cyborg with a headlock and is nearly passed, though no advantages have been awarded.
Result: Cyborg wins By Judges decision