Unlock this article, live events, and more with a subscription!
Get Started
Already a subscriber? Log In
Now that the dust has settled on the IBJJF Heavyweight No-Gi Grand Prix we have a clearer picture of what to expect when ADCC rolls around. Seven of the eight competitors will return at the end of September, so this event serves as a warmup for them and a preview for us. Here's what we learned.
"Uncle" Cyborg gives the kids a lesson
I'm not going to say that Cyborg's age and experience carried him to victory against all odds, as he had a strong contingent of supporters at the event. Few people we spoke to picked Cyborg to win, and most were predicting a final between Lucas Barbosa and Joao Gabriel Rocha. Cyborg defied the odds.
He turns 39 this year, and Cyborg had 10 years on the next youngest man Luiz Panza. All of Cyborg's opponents were 27 or younger, but youth proved no advantage when it mattered.
Victor Hugo, 22, was a late replacement for Yuri Simoes but has been training for ADCC. His flexible guard game looked similar to Cyborg's own patented tornado guard, and the Fight Sports leader had an answer for everything Hugo threw at him. He came within milliseconds of securing position long enough for guard pass points. Cyborg won on advantages, but the results were wholly one-sided.
The semifinal with Lucas Barbosa was the most intriguing of the three matches. Barbosa started strong, taking down Cyborg twice. The gas seemed to run low around halfway through the match, and Cyborg seemed to know this may happen. He bided his time and turned the tables, twice taking down and increasingly exhausted Barbosa. The takedowns went to the edge of the mat and finished out of bounds, but Cyborg was still awarded points as the referees deemed Barbosa to be fleeing the mat and penalized him accordingly. End result: 4-4, but the two penalties swung it in Cyborg's favor.
The final versus Joao Gabriel Rocha was the most evenly matched of the three bouts. Rocha spent weeks at Cyborg's Miami gym in 2015 as part of the ADCC training camp and they spent many rounds going head to head. The mutual respect and knowledge of each other's abilities saw them take fewer risks, but Cyborg pressed harder when it counted and so the decision went in his favor.
After three 10-minute matches against some of ADCC hottest prospects, Cyborg showed that he is still among the elite no-gi grapplers in the world, and he told us in his post-event interview that he's aiming for the absolute gold once again. If that's the case, he could become the first person to win the ADCC absolute title more than once.
---
What does this mean for ADCC?
As we said, seven of the eight competitors at the IBJJF Heavyweight No-Gi Grand Prix will be at ADCC, all of them in the -99 and +99kg divisions. Here's our take on their performances and what that means heading into ADCC.
Joao Gabriel Rocha needs to learn how to pull the trigger when it counts. He's taken silver so many times in his career — at ADCC and at IBJJF Worlds both gi and no-gi. Maybe the pressure gets to him, maybe he lacks a clear game plan beyond his opening matches, but whatever it is holding him back, he can't hope to win ADCC unless he breaks through this glass ceiling.
Hulk needs to work on his cardio. He looked untouchable in his opening match vs Spriggs, but when he hit the brick wall that was Cyborg in the semifinal he faded hard and that is not a good sign for ADCC. With long, grueling matches ahead of him, his conditioning will need to be tip-top. He looked dead after 20 minutes at the IBJJF GP, which is only half of the possible duration of an ADCC final.
Victor Hugo may not be ready for the big boys just yet. His youthful energy can't be counted out but he looked constantly on the back foot against a veteran like Cyborg.
Panza's flexible guard game is frustrating for his opponents but not as dangerous as it needs to be. Trator was able to avoid the Checkmat black belt's tricky attacks and grind on top for the decision. ADCC judges are not going to look favorably on that kind of game.
Gaudio has got the physicality necessary to confront imposing opponents like Joao Gabriel Rocha, or as we saw the previous week, Kaynan Duarte. But he has to stop counter-fighting and start getting in people's faces more if he wants to win.
Tim Spriggs has a lot of work to do. He looked a shade of the grappler we saw win No-Gi Worlds and ADCC Trials last year.
---
Results round-up
There was an 11-second heel hook in Bellator over the weekend. Aviv Gozali started his attack as Imanari roll. It was far from pretty but he snagged a leg and the end result was the same.
While Masters Worlds was running there was another tournament taking place at the same time over in another area of the convention center. Here are some key results out of the IBJJF Las Vegas gi and no-gi Opens.
Guthierry Barbosa took double gold in the gi, winning both middleweight and the open weight. He beat ultra-heavyweight Dany Gerard in the final.
The winner of the black belt no-gi open class was Pedro Rocha, younger brother of Joao Gabriel. Pedro is a former national wrestling champion in Brazil and got his black belt earlier this year.
Richar Nogueira beat Gianni Grippo in the semifinal of the gi featherweight division. Gianni bounced back to win gold in no-gi the following day. Grippo is looking slim and says he's already on weight for the 66kg division at ADCC. He may even compete at the IBJJF Pan No-Gi in September.
Lucas Pinheiro took two gold medals, winning light-feather in both the gi and no-gi.
Dominique Bell beat Fellipe Trovo for heavyweight gold. He also hit this sick throw in an earlier round– pretty fancy.
---
Quote of the Day
"I don't know why the guillotine is considered a no-gi thing. Controlling the head is the ultimate control. You can grab a collar, you can grab a sleeve, you can grab a collar and a sleeve, but even those two grips as not as good a control as one chin strap on the jaw."

– Josh Hinger
---
In Case You Missed It:
With such valuable experiences to offer the grappling community, Deblass sees his role evolving and revealed he's stepping away from competition.
Ask a Paramedic: How Do I Extend My Jiu-Jitsu Career?
Everybody knows jiu-jitsu can be hard on the body– a professional offers advice on how to train and compete with longevity in mind.
Tonon Delivers Amazing Talk On Learning Via Losing
Flamboyant grappling-MMA crossover athlete Garry Tonon reveals how he and his team take lessons from matches that don't go their way.
Musumeci On The Match That Revealed Holes In His Game
The American to ever win three IBJJF World titles wasn't satisfied with gold. A match opened Mikey Musumeci's eyes to an area he needed to fix ASAP.
---
Photo of the week: Age is just a number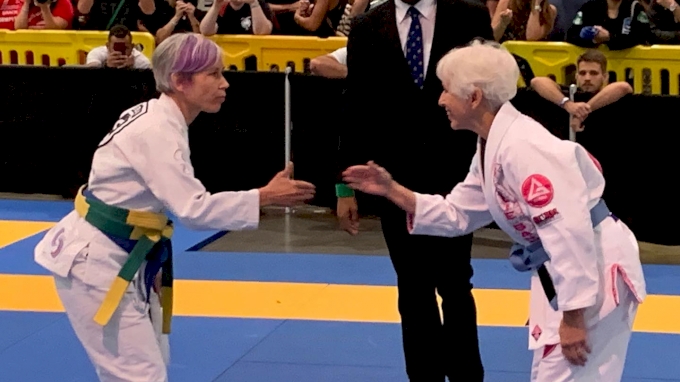 ---
Upcoming Live Events on FloGrappling:
Friday, August 30
Featuring Dante Leon vs Gabriel Arges, plus Samir Chante vs Jose Carlos Lima and Max Gimenes vs Felipe Bezerra.
Saturday, September 7
Submission-only action returns with Joao Miyao vs Frank Rosenthal, Paulo Miyao vs Kamil Wilk and Masakazu Imanari vs Ben Eddy.
Featuring ADCC 77kg competitors Edwin Najmi vs Marcelo Mafra in the main event.
Saturday, September 14-15
2019 IBJJF Pan No-Gi Championship
Sunday, September 22-23
2019 UWW Grappling World Championships
Saturday, September 28