Josh Hinger broke the tie by improving his record to 2-1 over Arnaldo Maidana at Fight 2 Win 124 in Seattle, Washington.
With just three weeks left until ADCC Josh Hinger is looking sharp. In the 10 minute main event against Arnaldo Maidana we saw Hinger's usual antics: the shoot for the single and fishing for the chin strap. It was evident, however, that the two had fought before as Maidana left little to no room for Josh's go-to attacks.
This opened up opportunities for Hinger to explore some more creative, but equally dominant, endeavors, like set-ups for twisters, can-openers, and a lethal kimura trap position that you have to see to understand. As dominant as Hinger's performance, Maidana came ready to scrap attempting a guillotine of his own on the guillotine guru, and a hail mary attempt at a toe hold, which eventually landed him back in Hinger's side control. Josh Hinger won by unanimous decision at the end of the main event.
"I know all my ADCC competitors were watching and studying, so I knew I had to put it on him," said Hinger.
WATCH: Josh Hinger vs Arnaldo Maidana Fight 2 Win 124
Since earning his third World No-Gi title last December, and winning the West Coast ADCC trials it's clear that the no.2-ranked 88kg no-gi grappler is full steam for a dominant ADCC performance in just a few weeks.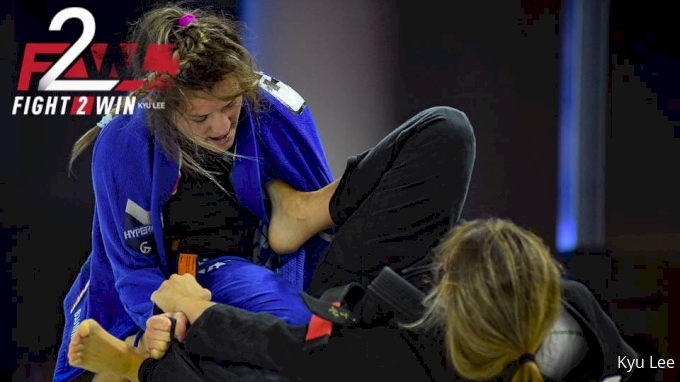 F2W Masters Flyweight champion, Karen Antunes writes her name on the short list of women to best no. 1 roosterweight and F2W atomweight champion Mayssa Bastos in a catchweight gi match.
With feet like hands and grips that pull her opponents in like quicksand, Mayssa Bastos proved to be a major threat for the sub-only format of Fight 2 Win. After an unsurprisingly guard pull to play sit up guard, she was quick to try to pull Antunes into her traps. But, with her intelligent implementation of dynamic shifts in angles and distance Antunes was able to prove herself to be equally threatening, and keep herself out of harm's way.
For the majority of the match Antunes used this strategy to try to break down Mayssa's guard, but neither athlete was successful in imposing their game completely. With just two minutes left in the match the pace quickened. Antunes flung into a failed flying armbar, in which Mayssa tried to capitalize to come on top. She was immediately swept back, but wasted no time in attacking an armbar of her own. With seconds left, Antunes relatiated with a knee bar attempt, as the bell rang. After a toe-to-toe contest, the referees gave Karen Antunes the unanimous decision victory over Mayssa Bastos.
WATCH: Karen Antunes vs Mayssa Bastos Fight 2 Win 124