Unlock this article, live events, and more with a subscription!
Get Started
Already a subscriber? Log In
The most exclusive submission grappling tournament in the world is just a few weeks away– and with it, one of the most anticipated superfights in grappling.
The ADCC World Championships return stateside to Anaheim, CA on the last weekend of September. The tournament is sure to provide a battery of superstar matchups across the six men's divisions and two women's divisions. But the only matchup which has been identified so far is the superfight scheduled between the 2017 absolute champion, Felipe Pena, and the reigning ADCC superfight titleholder, Andre Galvao.
No matter which man wins, this will be a showdown for the history books with a litany of implications for the future of the superfight.
Understanding how much gravity this year's superfight holds requires an understanding of how the superfights have been selected since the inception of the ADCC superfight title.
Mario Sperry and the Abu Dhabi years
More than two decades ago, Mario Sperry was the first ADCC absolute champion, winning the title in Abu Dhabi in 1998. The victory put him in position to compete in the inaugural superfight the following year against PRIDE and UFC veteran Enson Inoue.
Sperry defeated Inoue in 1999; and Roberto Traven succeeded Sperry as absolute champ that year. So began the tradition by which superfight contenders have often––but not always––been named.
From 2000 until 2003, each superfight pitted the reigning superfight champion against the incumbent absolute champion.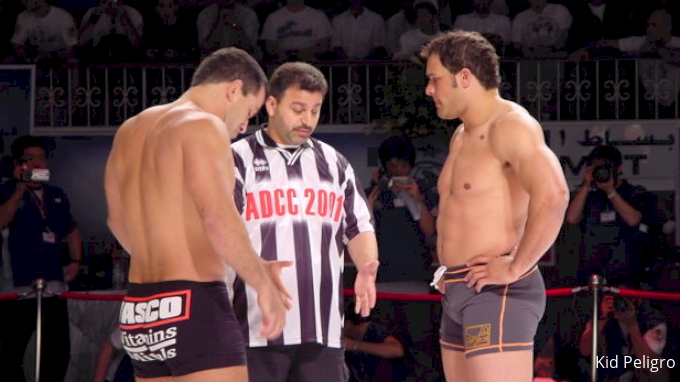 Sperry (left) vs Kerr in 2001
Sperry won again in 2000 against Traven, and was finally dethroned in 2001 by American Division I college wrestling champion, UFC and PRIDE veteran, Mark Kerr.
Kerr is the only competitor without a Jiu Jitsu background to have won the superfight. He's also among a small group to have won ADCC gold three or more times.
ADCC commentator and pundit Riccardo Ammendolia said "the whole idea of the scoring system was to make it fair so that any style grappler could go in and win," adding that the era of ADCC champions without intensive Jiu Jitsu experience is a thing of the past.
The wrestler did not stay on top for long. Kerr lost the superfight title the following year to Ricardo Arona by points.
The Age of Abandonment
At the same time as Kerr usurped Sperry, ADCC altered several of the traditions which had previously governed the tournament and the superfight.
In 2003, the so-called olympics of grappling was moved out of Abu Dhabi and was converted from an annual tournament to a bi-annual one. "ADCC went from annual to bi-annual in 2001 after 9/11," Ammendolia said. "People were having issues getting passports to go to Abu Dhabi and travel was tough at the time." So in 2003, ADCC organizers brought the event to Sao Paolo, Brazil.
That year, Arona outscored Kerr and Dean Lister won the absolute title, setting the stage for the superfight in 2005. But complications forced event organizers to fumble another tradition in 2005, as Arona opted not to defend his title against Lister. Arona was the first of three consecutive superfight winners to abdicate the throne. He instead faced Lister in the opening round of the 2005 Pride Middleweight Grand Prix. Arona won the bout, earning three more Pride fights that summer.
"A lot of these guys were doing both MMA and submission grappling, or sometimes submission grappling was kind of a one-off thing," Ammendolia said of the ADCC competitors in the mid-2000s.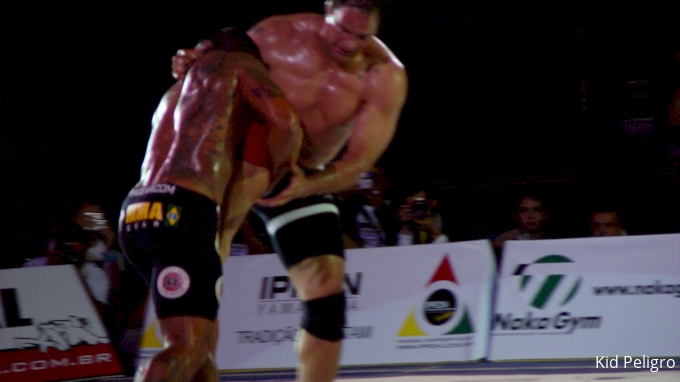 Arona vs Kerr, 2003
Jean Jacques Machado was runner up to Arona in the absolute division in 2001, and was scheduled to replace him against Lister. Machado, a 77kg competitor in 2001, was the lightest to compete in the superfight, and lost to Lister by points.
Lister, who was nearing the peak of his mixed martial arts career in 2007, also relinquished his superfight title, which he was expected to defend against 2005 absolute champion Roger Gracie. To replace Lister, ADCC named Norway's Jon Olav Einemo, the only one of Gracie's 12 previous ADCC opponents to beat him. Einemo is the only superfight contender since 2000 who has not been awarded a medal in the ADCC absolute division.
Gracie avenged his loss, but followed in Lister's and Arona's footsteps becoming the third consecutive superfight champion not to defend the title. In December of 2009, he signed a contract with Strikeforce.
The Golden Era
Gracie's runner-up in the absolute division in 2005 was Ronaldo "Jacare" Souza. ADCC organizers named him to take on incumbent Absolute Champion Robert Drysdale in 2009. Souza defeated Drysdale in Barcelona, and resurrected the tradition of defending the title in 2011 against Braulio Estima.
"The Estima-Jacare match had everything," Ammendolia said, adding that the three superfights between 2009 and 2013 stand out as the most exciting in ADCC history.
Their battle included an early onslaught of takedown attempts by Souza, a barrage of inverted attacks by Estima, and a fierce overtime battle culminating in a three-point backtake victory for Estima.
With his victory Estima was slated to take on the challenger Andre Galvao in Beijing in 2013.
The Reign of Galvao
Galvao, the absolute champion of 2011, burst onto the scene in record-setting fashion, becoming the first ever to win the superfight via submission. His rear naked choke finish of Estima in 2013 stands alone as the only submission victory in the ADCC superfight. With the submission, Galvao also earned redemption, as Estima had finished Galvao with a triangle choke in the 88kg finals four years earlier. In Galvao's first superfight title defense in 2015, he trounced Roberto "Cyborg" Abreu in a one-sided bout in Sao Paulo.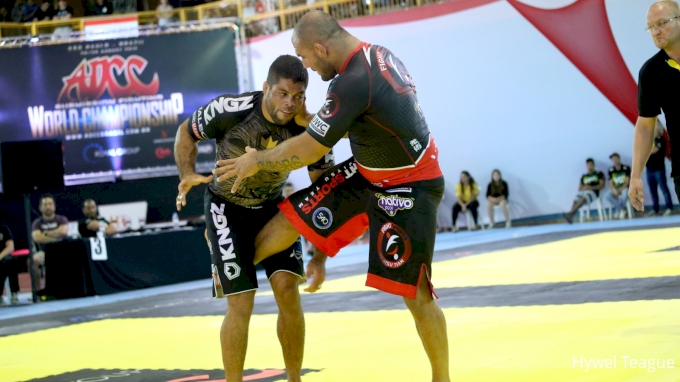 Galvao vs Cyborg, 2015
Galvao set two ADCC records in 2017 with his victory over Claudio Calasans, becoming the first ever to win three ADCC superfights, and also scoring the most points in a superfight match, beating his Atos teammate 14-0.
This year, Galvao will look to continue his record setting trend against Gracie Barra's Felipe Pena, but he's unlikely to mimic his submission victory against Estima or his total dominance against Abreu and Calasans. Galvao and Pena have split their previous run-ins 2-2. Each of those encounters were in the gi; and none have ended in a submission.
The match is scheduled for Galvao's 37th birthday against a man ten years younger in Pena. Neither competitor has been very active in no-gi competition since their ADCC victories in 2017. Pena has been busy in gi competitions, but has had only three no-gi matches this year. All three were at KASAI Pro 5, where he lost to Aaron "Tex" Johnson via heel hook after wins over Valdir Araujo and Jackson Sousa. Meanwhile Galvao has only competed in one event since his match against Calasans. Nearly a year and a half ago, he competed at Abu Dhabi King of the Mats 2018, where he went 1-1 in the gi. Still, neither Galvao nor Pena shows any signs of backing down for what could be a superfight for the ages.
"It's not just the ADCC title on the line," Ammendolia said. "There's a lot of pride at stake for both these guys."
History in the Making
Beyond settling the score and earning bragging rights, there are a lot of implications at stake for the future of the superfight depending on who wins. If Pena takes the throne, it's anyone's guess who will be next to face him for the superfight title. It could be Gordon Ryan or Marcus 'Buchecha' Almeida, who took second and third place in absolute respectively in 2017, each only losing to Pena. Or it could be another Atos prodigy such as Kaynan Duarte or Lucas "Hulk" Barbosa.
But Galvao has hinted at his intentions to retire after the superfight. If he steps away from competition after a victory over Pena, he leaves the door open for a line of hopeful challengers to take his place. In past years, ADCC has replaced a superfight victory with the runner-up absolute champion of the previous year, which would be Ryan, who took silver in 2017. But if Ryan wins the absolute tournament this year, who will he face then? Buchecha, who took bronze in the 2017 absolute, would be the obvious choice. But it's plausible that we could see the return of Pena win or lose, as he was the only man to defeat Ryan in 2017 in either category.
Whomever has the next opportunity to hold the superfight title, it will take an unparalleled run to topple Galvao's three-time– potentially four-time– superfight champion record.
No matter who wins, the superfight this year will be one for the history books. As Ammendolia noted, "it has all the makings for one of the most historic matches in the sport."
Watch The ADCC 2019 World Championships LIVE or On-Demand ONLY On FloGrappling