Unlock this article, live events, and more with a subscription!
Get Started
Already a subscriber? Log In
Marcus "Buchecha" Almeida is one of the most physically gifted athletes of this generation, as evidenced by his performance at the 2017 ADCC World Championships.
A massive individual, Buchecha clocks in at +99kg and still moves with cat-like agility and the explosive power of a souped-up muscle car. These physical attributes have manifested in some of the best counter-wrestling and hustle to ever be displayed inside of ADCC, and indeed have helped carry Buchecha to his two ADCC world titles.
Watch ADCC 2019 ONLY on FloGrappling
September 28-29 | Click for more
Supercut: Buchecha's +99kg ADCC 2017 Gold Medal Run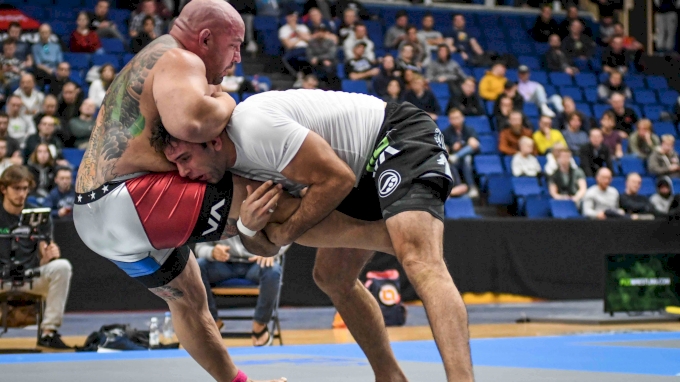 Unlock this video, live events, and more with a subscription!
Get Started
Already a subscriber? Log In
Buchecha's Best Weapons At ADCC
We've beaten this theme to death over the past 12 weeks, but like all the other champions at ADCC, effective wrestling was a key factor in his 2017 campaign. Not only did he put positive points on the board, but his takedown defense was absolutely perfect.
Buchecha's Wrestling Stats
| | | | | |
| --- | --- | --- | --- | --- |
| Opponent | Takedowns | Takedowns Attempted | Takedowns Defended | Takedowns Conceded |
| Arman Zhanpeisov | 0 | 1 | 1 | 0 |
| Tim Spriggs | 1 | 2 | 0 | 0 |
| Cyborg | 2 | 6 | 5 | 0 |
| Orlando Sanchez | 0 | 2 | 3 | 0 |
| Total | 3 | 11 | 9 | 0 |
Indeed, the sprawl was a significantly more offensive tool than the shot for Buchecha, and he used it to devastating effect against multiple opponents — including this match-winning sequence against Orlando Sanchez in the final.
Buchecha secures the back of Orlando Sanchez to put three points on the board.
With 10 points, Buchecha scored more than any of the other 2017 ADCC Champions and was the only person to put double digits upon the board. Points came in two forms: takedowns and back takes.
We've emphasized in previous pieces, that actually getting awarded points for a takedown at ADCC is exceptionally difficult; one has to actually pin their opponent to the mat for three seconds, and the slipperiness of no-gi competition makes that extremely hard to do.
The above GIF of Buchecha taking down Cyborg displays Bucehcha's sheer hustle and awareness that getting the chance to score on Cyborg may not come again.
It's especially impressive that Buchecha racked up so many points considering that he also submitted two out of four of his opponents and totaled of the quickest routes to the gold medal at 45 minutes, 34 seconds (Gordon Ryan had the second quickest time at 46:17).
Buchech'as All-Time ADCC Sub Stats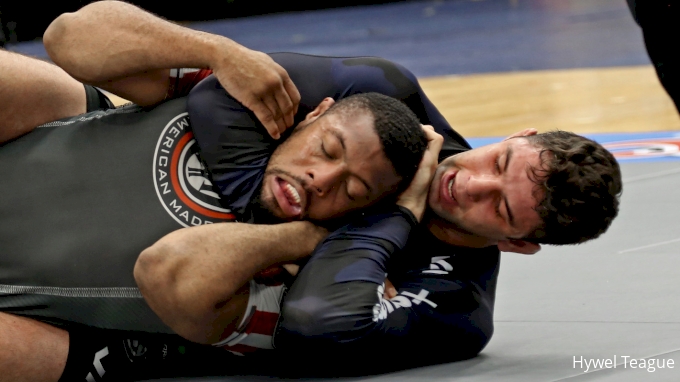 Buchecha didn't just point his way to victory at ADCC 2017; he finished his first two opponents of the tournament.
As it turns out, Buchecha is the second-best all-time ADCC finisher who is set to appear at the 2019 World Championships. He's slightly ahead of Gabi Garcia for the second-best finisher out of ADCC 2019 competitors and behind Gordon Ryan.
Buchecha is a two-time ADCC champion with a 13-2 record, he has subbed six of those opponents for a 46-percent submission rate. Buchecha's favored subs have been the RNC and heel hooks, with two of each in his career.
Buchecha's submissions at ADCC
Jimmy Friedrich (2013) via toe hold
Hideki Sekine (2013) via kimura
Joao Gabriel Rocha (2013) via heel hook
Arman Zhampeisov (2017) via rear-naked choke
Tim Spriggs (2017) via rear-naked choke
Mahamed Aly (2017) via heel hook — (absolute division)
Where does Buchecha Stand heading int 2019 ADCC?
It should be a fairly uncontroversial opinion that Buchecha is the MAN to beat this year in the +99kg division. Key challengers include Cyborg, Yuri Simoes, Joao Gabriel Rocha, Orlando Sanchez, and Kaynan Durate — and we're waiting with rapt anticipation on how the brackets will be developed.
2019 ADCC Men +99kg Competitors
2017 champion: Marcus Buchecha Almeida (BRA)
1st European Trials Winner: Eldar Rafigaev (Moldova)
2nd North American Trials Winner: Nick Rodriguez (USA)
South American Trials Winner: Antonio Braga Neto (BRA)
2nd European Trials Winner: Mateusz Juskowiak (POL)
2017 champion: Yuri Simoes (moves up to +99kg)
Invited: Orlando Sanchez (USA)
Invited: Roberto "Cyborg" Abreu (BRA)
Invited: Jared Dopp (USA)
Invited: Joao Gabriel Rocha (BRA)
Invited: Kaynan Duarte (BRA)
Invited: Antonio Carlos Jr (BRA)
Invited: Victor Hugo (BRA)
Invited: Mahamed Aly (BRA)
Invited: John Hansen (USA)
Invited: Eliot Marshall (USA)