Unlock this article, live events, and more with a subscription!
Get Started
Already a subscriber? Log In
ADCC is likely the most difficult submission grappling tournament to get invited to. Because it's such an exclusive event, we expect to see only the best and most talented grapplers in the world. So it's impressive when competitors continue to make the list year after year, late into their 30s. And it's unimaginable to see competitors earn their shot before they've reached their 20s.
There are 96 competitors slotted to compete at the ADCC World Championships this month in Anaheim, CA. The average age of those competitors is 28 years old. But within each division, there are some noteworthy deviations from the norm.
Watch The 2019 ADCC World Championships Live On Demand On FloGrappling
-66 kg
The lightest division in the tournament is also the youngest on average. Half of the competitors are 23 years old or younger, and only three of the 16 have reached the age of 30. The division also includes both of the tournament's youngest competitors.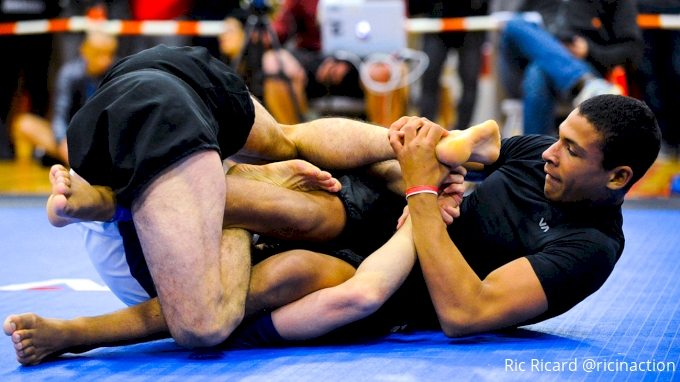 Tye Ruotolo, 16
A blue belt under Andre Galvao, Ruotolo will make history when he steps onto the mat as one of the youngest male ADCC competitors ever. He is the same age as Nicky Ryan was when he took a last-minute fill-in spot in 2017.
Tye and his twin brother Kade both made it to the quarterfinals of the 2019 ADCC West Coast Trials in February before losing to Richard Alcaron and Nicky Ryan, respectively.
Ruotolo was not on the original invitation list, but was named as a replacement in August, filling one of the spots left vacant by AJ Agazarm and Mikey Musumeci.
But the teenager is walking into a snake pit. Nearly half of the -66 kg field is making repeat appearances to ADCC.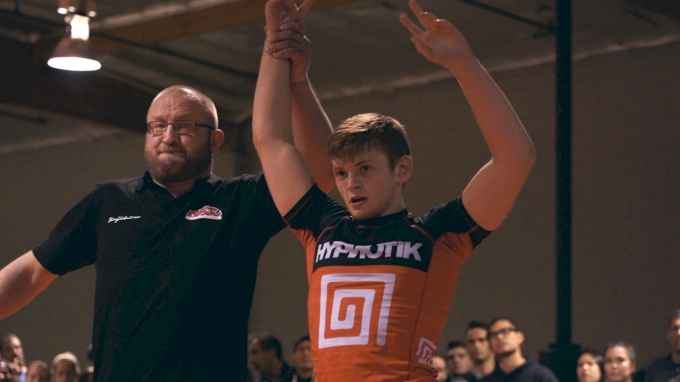 Nicky Ryan, 18
Nicky Ryan is no longer just "Gordon Ryan's little brother." Since his ADCC debut in 2017, he's been carving his path to early grappling fame.
Youth doesn't appear to be a hindrance for Ryan, as he's beaten veterans such as Masakazu Imanari and Geo Martinez, albeit in non-ADCC formats. And this time, he earned his way into the -66 kg bracket with five consecutive submission victories at the West Coast Trials.
Ryan briefly moved to the -77 kg division, where he would have been the youngest entrant. He moved back down to make way for Garry Tonon after their teammate Ethan Crelinsten got hurt.
Augusto 'Tanquinho' Mendes, 36
Tanquinho is the oldest at -66 kg and is one of the most experienced in the entirety of the ADCC roster. 2019 will mark his fifth appearance at ADCC. He debuted in 2011 but has only seen the podium once, in 2015 when he took third behind Rubens "Cobrina" Charles and Bruno Frazatto.
Cobrinha, 39, backed out of the 2019 tournament to make way for his son, Kennedy Maciel, leaving Tanquinho as the senior member of this bracket. He's been training since before either Ruotolo or Ryan were born.
-66kg
Name
Age
Tye Ruotolo
16
Nicky Ryan
18
Kieth Krikorian
21
Ruan Alvarenga
21
Kennedy Maciel
22
Kenta Iwamoto
22
Matheus Gabriel
22
Jamil Hill-Taylor
23
Pablo Mantovani
24
Thomas Halpin
25
Gianni Grippo
27
Paulo Miyao
28
Richard Alcaron
28
Geo Martinez
32
Bruno Frazatto
35
Augusto Mendes
36
Average age
25
---
-77 kg
This division is among the oldest and most experienced of the tournament. Nearly half of the division is in their 30s, including the entire podium from 2017. Jonathan Satava and reigning champ JT Torres both turned 30 this month. Here are some additional noteworthy ages: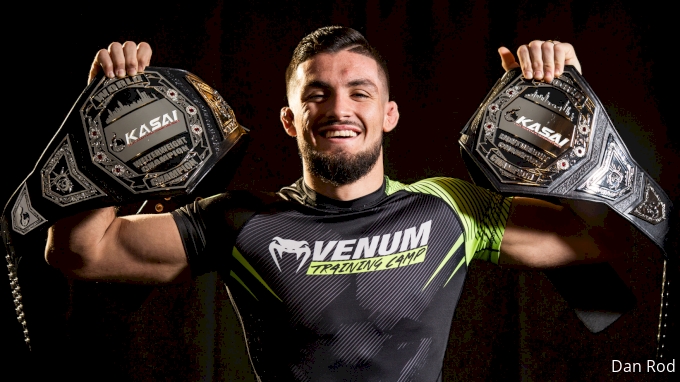 Renato Canuto, 23
It's hard to believe Canuto is the youngest in his division, only 23. And with his resume of victories over superstar grapplers, Canuto is making his case that age is just a number. While this will be his rookie year at ADCC, he has a favorable history against many in his division. Since 2017, Canuto has competed at least once against seven members of the -77 kg roster. Of those seven, he has beaten all except Lucas Lepri. He has never faced reigning champ JT Torres.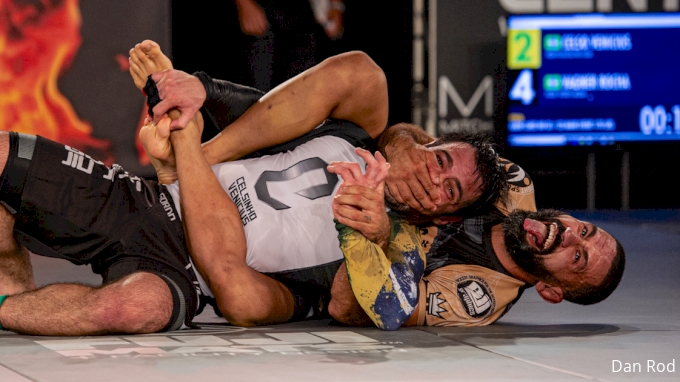 Vagner Rocha, 37
Year after year, Vagner Rocha has earned his right to be at the ADCC World Championships. He has competed in the ADCC trials four times, and he's won three of them, stamping his ticket for the 2011, 2015, and 2017 tournaments. He reached the podium in 2017, taking third. In doing so, Rocha has earned an invitation this time around. He's the oldest in the weight class, but he remains one of the most explosive competitors in the division.
Rocha has been active of late and has beaten Ross Nicholls, Dante Leon, and Celso Vinicius since his bronze-medal run. But he's also lost to Garry Tonon, Canuto (twice), and JT Torres in that timeframe.
-77kg
Name
Age
Renato Canuto
23
Dante Leon
24
Servio Tulio
25
Oliver Taza
26
Edwin Najmi
27
Garry Tonon
28
John Combs
28
Mateusz Gamrot
28
Ross Nichols
29
JT Torres
30
Jonathan Satava
30
DJ Jackson
30
Laclan Giles
33
Lucas Lepri
34
Celso Venicius
35
Vagner Rocha
37
Average age
29.19
---
-88 kg
The middle weight class has the most first-timers of any ADCC bracket this year. There's an even spread between young and old among ADCC rookies and veterans, but a few ages stand out.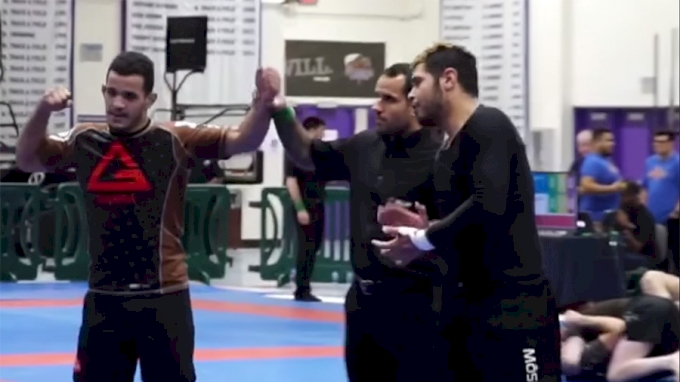 Pedro Marinho, 22
Marinho is among the most recent pair of replacements invited to ADCC, and he's the youngest in a division of talented veterans. Marinho earned his brown belt this year, and won the brown belt absolute division at No-Gi Pans after losing to Roberto Jimenez in the heavyweight final. Experience may be a factor for him; he'll likely face an early challenge by one of the top dogs or a veteran black belt.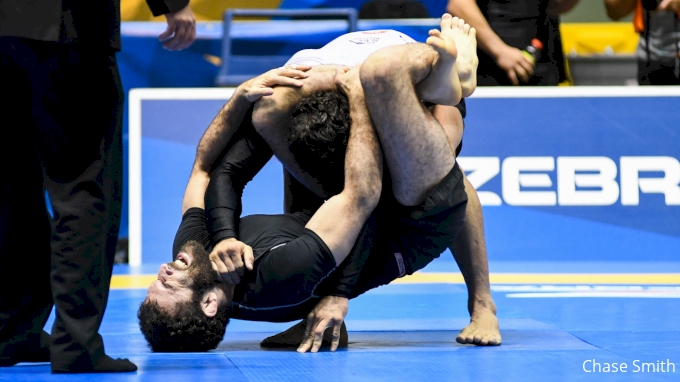 Murilo Santana, 36
Santana is back for his fourth ADCC berth since 2009. His best run was in 2011, when he took fourth in the absolute division, losing to Galvao and Alexandre Ribero. In 2017, Craig Jones took an upset victory over Santana in an early round, winning by flying triangle. But the 36-year old is coming off a No-Gi Pans gold medal win and is looking to prove his best days are still ahead of him.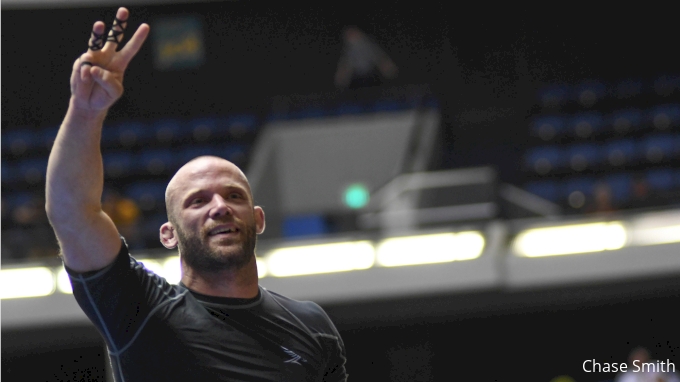 Josh Hinger, 37
Hinger has taken the long road to get to the premier no-gi tournament. The Atos black belt faltered in the West Coast Trials in 2017, losing in the semifinals, but came back strong in the trials this year to lock-in his spot. Although the 37-year-old is making his debut this year, he'll likely be among the top seeds.
-88kg
Name
Age
Pedro Marinho
22
Jon Blank
25
Gabriel Arges
26
Mateus Diniz
26
Mason Fowler
26
Gabriel Almeida
27
Mike Perez
27
Adam Wardzinski
28
Keller Locke-Sodhi
28
Craig Jones
28
Ben Dyson
30
Alec Baulding
30
Rustam Chsiev
33
Valdir Araujo
34
Murilo Santana
36
Josh Hinger
37
Average age
28.94
---
-99 kg
The second-largest division of grapplers is also among the most youthful. Of the seven men who have previously competed in ADCC, more than half of them are at or below the median age of 27.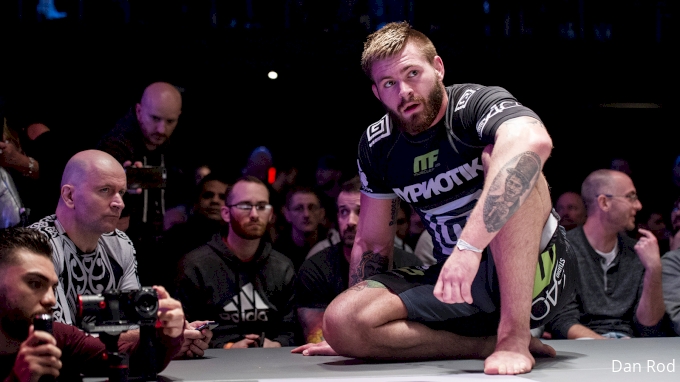 Gordon Ryan, 24
Believe it or not, 2017's 88 kg gold medalist is the junior member of his bracket. He was 22 years old when he debuted, beating seven of his eight opponents to take first in his weight class and second in absolute. The only man to defeat him that year, Felipe Pena, is out of the tournament, graduating to the superfight where he'll face Galvao. But Ryan could still face some trouble. He could draw Patrick Gaudio or Vinny Magalhaes, both of whom have shown they can contend with Ryan.
Still, if he has his way, Ryan will be among the youngest to ever win three ADCC gold medals. Only Ricardo Arona, who won once at age 21 and twice at age 22, would be ahead of him.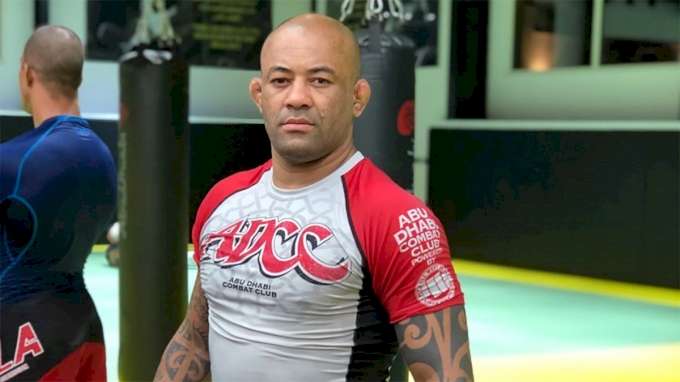 Paulo Jose Barauna, 37
Paulinho Barauna won the South American Trials this year to clear his path to ADCC. But the 37-year-old finds himself in one of the youngest and most competitive divisions.
-99kg
Name
Age
Gordon Ryan
24
Fellipe Andrew
24
Patrick Gaudio
26
Dillion Danis
26
Mraz Avdoyan
26
Perttu Tepponen
27
Tim Spriggs
27
Kenan Cornelius
27
Ben Hodgkinson
27
Lucas Barbosa
27
Paul Ardila
28
Jackson Sousa
29
Tex Johnson
33
Vinny Magalhaes
35
Claudio Calasans
35
Paulo Jose Barauna
37
Average age
28.63
---
+99 kg
Half of the +99 kg crowd is in their 30s, making this the oldest weight class on average. And this division has the most return business; eight of the competitors have been to ADCC previously. The gap between the youngest competitor and the oldest spans 18 years.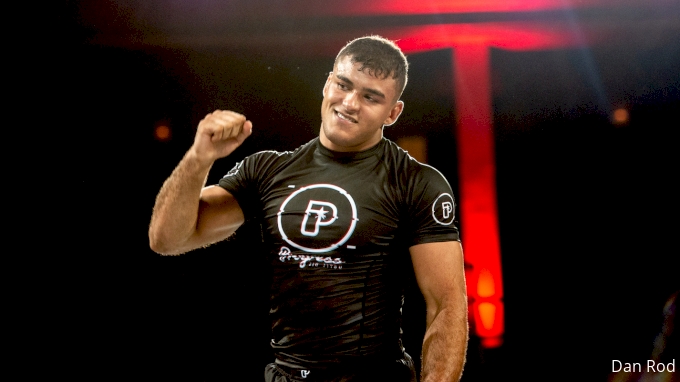 Kaynan Duarte, 21
Duarte may be the youngest of the division, but he has more ADCC experience than many of his potential challengers. He's the youngest man on the entire 2019 roster with an ADCC victory to his name. Duarte was just 19 years old when he made his ADCC debut in Finland and tapped tournament legend Pablo Papovitch before losing to then-teammate Kenan Cornelius. And he's been on a hot streak this year, winning the KASAI Pro 205lb tournament and capping it with victory over Leandro Lo in the IBJJF World Championship final.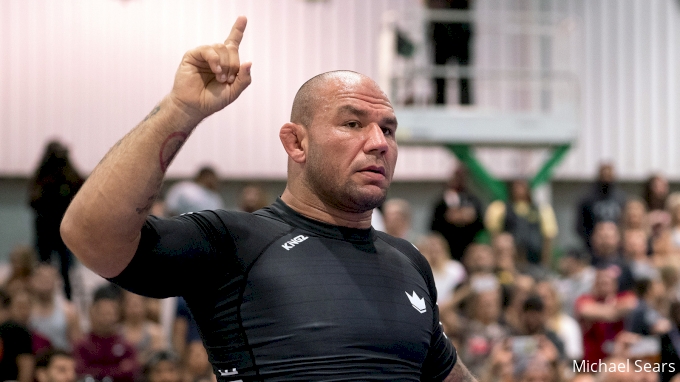 Roberto 'Cyborg' Abreu, 38
When he won the IBJJF Heavyweight Grand Prix last month, Cyborg insisted "age is just a number." He'll look to double down on that statement this month at ADCC. Until recently, Cyborg was the senior man on the schedule of competitors. And he is still the most experienced. Abreu is set to make his sixth consecutive appearance this year; he has attended every ADCC Championships since 2009. He's made the most of his time. He owns three ADCC bronze medals, a silver medal, and an absolute gold medal from 2013 which earned him the superfight against Galvao in 2015. This year, "Uncle Cyborg" is looking to win what nobody else has won: a second absolute gold medal.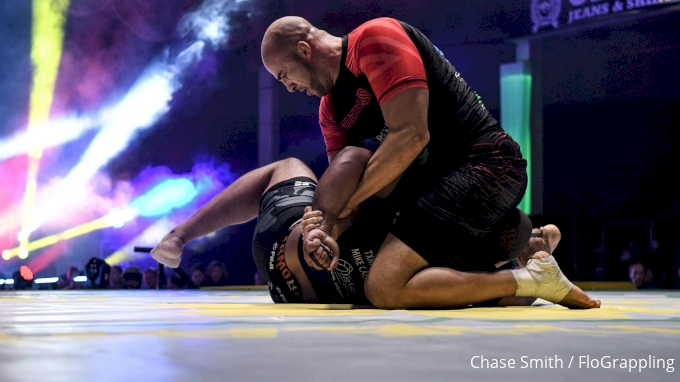 Eliot Marshall, 39
Marshall was among the group of competitors to be named to the ADCC roster with less than a month until the big show. The former MMA fighter placed at Worlds and Pans as a brown belt more than a decade ago and has a few more recent Fight 2 Win victories under his belt. But he's up against a who's who of young and hungry talent including incumbent champ Marcus "Buchecha" Almeida.
+99kg
Name
Age
Kaynan Duarte
21
Victor Hugo
22
Nick Rodriguez
23
Mahamed Aly
25
Max Gimenis
26
Joao Gabriel Rocha
28
Marcus Almeida
29
Yuri Simoes
29
Jared Dopp
30
Antonio Braga Neto
31
Eldar Rafigaev
32
Mateusz Juskowiak
32
John Hansen
33
Orlando Sanchez
37
Roberto Abreu
38
Eliot Marshall
39
Average age
29.69
---
Women's -60 kg
The female lightweight division is encompassed mostly of veteran competitors. All but one of the youngest and the two oldest competed in Finland at the 2017 ADCC Championships.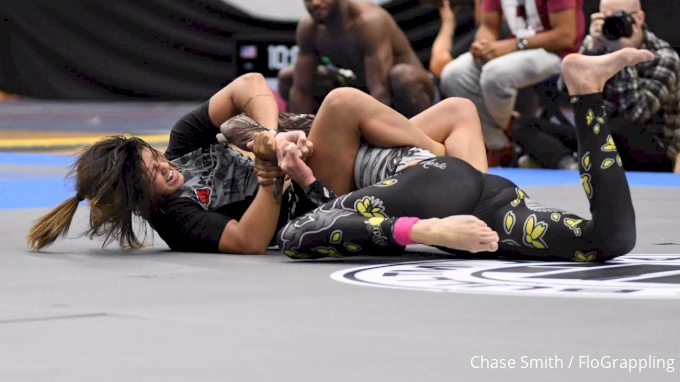 Bianca Basilio, 23
She's among the youngest female competitors this year, but Basilio has already earned an ADCC medal. In 2017, when she was 21, she took second behind Beatriz Mesquita. Basilio had three scrappy matches in her rookie year; her first two went a full 15 minutes through the overtime round to decision, and her finals match against Mesquita lasted nearly 19 minutes before submission. If conditioning becomes a factor, Basilio has proven she has it.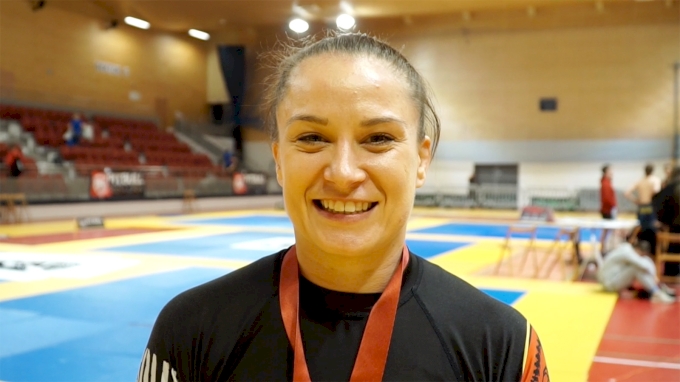 Livia Giles, 35
The oldest woman on the roster is making her ADCC debut and is fresh off an ADCC European Trials gold medal run in which she won two of her four matches by heel hook.
-60kg
Name
Age
Bianca Basilio
23
Ffion Davies
24
Beatriz Mesquita
28
Rikako Yuasa
28
Catherine Perret
29
Elvira Karppinen
30
Jena Bishop
33
Livia Giles
35
Average age
28.75
---
Women's +60 kg
Age, size, and experience are all crucial factors in this division. And the difference in all three of those categories is most notable between two competitors.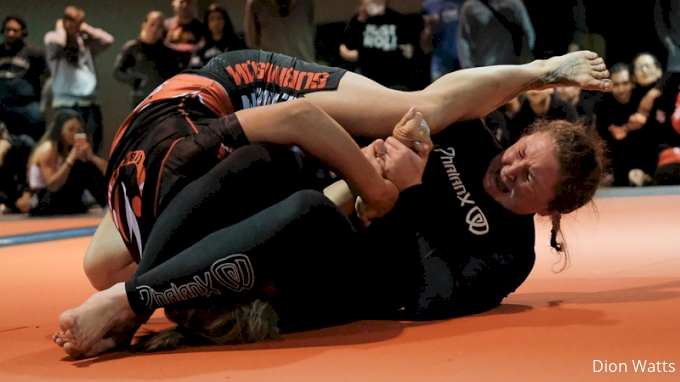 Amanda Leve, 22
Leve submitted all but one of her opponents in the West Coast Trials in February to earn her trip to the ADCC Championships. But her ADCC debut stacks up to be a challenge, as she's giving up experience and considerable weight to division favorites Gabi Garcia and Tayane Porfirio. Leve's early claim to fame was her Grapplers Quest battle against UFC star Cat Zingano when she was 17 years old. But this will be her toughest test.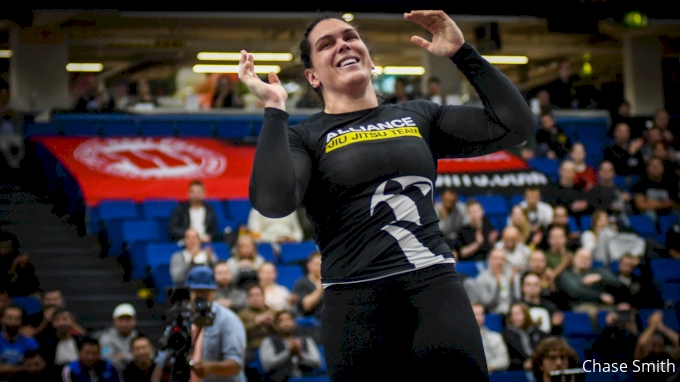 Gabi Garcia, 33
Garcia is entering a potentially historic year. With a gold medal this year, she could tie Marcelo Garcia's record with four titles. She would also become the first woman to win four golds at ADCC, beating Kyra Gracie's record of three. She's the most experienced woman on the roster. If anyone stands in her way, it's the 24-year-old Porfirio, who is closest in size to Garcia, or Nathiely de Jesus, who recently defeated Garcia at Fight 2 Win 121, earning a victory by referee decision.
+60kg
Name
Age
Amanda Leve
22
Nathiely De Jesus
23
Tayane Porfirio
24
Ana Carolina Viera
25
Jessica Flowers
27
Carina Santini
29
Stephanie Egger
31
Gabi Garcia
33
Average age
26.75