Unlock this article, live events, and more with a subscription!
Get Started
Already a subscriber? Log In
Three weeks ago, Atos black belt Kaynan Duarte solidified his name in the history books by winning the +99kg division at the ADCC World Championship, undoubtedly the most prestigious grappling event in the world.
Fighting his way through an all-star bracket that included a spectacular upset against the number one seed Marcus "Buchecha" Almeida, Duarte found himself in the finals facing another young phenom that has rocked the sport jiu-jitsu community: Nick Rodriguez.
Over halfway into the match Duarte secured the back, relentlessly attacking Rodriguez's neck. While Rodriguez managed to escape with 20 seconds left and launched an aggressive blitz attempt in which he nearly evened the score, the Atos athlete was able to fend it off long enough to maintain his three-point lead.
Kaynan locks up with Rodriguez in the ADCC final
For Duarte, ADCC gold was the culmination of a spectacular first year as black belt. At only 21 years of age he has already won the IBJJF World Championships, Europeans and Pans, the IBJJF No-Gi Worlds, the UAEJJF Abu Dhabi World Pro, and the KASAI Pro 205lb tournament.
"I feel proud of myself for realizing my goals. I'm not sure if anybody has done the same, winning all the major titles– gi and no-gi– in their first year at black belt," says Kaynan. "But to stay on track I remind myself this is just my job. I have to start focusing my energy on the next title."
That next challenge is a rematch with Rodriguez in the main event of Fight 2 Win 128 in Philadelphia. While some may wonder why Duarte would accept a do-over so soon, the answer is simple: it was already in the works. "This fight was already planned before I knew I was going to fight him at ADCC," said Duarte. "And I don't like to quit fights."
This time, Duarte and Rodriguez will face each other under F2W's submission-only ruleset, which may change the dynamics of the match. "It's not the best ruleset for me, because it's not always the best fighter who wins," admits Kaynan. "Sometimes the guy who appears to be doing more, even if he's successful or not, could come out the winner. But either way, no matter the ruleset, I am not worried. My job is just to fight to the best of my ability in any ruleset."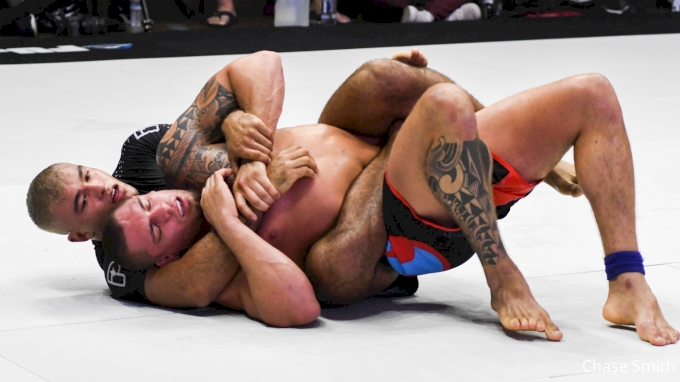 The position that decided the match
For those looking forward to watching some beef between the two fighters, you're bound to be disappointed. The perpetually-humble Duarte doesn't have anything bad to say about the "Nicky Rod" hype train, and in fact, believes it's warranted.
"I think he deserves all the attention he's received. He won silver in ADCC just being a blue belt and beating a lot of big names."
This is likely because Duarte himself is no stranger to early success, having qualified for his first ADCC World Championships when he was still just a purple belt. Way back in February of 2017, he plowed through the ADCC South American Trials in a division that included names such as Patrick Gaudio and Charles Negromonte. Duarte won five of his six matches by submission that day, a early sign of the success that would come throughout his career.
As humble as he is, that doesn't mean he isn't above some good-natured ribbing over social media. Following his ADCC win, he posted a picture of his face photo-shopped onto a backpack Rodriguez was wearing. It was a jibe even the DDS member had to appreciate.
However, when it comes down to stepping on the competition mat, expect Duarte to be all business. "I achieved all my goals," says Duarte. "Now I'm just focused on staying on top."
Watch Fight 2 Win 128 LIVE or On Demand ONLY on FloGrappling
Oct 19 | 5:00pm EST
Watch Kaynan Duarte vs Nick Rodriguez in the +99kg ADCC final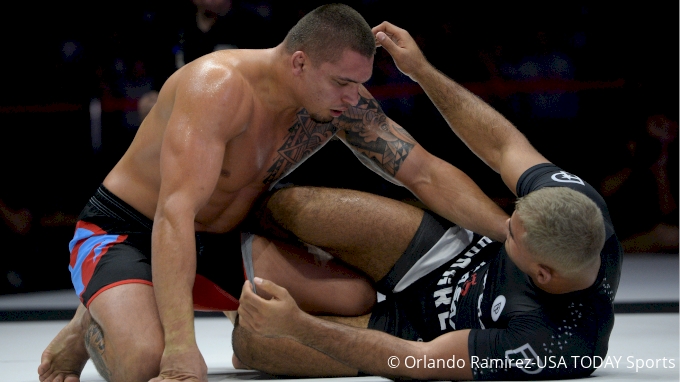 Unlock this video, live events, and more with a subscription!
Get Started
Already a subscriber? Log In