Unlock this article, live events, and more with a subscription!
Get Started
Already a subscriber? Log In
Marcus "Buchecha" Almeida has been the pound-for-pound king in the gi ever since we started our FloGrappling rankings.
Routinely winning his weight and the open class at Worlds, Buchecha was always a lock for the top spot. One thing that has been a question about Buchecha keeping his spot in the rankings though has always been his inactivity; he basically puts the gi on once a year for worlds besides the occasional superfight.
Enter Nicholas Meregali. The Porto Alegre native fighting out of Alliance Mario Reis who has been affectionately nicknamed "Alemao," or the German, by his teammates. Nicholas is now in his third year as a black belt, after one of the best-colored belt careers of all time where he won the IBJJF double grand slam at both purple and brown belt.
Meregali was marked to challenge Buchecha's dominance but had some speed bumps early in his black belt career. He has since steadily gained momentum and has put in a near-flawless 2019 run so far.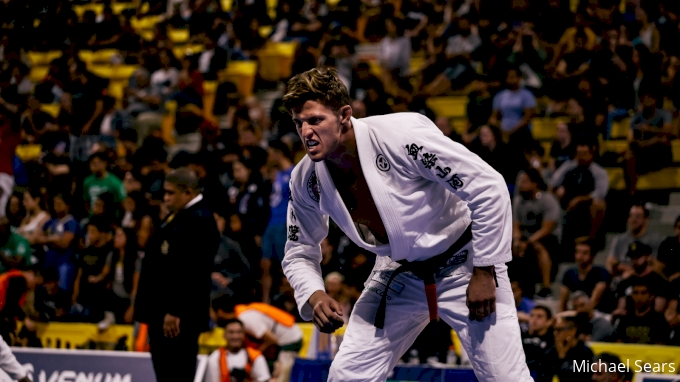 ---
Before we get into discussing who should be the current pound-for-pound No. 1, I want to point out that winning the world absolute does not necessarily make you the top P4P athlete. Hypothetically, this is about who would be the best if everyone was the same size, and we base that off their results not just in the absolute but their weight classes as well. Mikey Musumeci is currently ranked top five without ever entering an absolute at black belt.
Another thing to point out going into the argument is their lone head-to-head meeting, in the open class of the 2018 Worlds. Buchecha won that match 5-2, but that was 16 months ago. A lot can change over a 16-month period, and if one athlete's recent results vastly outweigh others, the impact of an old loss can be lessened on the rankings.
First let's look at Buchecha's results in 2019 so far:
| | | | | | |
| --- | --- | --- | --- | --- | --- |
| Opponent | Event | Date | Result | Method | Opponent Rank |
| Joao Gabriel Rocha | BJJ Stars | February 24 | Loss | Advantages | 2 UH, 24 P4P |
| Thomas McMahon | Worlds | June 1 | Win | Points 11-0 | Unranked |
| Max Gimenis | Worlds | June 1 | Win | Submission | 7 UH |
| Ricardo Evangelista | Worlds | June 1 | Win | Submission | 3 UH, 29 P4P |
| Otavio Nalati | Worlds | June 1 | Win | Points 13-0 | 9 UH |
| Felipe Pena | Worlds | June 1 | Win | Referee Decision | 1 MH, 7 P4P |
Now here are Nicholas' results this year:
| | | | | | |
| --- | --- | --- | --- | --- | --- |
| Opponent | Event | Date | Result | Method | Opponent Rank |
| Leandro Lo | BJJ Stars | February 24 | Win | Points 4-0 | 2 H, 12 P4P |
| Paulo Dantas | Brasileiro | May 5 | Win | Submission | Unranked |
| Hugo Leonardo | Brasileiro | May 5 | Win | Submission | Unranked |
| Rodrigo Rodrigues | Brasileiro | May 5 | Win | Advantages | Unranked |
| Fellipe Andrew | Brasileiro | May 5 | Win | Submission | 2 SH, 13 P4P |
| Henrique Riedlinger | Brasileiro | May 5 | Win | Submission | Unranked |
| Agnaldo Silveira | Brasileiro | May 5 | Win | Submission | Unranked |
| Pedro Elias | Brasileiro | May 5 | Win | Submission | 15 H |
| Kaynan Duarte | Brasileiro | May 5 | Win | Submission | 1 H, 5 P4P |
| Rudson Mateus | Brasileiro | May 5 | Win | DQ | 6 MH, 22 P4P |
| Roberto Torralbas | Worlds | June 1 | Win | Submission | Unranked |
| Helton Junior | Worlds | June 1 | Win | Points 2-0 | 7 SH |
| Luiz Panza | Worlds | June 1 | Win | Submission | 5 SH |
| Mahamed Aly | Worlds | June 1 | Win | Submission | 3 SH, 19 P4P |
| Tanner Rice | Worlds | June 1 | Win | Submission | 9 SH |
| Keenan Cornelius | Worlds | June 1 | Loss | Points 2-0 | 3 H, 17 P4P |
| Roberto Abreu | Third Coast | June 21 | Win | Submission | 11 SH |
| Victor Hugo | BJJ Stars | October 19 | Win | Points 6-2 | 3 MH, 10 P4P |
| Lucas Barbosa | BJJ Stars | October 19 | Win | Points 9-0 | 3 MH, 10 P4P |
| Gustavo Batista | BJJ Stars | October 19 | Win | Submission | 2 MH, 8 P4P |
---
There are a few things that stand out, the most obvious being Nicholas' superior rate of activity compared to Buchecha. He has over three times as many matches this year. But strictly activity is not enough to jump somebody in the rankings, there needs to be substance to those results. Both athletes also have one loss to a top-10 opponent.
Let's dive a little deeper into why Nicholas, in my opinion, is ready to surpass the incumbent Buchecha as the current pound-for-pound king of gi jiu-jitsu. I'm looking at recent accomplishments, amount of wins combined with winning percentage, quality of opponents, and method of victory as the deciding factors here.
Recent Accomplishments
Buchecha won double gold at Worlds this year, his 12th and 13th IBJJF Worlds black belt titles. It was a five-match run to double gold for Buchecha, as he closed out the open class with his friend Leandro Lo. This closeout really hurts any argument in his favor in my opinion; had he fought and defeated Lo there would be a much stronger case for him to retain his top spot.
Nicholas didn't get the job done in the absolute, but blazed through the super-heavyweight division, submitting four out of five opponents including returning World champ Mahamed Aly in the final. Nicholas also competed at the CBJJ Brazilian Nationals or Brasileiro, winning nine matches to claim double gold there.
Something that puts Nicholas over the top here would be his performance this past weekend at the BJJ Stars tournament in Sao Paulo. Nicholas defeated three ranked opponents to finish first at that invitational, including defeating top-10 P4P athletes Lucas "Hulk" Barbosa and Gustavo "Braguinha" Batista in the semi and final.
They're both world champions in the gi, with Buchecha getting the extra open class gold. Nicholas, however, has stayed more active in gi competition, helped greatly by the fact he fights solely in the gi while Buchecha spent half the year preparing for ADCC. Looking at Buchecha's history, though, it's not likely he would have competed more in the gi anyway; a year ago with no ADCC his last competition was the IBJJF Worlds in June.
This one is sort of a toss-up. It all depends on if you value Nicholas' other accomplishments as much as that extra gold at Worlds. Like I said before, without a true absolute final I think it weakens the accomplishment and can possibly give the edge to Nicholas.
Watch: Nicholas Submits Aly In Worlds FInal
---
Amount Of Wins/Winning Percentage
This one is pretty cut and dry, no subjective criteria here. Buchecha has had six gi matches in 2019, going 5-1 on the year. Nicholas has had 20 gi matches, with a 19-1 record. That equals out to an 83-percent winning percentage for Buchecha and a 95-percent winning percentage for Nicholas. Edge here clearly goes to Alemao.
---
Quality Of Opponents
Eighty-three percent of Buchecha's opponents this year have been ranked at their weight, 50 percent of them ranked P4P. Seventy percent of Nicholas' opponents this year were ranked at their weight, with 45 percent of them being ranked P4P.
An advantage here for Nicholas is the sheer number of ranked opponents he has taken out. His 14 ranked victories are more than double the entire amount of Buchecha's total matches on the year. Six of those athletes were ranked top three at their weight. There were also seven wins over athletes ranked top 25 P4P, with three of them in the top 10. Buchecha had two wins over athletes in the P4P top 50: No. 7 Felipe Pena and No. 29 Ricardo Evangelista.
Rankings can be subjective, though. You might not agree with how we have some of their opponents ranked, and that's fine. But looking at Buchecha's list of victims there is only one marquee matchup that stands out, the referee decision over Felipe Pena in the Worlds open class. Nicholas has defeated Lo, Hulk, Kaynan, Aly, Fellipe Andrew, Rudson, and Braguinha.
Keep in mind that Kaynan won Worlds, Pans, and Euros in 2019. Fellipe Andrew won Pans and Euros this year as well. Mahamed Aly was the returning World champ at super-heavy from 2018. Hulk won his weight and the open class at Pans; Braguinha did the same at Euros. Now consider that Nicholas submitted four out of those five opponents, with the lone points win a 9-0 victory where he mounted Hulk.
Another clear edge for Nicholas here — you'd have to be out of your mind to argue otherwise.
Watch: Nicholas Submits Kaynan In Brasileiro Open Class
---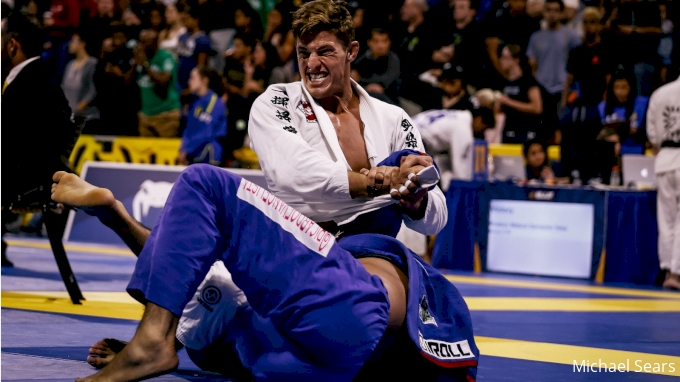 Method Of Victory
Buchecha submitted two out of his five wins in 2019, a 40-percent submission rate. Nicholas got the tap in 12 out of his 19 wins, for a superior submission rate of 63 percent. Having a higher sub rate with almost four times as many wins really speaks to how often Nicholas is getting the sub. Eight of Nicholas' 13 wins over ranked opponents were also by submission, a 62-percent sub rate there.
Even more impressive and in Nicholas' favor is when comparing their method of victory in the marquee matchups. When Buchecha fought No. 1 medium-heavyweight and seventh pound-for-pound Felipe Pena, it went to referee's decision. Nicholas tapped No. 1 heavyweight and No. 5 P4P Kaynan Duarte along with eighth-ranked P4P Gustavo Batista.
The numbers don't lie: Nicholas finished at a higher rate whether comparing overall or looking at their matchups with top-ranked athletes.
---
Conclusion
Nicholas has been more active. He has won more major tournaments this year in the gi. His quality of opponents is higher. And he is also finishing them at a higher rate. For the first time in the history of the FloGrappling Black Belt Rankings, there is a new pound-for-pound No. 1.
---
Watch: Mario Reis Speaks On What Makes Nicholas Meregali Special