Unlock this article, live events, and more with a subscription!
Get Started
Already a subscriber? Log In
Michael Musumeci is the greatest American gi jiu-jitsu player of all time.
He's the only three-time IBJJF World Champion born in the USA, earning two of those titles in two different weight classes (also unheard of from an American competitor).
Over those three campaigns, Mikey has racked up wins over some of the most technical and storied athletes in jiu-jitsu history, including Bruno Malfacine, Joao Miyao, and Ary Farias— forever cementing his legacy as one of the all-time greats.
Which of course forces us to ask the question: What makes Mikey so damn successful? Make the jump below to see some ideas.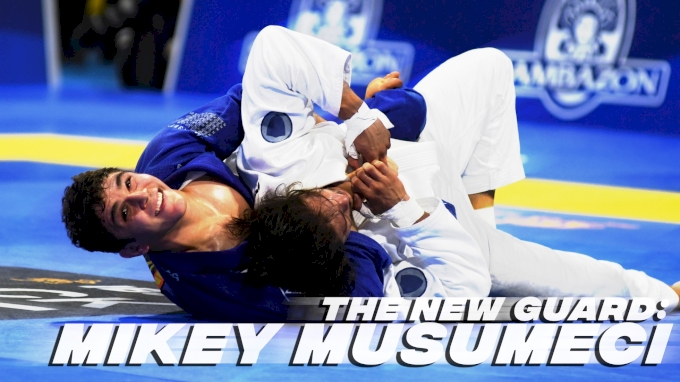 Debuting October 23 On FloGrappling
---
The 50/50 Footrace & Straight Ankle Lock From Hell
Mikey is one of the few athletes that can reliably win the 50-50 battle.
A quick scan of the scoring in his matches (full stats available in table below) shows that five out of 12 world's matches were all-out 50/50 wars, featuring point totals like 10-10, 8-8, 10-8, and even 0-0 — the winning factors coming from advantages — and those advantages being awarded almost exclusively due to foot lock attacks.
The bite from Mikey's footlock puts him by ahead of Ary by one advantage in this razor-thin match.
Mikey consistently pulls ahead in the 50/50 race by using the footlock to inch ahead advantage by advantage.
Also, make no mistake, these footlock attacks are not merely for show: Mikey punishes his opponents with excruciating breaking power. Half of his career finishes at Worlds come from the "botinha".
Supercut: Mikey Wins His First World Title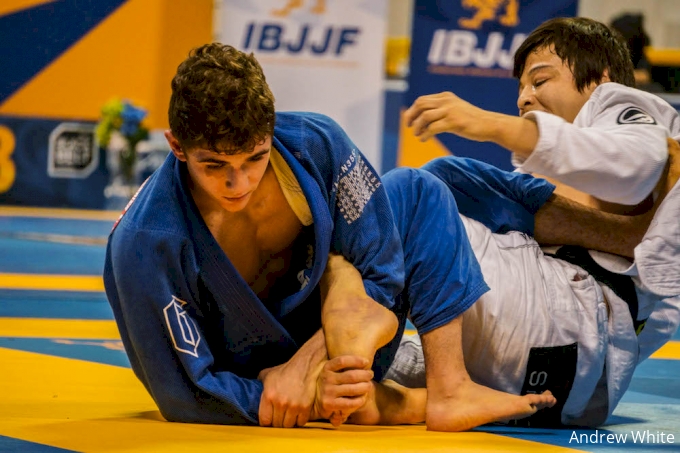 Unlock this video, live events, and more with a subscription!
Get Started
Already a subscriber? Log In
---
Mikey Is Unusually Successful At Coming Back From Behind
Though the data is relatively scant on the topic as a whole, one BJJ Heroes study indicated that nearly 73 percent of matches are won by the player who scored the first advantage.
That's a whopping percentage, and yet, Mikey is the exception to the rule: In six out of 12 matches he was the second player to put positive points or advantages on the board, including matches with Joao Miyao, Bruno Malfacine, and Ary Farias.
We've partially answered how Mikey accomplishes this in the above segment: Mikey dominates the 50/50 conversation with his aggressive footlock attacks, but there's also more at play here than looking for advantages. By scoring second, he puts himself in the seesaw position to be the last person to put points on the board; put another way, Mikey's not looking to simply tie the score when battling the 50/50, he's prepared to move ahead (with advantages).
Equally indispensable to any athlete is the concept of guts and sheer will; Mikey knows how to score when it's a do-or-die scenario. Ary Farias hit a slick guard-pull counter on Mikey to put himself ahead by two points with 20 seconds left, a scenario that would seemingly be a lock for the Atos athlete to advance ahead.
Not the case when it's Mikey Musumeci.
Undeterred, Mikey found a way to sweep Faria and score two points, tieing the match 10-10 and putting him ahead by two advantages.
SUPERCUT: Mikey Becomes First American To Win Two IBJJF World Titles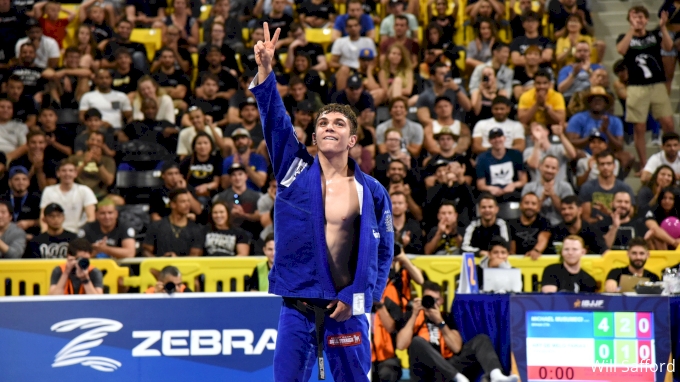 Unlock this video, live events, and more with a subscription!
Get Started
Already a subscriber? Log In
---
Awareness Of The Rules
Any champion is cognizant of the rules, but Mikey is a master at weaponizing them to his advantage.
Case in point is his 2017 finals match against Joao Miyao. Mikey was up by two advantages with one minute left; instead of working to pass he sat back down on a toehold position.
Joao came up to top position but was not awarded any points from the fact that Mikey never released the toehold; time expired and Mikey was awarded the win.
To be that confident in one's technique (and ability to hold on to a toehold for a full minute) plus the awareness that Miyao wouldn't be awarded any points for his efforts reveal a deep understanding of scoring strategy on Mikey's part.
Supercut: Mikey Goes For Three in 2019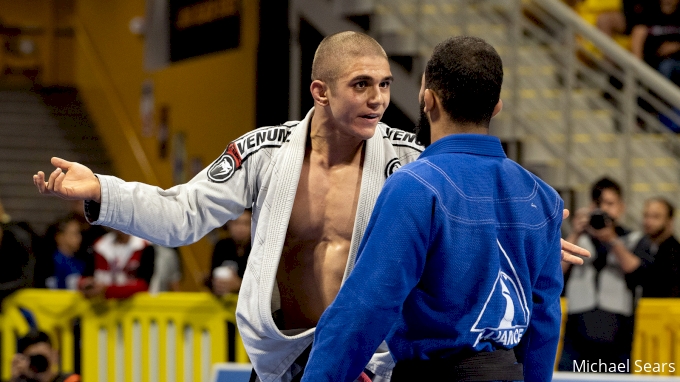 Unlock this video, live events, and more with a subscription!
Get Started
Already a subscriber? Log In
---
Mikey Musumeci: World Championship Stats 2017-2019
| | | | | | | | | | |
| --- | --- | --- | --- | --- | --- | --- | --- | --- | --- |
| Opponent | Div/Abs | How | Match Time ACML | Sub | Pts for | Advs | Pts Agst | Adv Against | Penalties |
| Washington Lima | Light-Feather | Sub | 1:10 | Ankle Lock | 0 | 0 | 0 | 0 | 0 |
| Issac Dooderlein | Light-Feather | Points | 10:00 | | 8 | 3 | 8 | 2 | 2 |
| Ary Farias | Light-Feather | Points | 10:00 | | 10 | 5 | 10 | 3 | 0 |
| Joao Miyao | Light-Feather | Points | 10:00 | | 0 | 4 | 0 | 2 | 1 |
| 2018 | | | | | | | | | |
| Eduardo Lisboa | Light-Feather | Submission | 3:13 | Armlock | 6 | 1 | 0 | 1 | 1 |
| Alexssandro Sodre | Light-Feather | Submission | 1:59 | Ezekiel | 2 | 2 | 2 | 0 | 0 |
| Tiago Barros | Light-Feather | Decision | 10:00 | | 2 | 0 | 2 | 0 | 0 |
| Ary Farias | Light-Feather | Points | 10:00 | | 4 | 1 | 0 | 1 | 0 |
| 2019 | | | | | | | | | |
| Shohei Wantanabe | Rooster | Points | 10:00 | | 8 | 4 | 2 | 0 | 0 |
| Koji Shibamoto | Rooster | Points | 10:00 | | 8 | 1 | 2 | 0 | 0 |
| Bruno Malfacine | Rooster | Points | 10:00 | | 10 | 0 | 8 | 2 | 2 |
| Rodnei Barbosa | Rooster | Sub | :12 secs | Ankle Lock | 0 | 0 | 0 | 0 | 0 |