Nick Rodriguez burst onto the grappling scene in 2019, storming the elite level of the sport with under two years of submission grappling experience. Although known to hardcore followers of the scene, he was still a mystery to many when he showed up at ADCC and defeated Mahamed Aly, Orlando Sanchez, and Roberto "Cyborg" Abreu on his way to a silver medal in the +99kg division.
The 23-year-old New Jersey native from Clayton comes from a wrestling background; this history is used by many in the jiu-jitsu scene to write off his success as attributable to a long wrestling career before grappling. Many athletes with a wrestling background have entered into the grappling circuit with a wrestling pedigree more acclaimed than Nick's, though, and none has had the rapid success that Nick has had.
"My wrestling career started in sixth grade at 12 years old. I wrestled through high school, winning 111 matches and a district title, along with second in regionals. After high school I wrestled at Ferrum College in NCAA Division III. I finished my freshman year with 34 wins and four losses in the 197-pound weight class. I took fourth in regionals that year so unfortunately I didn't qualify for the national tournament."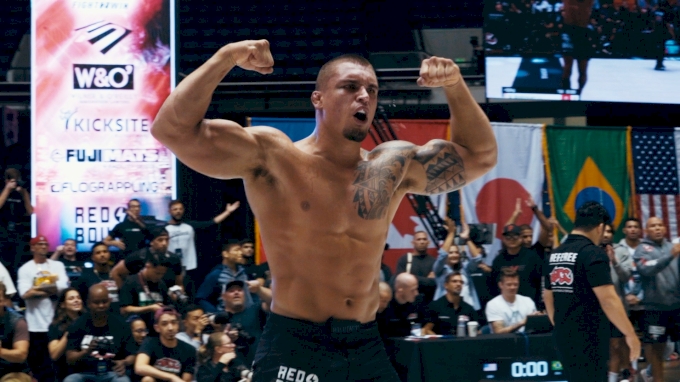 What Next?
After college, Nick returned to New Jersey, with aspirations to pursue a modeling career. To make ends meet he held multiple jobs, mixing paint at Home Depot and working as a bouncer at a night club. Several of his coworkers at the night club practiced jiu-jitsu at South Jersey BJJ, an academy run by Jay Regalbuto that represents the Renzo Gracie Association.
Jay Regalbuto: "I get a message from one of the guys I train with and he says dude this wrestler came in tonight and he's an animal. He's like, 'Man you are going to love him.' So I show up at his second class and wait until live training; it was insane. He knew how an arm lock and knee bar worked. He just had no idea how to get to them. So he would just grip the wrist or the ankle and propel his giant body at their shoulder or hip, lock it up and crank."
"I asked him to come to my 6 AM class which is a competitive class. His first class I had my leg lock guy go with him. He heel hooked Nick a bunch and Nick just wanted to go with him more to figure out how to win. Two weeks in, it was clear even talented people I was bringing in weren't coming close to holding him down, sweeping him or taking him down."
The Renzo Connection
Jay's connection with the Renzo Gracie team led to Nick having an opportunity to train with the best the team had to offer.
"Fortunately I fell into the Renzo Gracie association. After working my way up the ranks and learning from all the best professors the team has to offer such as Ricardo Almeida, Tom Deblass, Steve Bongorno, Jay Regalbuto, and James Booth, I was finally invited to the blue basement for a private session with Gordon Ryan and practice with John Danaher the following days. I had to prove that I belonged in that basement every single day. I put every bit of effort into every single practice in order to earn my spot on the mat."
Something scary for Nick's competitors is the potential he still has. While having already defeated ADCC and IBJJF black belt world champions, Nick is still pretty fresh to the grappling world and has a lot to learn. If he continues to develop at anywhere near the rate he has so far, look out at ADCC 2021.
"My goals are to compete as much as possible in order to gain a massive amount of experience in preparation for ADCC 2021."
---
Watch The Black Belt Slayer On Demand On FloGrappling Starting November 6th