Unlock this article, live events, and more with a subscription!
Get Started
Already a subscriber? Log In
Report by Brett Baker
Craig Jones was crowned the -100kg champ following his submission of Polish standout Adam Wardzinski at GrappleFest 7. Here's the best of the action from a stacked international card in Liverpool, England.
The eagerly awaited main event would take place on a rainy Liverpool night between ADCC 2019 silver medalist Craig Jones and butterfly guard wizard Adam Wardzinski. Known as an aggressive guard player, Wardzinski looked to immediately engage in a sitting shin-on-shin battle. Jones seized the moment, hitting a lighting-fast rolling kimura to cancel out his opponent's tricky guard. A compromised Wardzinski found himself in a reverse triangle, eventually turning into a tighter inverted variation which forced the tap.
Jones is undefeated in submission grappling in the UK and now a three-time champion after already securing the Polaris strap in two weight classes.
WATCH: Craig Jones vs Adam Wardzinski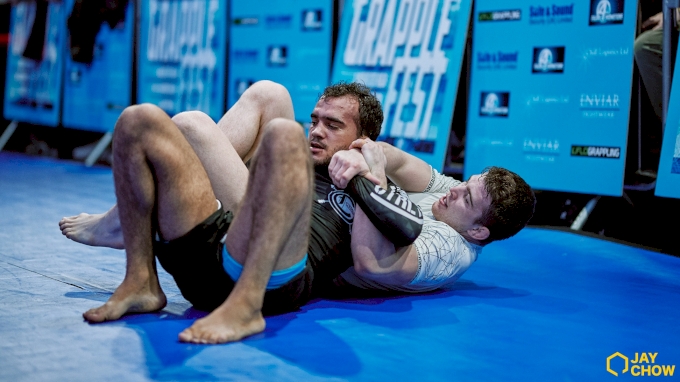 Dante on the back of Marcio Andre
Dante Leon took the nod in aggressive fashion by relentlessly attacking the flexible guard of Marcio Andre for a full 15 minutes. The Canadian's pressure appeared too much for Andre, who weathered the notorious back attacks of Leon more than once but couldn't find breathing space to invert and get to work. Frustration etched itself across Leon's face from the first failed back attempt and remained present even after his hand was raised.
WATCH: Dante Leon vs Marcio Andre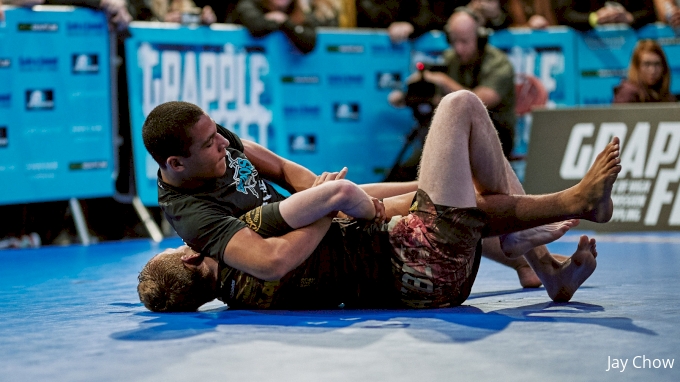 Tye Ruotolo attacks Tom Halpin
Both Ruotolo twins made their first UK appearance to do battle with two high-level black belts. Relishing in the chance to showcase their skills in sub only, the 16-year-old phenoms put on two of the most entertaining matches of the evening. Kade sidestepped the guard to submit Jeremy Skinner with a deep diving darce choke, and Tye took a judge's decision victory over Tom Halpin after a dominating performance. The pair prepared the perfect plan to negate their opponent's leg lock games, using heavy foot control and stepping guard passes, followed up by smothering north-south pressure and dynamic attacks.
WATCH: Tye Ruotolo vs Tom Halpin | Kade Ruotolo vs Jeremy Skinner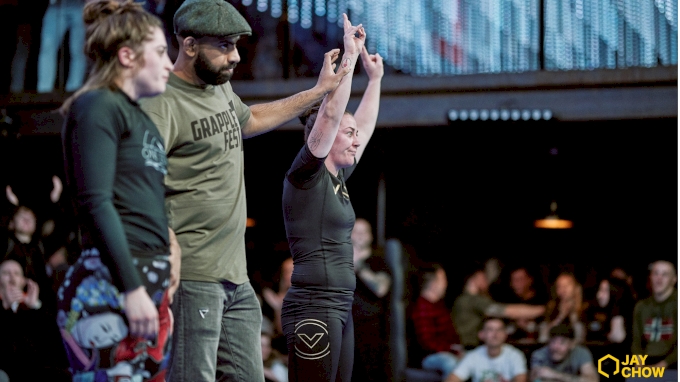 'Meatball' Molly
Hometown hero and UFC star Molly McCann seized reaction of the night in a tooth-and-nail scrap against a returning Abi O'Toole. 'Meatball Molly' snatched a snap-down early, cinching up what appeared to be a fight-ending guillotine, until O'Toole inched an escape and took her cue to turn up the heat. Neither athlete gave an inch, and both came close to catching subs throughout the entire match. Given the intense and emotional engagement from the crowd, most would have awarded both competitors fight of the night.
GrappleFest vet Lloyd cooper added another scalp to his mantel with a signature heel hook finish of Marcos Nardini, while UFC middleweight Tom Breese made quick work of catching his own on the always entertaining Andy Clamp. High-level MMA fighter Lee Chadwick also showcased his diversity, executing an expertly timed drop seoi nage to claim takedown of the night, before ending the match with a patiently awaited sit-back heel hook.
With over 25 action-packed showcases of the best local and global grappling talent, it's clear the UK promotion is still on the rise. Look for them to showcase more submission-only jiu-jitsu in 2020.
Click for full results and match videos