Grapplefest 8
Are The Ruotolo Bros On Track To Be Among The Greatest Of All Time?
Are The Ruotolo Bros On Track To Be Among The Greatest Of All Time?
The once innocuous-looking children have submission-focused styles that are shaking things up.
Feb 24, 2020
by Reid Connell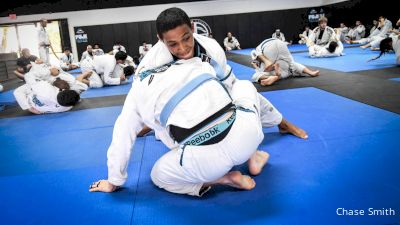 Unlock this article, live events, and more with a subscription!
Get Started
Already a subscriber? Log In
You may remember Tye and Kade Ruotolo as the adorable orange belts who barely fit in their baggy Shoyoroll gis with great big smiles. But now at 16 years old, they may be unrecognizable. The once innocuous-looking children have traded in their billowing kimonos for shorts, a rash guard, and a mean submission-focused style that is shaking up the jiu-jitsu scene.
In 2019 Tye and Kade have completely redefined themselves as competitors and have found success much earlier than many were predicting. In one of the most historically difficult divisions to shine in, these teens have already set themselves apart. So, how have they been able to make the transition from kids' competition to adult so smoothly?
WATCH: Kade & Tye ADCC Trials Highlights
The pocket-sized assassins have long ruled the California competition scene from grey through green belts and quickly made a name for themselves as future stars of the sport by pulling off highlight-reel submissions one after the other.
Starting jiu-jitsu training at the age of 4, it's no surprise that these two young men have racked up a few (or hundreds of) gold medals over the years. But what's most surprising to me is how well they've performed since making the jump to the big leagues.
Normally when a highly touted kid or juvenile competitor finally does make the transition to adult, it can take a few years to adjust to the ever-rising level of black belt competition. In jiu-jitsu there is a belt system for a very good reason; there are levels to this game and a blue belt just doesn't have a chance against a seasoned black belt. If you've put in time on the mats you know this to be a universal truth.
But Tye and Kade are not your average athletes.
It's very clear to me that these two possess a special skill set that we have only seen glimpses of in the past. Here are four concrete reasons why I believe these innocent-looking orange belts could be turning into the greatest submission artists the sport has ever seen right in front of our eyes.
1. The Moment Isn't Too Big For Them
They say competition is 90 percent mental and 10 percent physical, and if you subscribe to that theory you'll have no trouble understanding the success of the Ruotolo brothers.
Kade and Tye have grown up on jiu-jitsu mats and have lived in the spotlight of the sport for more than 10 years. This type of constant attention and scrutiny can be hard to deal with for athletes diving into the deep end. Super fights, cash prizes, legendary foes, and big crowds are overwhelming and take experience to learn to deal with. But Tye and Kade have lived this reality for years and it's starting to pay off for them.
Their wealth of experience on the mats and in the bullpen has provided them the maturity to perform beyond their ability when the moment is the biggest. The best example of this, of course, is Tye's most recent run at the ADCC World Championships. Being the youngest competitor in the 66kg bracket, Tye turned in one of the most inspiring performances in recent memory to make the semifinals of our sport's toughest tournament.
Some athletes compete well in the gym but have a hard time putting things together on competition day. With the Ruotolos that is not the case; their competition record thus far proves they are ready for anything jiu-jitsu competition can throw at them. From grizzled veteran grapplers to hip rookie leg lockers, the Ruotolos have an answer for it all.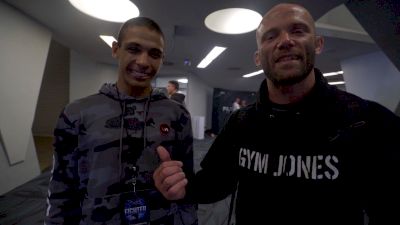 Unlock this video, live events, and more with a subscription!
Get Started
Already a subscriber? Log In
---
2. They Are Submission Hunters
One of my personal favorite things about Kade and Tye is that watching their jiu-jitsu is a real treat. They are high-paced submission hunters who will always be pressing the action and diving on d'arce chokes, guillotines, and just about anything they can find.
During their East Coast and West Coast ADCC trials run, the pair pulled off quite a few awe-inspiring submissions but none was more impressive than Kade's opening round submission in California. The rare Mir lock submission went viral almost immediately with many pros asking themselves what it was they just saw.
At the end of 2018, we here at FloGrappling paid tribute to the epic match between Tye and Ryan Hall black belt Adam Benayoun by nominating it for no-gi match of the year. Although neither sibling came away from these tournaments with gold they certainly established themselves as fan favorites.
One last point — I can't write an article about the Ruotolo brothers without speaking on their favorite submission, the d'arce choke. These two are single-handedly making the d'arce choke cool again (yup, I said it). While everyone else is obsessed with learning the new leg lock tricks and the latest berimbolo variation, the Ruotolos are choking opponents out with one of the most classic techniques in jiu-jitsu.
These two dive from every angle on this choke and as a result have made it their most dangerous attack. Recently Kade finished his opponent Jeremy Skinner at Grapple Fest 7 with the highlight-reel choke.
---
3. They Are Focused On Getting Better
Both Tye and Kade have been known on the competition scene basically since they won their first tournaments at the ages of 4, so when professor Galvao suggested they enter the ADCC East Coast Trials the brothers weren't so sure about the suggestion at first.
After all, no-gi competition was a bit out of their wheelhouse and they had never competed with the inclusion of heel hooks before. Most competitions ban leg locks for the younger divisions and this would be a big step up in competition for both young men. Luckily they took their mentor's advice and entered the East Coast trials and began focusing their efforts on learning the metagame of no-gi grappling.
Both boys lost tough matches to experienced leg lockers on the East Coast but vowed to bounce back when ADCC rolled through California. In between the challenging tournaments, they brushed up on their leg lock defense with Angre Galvao and took a trip out to New York to train with the Ryan brothers and their mentor John Danaher, making sure to close up some of the noticeable holes in their game became their new priority.
Since the beginning of the year, the Ruotolos look like almost entirely different grapplers. They're now comfortable in the leg locking positions and ready for any reaction their opponents might throw at them. Just listen to Kade break down his most recent win at Grapplefest 7 — it's clear they are focused on evolving and putting in the work needed to win.
I thought the matches went well. I had a tough opponent (since) he was a good leg locker. I think I fought a smart strategy; passing on the outside is something my brother and I have been working on a lot. Stepping on the leg and it's been working out really well against leg lock type competitors. It's really hard for them to get underneath us and then we have a system from there to gas them out. It's been very effective. Happy to have executed it.
---
4. They Have a Super Support System
Back in April of last year, the 15-year-old Kade and Tye Ruotolo were promoted from green belt to blue belt by their professor Andre Galvao and began to take the next step in their jiu-jitsu careers. They had long dominated at the lower colored belts and many had wondered and speculated how the Ruotfolos would stack up against the increasingly loaded juvenile divisions.
It shouldn't surprise any of us (especially now) that both brothers carried on their streak of dominance at the blue belt with gold medals at the IBJJF European Championships, IBJJF Pan Championships, IBJJF San Diego International Open, and countless others.
First, let's talk about their main mentor and professor Andre Galvao. I've been lucky enough to spend some time with the storied champion and the stable of athletes he leads at Atos HQ in San Diego, so I'm not surprised to see Tye and Kade following so closely in his footsteps. I cannot think of a better role model for two young competitors in the sport than Andre Galvao.
I've been able to visit San Diego on occasion and witness firsthand the type of environment that Andre Galvao leads his students in, and it's a special place to be every day with the best grapplers in the world. Andre's history in the sport speaks for itself. He's gone through everything there is and might be one of the only people who can properly prepare these two for what they are bound to encounter on their jiu-jitsu journey. From high-profile superfights to managing nerves through a multi-day tournament to navigating the perils of social media, I truly think they couldn't be in better hands.
Finally, we can't talk about support systems without speaking on the role the Ruotolo family has played in their development. Whether it's leaning on your brother when your having an off day or getting that much-needed look of encouragement from their mom having a team behind you that supports you no matter the outcome goes a long way. Nothing can replace that type of motivation, and luckily it seems like something both Tye and Kade have in spades. Listen to what Tye had to say after his inspiring ADCC performance.
I've always set high standards for myself: I've always wanted more. I never wanted to settle at juvenile. I thank my mom for pretty much everything I've ever done in my life. She's done so much for me and opened my mind to what's possible. She's helped me through so much. I just want to thank my mom right now. I love her so much.
Whatever the reasons, it's obviously clear that these two are destined for great things. And if you haven't been paying attention to these phenom grapplers it's time you start. At the rate they are progressing, who knows what podium they'll be standing on top of next year!