Unlock this article, live events, and more with a subscription!
Get Started
Already a subscriber? Log In
Four-time no-gi champion Roberto "Tussa" Alencar awarded Jon "Bones" Jones his purple belt, which drew widespread criticism from both the MMA and jiu-jitsu communities.
The current UFC lightweight champion posted to social media afterward saying:
"I haven't felt this honored in a really long time. Thank you Gracie Barra."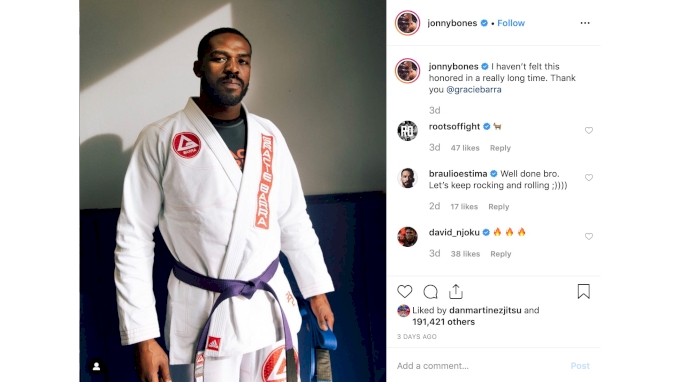 Although Jones is grateful for his new promotion, Professor Alencar reports that Jones often receives criticism whenever posting his jiu-jitsu training on social media.
"Every time I put a picture with Jon as a blue belt we were actually criticized because people reported that since Jon submitted some black belts in the cage and that he should be granted a black belt. This is not what we do at Gracie Barra."
Jon currently has the highest submission rate within the lightweight division, often finishing his opponents via guillotine or americana. Although he has finished black belts in the cage, the Gracie Barra system requires all students to meet their attendance standards in order to be promoted.
We reached out to professor Alencar and asked what it has been like training with the current champion. He was able to shed some light on what it's been like sharing the mat with Jon, but also addressed the criticism they often receive.
"It is a privilege to work with Jon Jones. Jon is an extraordinary athlete. He picks up things really fast and is genuinely interested in learning and evolving in MMA. He is always looking to improve his skills and takes pride in being the best student in the game. I started working with Jon back in 2014 and got officially hired as his BJJ coach in 2016. Since then our relationship has grown and I am able to know Jon inside and outside the gym. We became friends and I can tell you one thing, Jon is a great person that is passionate and caring. I can see this by just observing how he treats people, especially his fans. Jon is a team player, a leader, and a huge motivator at Jackson Wink MMA. He is a man of God that believes and praises God in every training session.
Talking specifically about his BJJ journey, Jon started with a lot of knowledge coming from coach Greg Jackson. He has the highest submission record in the light heavyweight division. That alone speaks to how talented and knowledgeable he already was before starting to work with me. In the past 5 years we collaborated to build on his foundation. We strive to keep learning with the goal of developing his game to sharpen his tools. Back in July 2017, he started spending more time working with the gi, thus we granted him his purple belt just now. By default a professional MMA athlete can't be a white belt in jiu-jitsu. As far as I know, a pro-MMA fighter can not compete as a white belt. So every time I put a picture with Jon as a blue belt we were actually criticized because people reported that since Jon submitted some black belts in the cage and that he should be granted a black belt. This is not what we do at Gracie Barra.
I take pride in what I do and follow my master Carlos Gracie Jr's philosophy that we teach jiu-jitsu for everyone as tool for self-development. We do not focus on only on one type of community (BJJ competitors or hardcore training) we offer the experience of the art to anyone interested in using BJJ to better themselves. Working as team we help each other grow regardless of your race, social level or background. There is a minimum requirement in our belt system which includes a minimum attendance count, skill level, and understanding of our philosophy.
With Jon Jones it wouldn't be different. Since he got his blue belt we kept training and learning, so for him to change his belt from blue to purple he had to put time in with the gi game, which he did. I have been teaching Jon all this year during one on one private training. As you know, with his strong dedication, his learning curve was much faster than a regular student that shows up in class. He had to pay his dues by waiting the minimum time it needs to be in a blue belt but also keep developing and understanding the art. Being a 4th-degree black belt I do know and recognize the level of a purple belt. Jon is training BJJ to improve his game in MMA but also to be a better man. That's what jiu-jitsu does to people. It improves your overall life outside the mat.
Jon has no interested in competing in jiu-jitsu or in a super fight right now. He is focusing on the great career that he has in front of him. [However] we have a lot more to do. He wants him to be the best MMA fighter that ever lived so please guys stop calling him for super fights in grappling. That's not the focus right now.
Jon is on his way to defend and win his 15th world title. This is epic. [Competing in] grappling just doesn't make any sense and will not enhance his resume [nor] prove that he deserves his purple belt. This belt was not for self-promotion but simply symbolizes his jiu-jitsu journey.
No matter who you are, you have to put your time in. You get promoted by showing up and bettering yourself through jiu-jitsu. That's the Gracie Barra way."