Unlock this article, live events, and more with a subscription!
Get Started
Already a subscriber? Log In
Two-time ADCC champion Jonathan "JT" Torres has been a fixture on the jiu-jitsu scene for over a decade. One of the top American black belts in the game, the 30-year-old has medaled at every major tournament in the world.
Perhaps what is most impressive about Torres is that he achieved his two biggest titles– back-to-back ADCC gold medals– while running his own gym and directing his own training.
We met with Torres at his New York gym Essential Jiu-Jitsu to dive into his past to see how his path through the sport led him to the top.
On Starting Martial Arts
"I've always been involved in some sort of martial art since I can remember. When I was a kid, my cousin started doing karate. I wanted to do karate since he was doing it. I had my parents take me and I signed up. I trained at this karate school from the time I was 11 or 12 until I was about 15 and I got my black belt."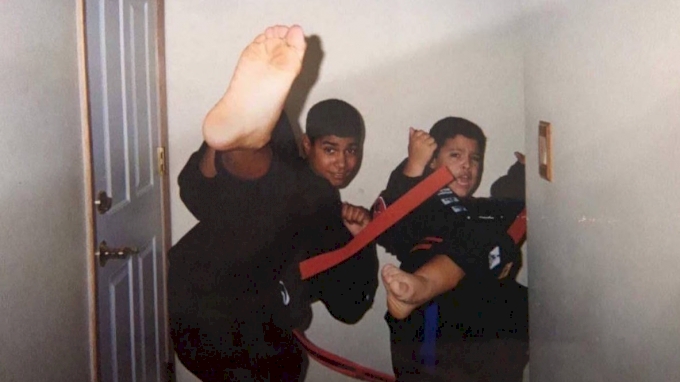 A young JT Torres in his karate days
"At that time the Karate coach, Peter Clemente, was really into something called NHB (no holds barred) and he had a couple of fights in a ring. Because of that, he started learning ground work, too. I didn't realize at the time that he was actually a blue belt in jiu-jitsu under Royce Gracie.
"Peter Clemente also got me into wrestling. Because of him, I got into a mat club in Rockland County, NY, where I wrestled once or twice a week. For a couple of years as a kid I was competing in wrestling almost every weekend.
"I quit martial arts when I started high school, but my father convinced me to do something to stay in shape and keep occupied. So I tried out for the basketball team. I wasn't that tall. I didn't make the team."
On Pursuing The Jiu-Jitsu Dream
"Then my father convinced me to give jiu-jitsu a shot. I took one class and right then and there I loved it. I could tell that I had a deeper connection with jiu-jitsu than I did with karate.
"Within a few months of training, I knew jiu-jitsu was what I wanted to do. I wanted to be a black belt, I wanted to be a world champion, I wanted to have my own gym one day.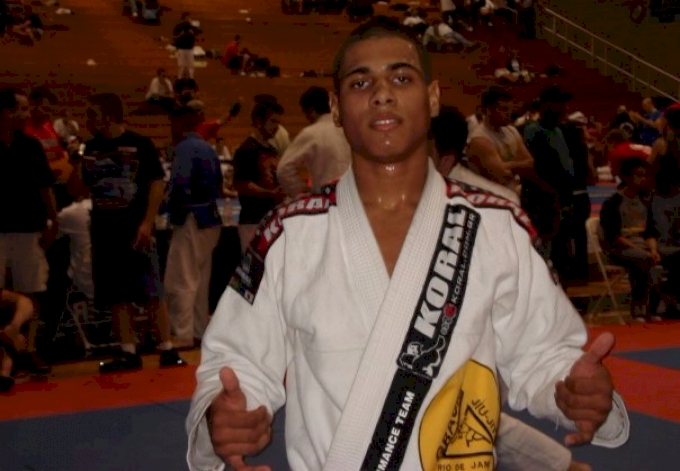 JT in his teens, on the jiu-jitsu scene
"I was competing a lot out of my local gym in New Jersey. It wasn't a gym that promoted competition. It was full of hobbyists. Most people anywhere are hobbyists, but I always wanted to compete. I was a young, hungry kid who wanted to put myself out there. And this gym didn't really have anyone else like me. I would go out and compete by myself. My dad would drive me and coach me. But I didn't have a real instructor in my corner who could guide me to be a competitor."
On Getting Serious
"Still, I kept competing and doing well and started to make a name for myself on the local circuit. When I was 16 years old, as a blue belt, I started to do men's advanced divisions; and I started entering pro divisions as a purple belt.
"In the pro divisions I always used to run into Wilson Reis. At the time, Wilson was one of the best guys in the world. He beat me the two or three times we competed. But they were always really close, exciting matches.
"I've always been someone who really wants to learn. Eventually I reached out to Wilson to see if he would let me train with him. And he invited me out to BJJ United, Jared Weiner's school, where he was teaching.
"I was living most of the time with my dad in northern New Jersey, then. While I was still in high school, I would drive down to Philly two or three times every week for years. Jared and I hit it right off. BJJ United had higher-level training than I was used to. I got to see people working together toward competitive goals. I realized right away that if I wanted to be a champion, that was the type of environment I needed to be in.
"At the same time I was working at ice cream shops and McDonald's, teaching Karate classes, going to school and competing against high-level black belts on the weekends."
On Joining Team Lloyd Irvin
"Jared was Lloyd Irvin's first black belt. So I made the connection with Lloyd Irvin and started training in Maryland once a month. After I got my black belt, I eventually moved down to Maryland full time. That was my introduction to real, full-time training.
"Moving down there and being able to train full-time elevated me to a whole new level. Spending five years at TLI taught me how to really train, how to train hard, how to train to become a champion.
"When I left Maryland, I had an opportunity to train full-time in San Diego. I was thinking about just going back to New York, opening up my own academy. I was a 23-year-old black belt, then.
"My dad convinced me that I was too young to settle down and open an academy. 'You've still got goals to achieve,' he told me. 'Go out and achieve them.'
"I was also thinking about staying in New York and training at Marcelo Garcia's. He had just opened up his academy at the time."
On Moving To California To Join Atos
"When Keenan Cornelius and I left Maryland, he asked me where I would want to train if I went out to California. I told him I would go to Atos HQ, with Professor Andre Galvao. So that's where he went. And for two weeks after we left Maryland, he and I kept in touch and he would tell me how amazing the training was. And he kept on telling me to come join him in San Diego.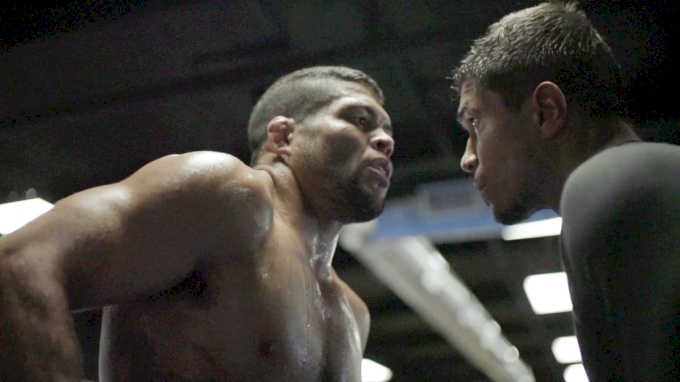 JT and Andre Galvao
"As a kid growing up in New York, I've always seen California in movies and TV and always wondered what it would be like to live there. And even more so, I was inspired to train with a legend like Andre Galvao.
"I bought a one-way ticket. I packed my bag, and I went with no plan. I had no place to stay, I had no job, I literally had like 500 dollars to my name.
"I spent four years out there training hard. And I achieved some more goal of mine, becoming a No-Gi World Champion."
On Opening His Gym, Essential Jiu-Jitsu
"And then I decided to move back to the East Coast and open up my own academy. It's been three years now that I'm back in New York. I truly believe I'm building something special here. I think I bring a whole different jiu-jitsu to the game. I'm an American who's jiu-jitsu was built here in the states. I've been through the journey.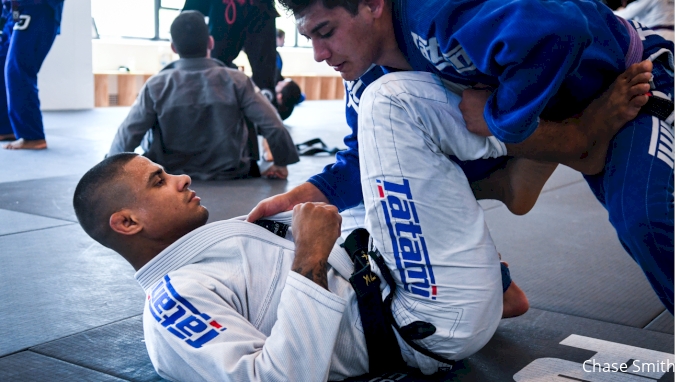 Torres training at his gym, Essential Jiu-Jitsu
"Even through that journey – which was not the most practical one to become a champion – I've still been able to achieve some pretty amazing things. I credit that to my hard work. And my goal is to spread that attitude and mindset. I want to teach people how to do it, and how to do it much easier than I did. There's so many more resources available now than I had 15 years ago.
"Opening Essential Jiu-Jitsu has given me a deeper understanding of jiu-jitsu. Teaching full time means I have to teach kids, competitors, white belts and advanced students. It's made me dive deeper into breaking down techniques for everyone.
"You hear people say that after they have their first child they develop 'dad strength' or 'mom strength.' The way I look at it, my academy is my baby. And it gave me that dad strength. Because now when I compete or when I teach, it's about more than just me. I'm representing my students. It fires me up to work harder."
On Competing While Also Running A Gym
"I've always been someone to prove people wrong. When I first announced that I was opening up the academy, people were writing on social media that my competitive career was over. That only fired me up. I won my first ADCC title a few months after I opened up Essential BJJ.
JT en route to winning his first ADCC gold medal in 2017
"When I first opened the gym, it was the hardest I had ever worked. I was teaching every class; and we had a full schedule from 6 AM to 9 PM I would come in in the morning and teach classes, do my strength and conditioning, come back for drilling, sparring, more teaching. It was insane. I remember laying on the couch in the gym thinking, "God, I hope this is worth it."
"But I did it. I went out there and conquered one of my goals and proved people wrong. I was happy to go out there and win that world title and bring it back here to my students. Because at the end of the day I just want to inspire them, to motivate them to achieve their goals.
"If you go back and watch my matches from ADCC 2017, each match was like 20 minutes long against tough, top of the line competitors. And I never once stopped. I kept pushing and pushing. That's what I'm all about. That's the Essential style: going forward no matter what. Never quitting."
On The Future
"I'm definitely going to pursue the IBJJF World title this year. That's a tricky one for me. With the evolution of jiu-jitsu, my style fits better without the gi nowadays. Last year I won my first match and lost my second match. I was locked in fifty-fifty with a lapel around my leg for nine minutes. There wasn't much I could do. I hope there are some rule changes with that because it's just not exciting. Who wants to watch that? It was disappointing to train for all of that and then to lose that way. But I realize that that is the new style of jiu-jitsu. It's the way the sport is going.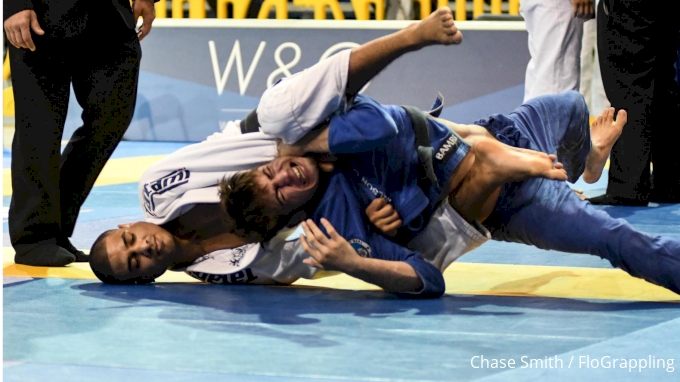 "I'm here to try to take it back to the old school, to bring that Essential style to the mats.
"When I started jiu-jitsu, I set three goals for myself. Become a black belt, become a world champion, open an academy. I've accomplished all three. And I'm still working hard to always accomplish new goals and set new standards for myself."
As told to Corey Stockton
Related Content