Unlock this article, live events, and more with a subscription!
Get Started
Already a subscriber? Log In
Team Zenith competitor Fellipe Andrew could put himself atop the IBJJF's black belt rankings with a successful weekend at the 2020 IBJJF European Championships.
He is just 32 points away from the top spot, which has been held for years by perennial ultra-heavyweight and absolute World Champ Marcus "Buchecha" Almeida. He could pick up enough points to pass Buchecha if he finishes with second place or better in his super-heavyweight bracket at Euros.
"We've got a lot of hopes for him in 2020," said Robert Drysdale, Andrew's coach and manager. "I'm very confident we're going to finish the year as number one in the rankings. And I think he'll surprise a lot of people at Europeans."
In 2019, Andrew earned a gold medal at Euros, submitting all three of his opponents.
This year, Andrew is in a seven-man bracket where he will likely have to take on Patrick Gaudio or Helton Jose Jr. for gold; but even a silver medal would earn him 36 points, enough to surpass Buchecha for the top spot in the rankings. His high rank has earned him a first round bye in his weight class; so he'll earn a bronze medal and 12 points just by showing up.
Andrew will also look to take on the open weight class, where he could drastically improve his points margin with a podium berth.
"I have expectations for him to win two gold medals [at Euros]," Drysdale said. "That's where we raised the bar for him. I know that's incredibly difficult. There's a lot of people in that [open weight] bracket. When I look at the bracket, though, I have him as number one."
The IBJJF rankings are based on an algorithm which awards points for first, second or third place at any tournament in the season. Each season begins in May on the first day of the IBJJF World Championships. Some tournaments are more valuable than others; a World Championship medal is worth seven times the points of a medal from a regional open. Medals from the other three major tournaments — Euros, Pans, and Brazilian Nationals — are worth four times more points than a regional tournament medal. Placement in an absolute division is worth 50-percent more points than placement in a weight division. Points earned in previous seasons diminish in value for two years, and then are removed.
This complex formula has left Buchecha atop the leaderboard for years, earning double-gold or gold and silver at Worlds each of the last three seasons, but rarely competing in any other tournaments.
At the end of each season, the IBJJF awards $15,000 to the top ranked male and female black belts in the adult divisions. This season, Andrew stands a legitimate chance to earn that prize.
Andrew has been a consummate competitor since earning his black belt in 2018. Alongside winning Euros last year, he also won Pans, and was successful in a handful of regional tournaments in Brazil. He has been rampant again this season, racking up 256 points since June. He boasts a 70% submission rate, especially via triangle choke and ankle lock.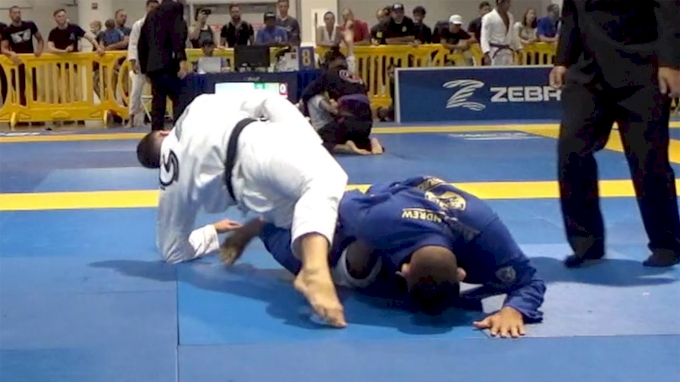 Fellipe's infamous footlock in action
"He's been moving up in the rankings because he's done exceptionally well at pretty much every tournament he competed in in 2019," Drysdale said. "I don't think he realizes the significance of passing Buchecha in the rankings."
Andrew is one of just three competitors with more than 700 points in the rankings. Buchecha has 819 points; but as he rarely competes in any tournament other than Worlds, his 2019-2020 season is effectively over. Lucas "Hulk" Barbosa is only 7.5 points behind Andrew. But Barbosa is not registered for Euros, which is one of the three heavily-weighted tournaments remaining this season. A double-gold outing at the European Championships is worth 270 points.
"That's going to give Fellipe a huge lead," Drysdale said. It's going to be hard for Barbosa to catch up because I plan on keeping Fellipe very active after Europeans."
The rest of the crowd is more than 200 points behind them. Leandro Lo is in fourth place with 575 points. But, like Buchecha, Lo is a rare sight at any IBJJF tournaments except maybe Pans or Worlds.
Only competitors at the top of the heap have been able to stand in Andrew's way. Nicholas Meregali has defeated Andrew two years in a row at the Brasileiros. Kaynan Duarte beat him last year in the open class at Europeans. The young world champions could continue to present the biggest challenge to Andrew on the premiere stages of Jiu Jitsu.
"We have our eyes on Meregali and Kaynan," Drysdale said. "We know they're not going to be at Euros. But moving forward — because of their age and where they're at — I think those will be his two biggest nemeses moving forward in his career."
Drysdale added that he has been helping Andrew to develop a complete, well-rounded game to take advantage of his athletic ability, his hunger for submission victories, and his other unteachable qualities.
"I've got an eye for this stuff, and this kid has it: the mindset, the skills, the humility, all the ingredients are there," he said. "I'm very confident he's going to finish the season as number one."
WATCH: