Unlock this article, live events, and more with a subscription!
Get Started
Already a subscriber? Log In
If you didn't know his name before the European Open Championships, you almost certainly do now. But how much do you know about Fellipe Andrew Silva?
Zenith black belt Fellipe Andrew won the open class gold medal at Euros in stunning fashion, submitting Keenan Cornelius in the finals with a spectacular triangle. Andrew has built a reputation for finishing his opponents since receiving his black belt in December 2017; 70 percent of his victories have come by submission.
But his win over Cornelius is a major feather in his cap: Cornelius had never been submitted in the gi as a black belt, not once in seven years.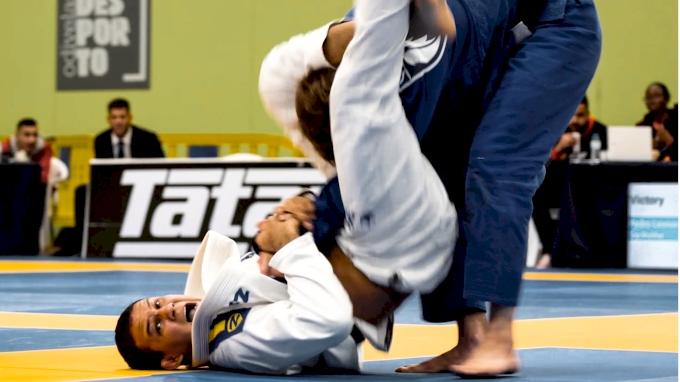 The moment Keenan taps. Photo: Dominik Borowczyk
Andrew also reached the podium in the super heavyweight division, earning silver after a loss to Patrick Gaudio, whom he defeated (via disqualification) in the absolute bracket.
With his two-medal weekend, Andrew secured 198 points in the IBJJF ranking system, enough to put himself over Marcus "Buchecha" Almeida, who has held the top spot for years. Andrew is now well ahead of all other competitors in the rankings, and holds the pole position for the $15,000 grand prize to be awarded to the top-ranked black belt at the end of the season in May.
Robert Drysdale, Andrew's coach and manager, said, "I think that it's unlikely that anyone can pass him in the rankings," noting that he will look to keep his student as active in competition as he has been in his entire career.
Andrew has racked up ranking points by keeping a high work rate. He has performed well in regional tournaments, specifically in the South American stage, collecting medal after medal in both gi and no-gi divisions.
But his most recent win is a huge stepping stone and, Drysdale says, a sign of things to come.
"Europeans was a big one for him," Drysdale said. "I think it convinced him of something we all knew. It convinced him of his potential."
Andrew has already collected several major titles. He won gold at Euros last year in the super heavyweight division, submitting all three of his opponents. He also earned first place in his weight class at Pans in 2019. And he took the gold in the heavyweight division at Brasileiros in 2018.
Andrew, now 25, grew up in Caruaru, in the northeast region of Brazil. He was discovered by Rodrigo Cavaca, who brought him to Sao Paulo to train full-time.
"Cavaca pretty much adopted him when he was a blue belt," Drysdale said.
He was a stand-out competitor in the colored-belt divisions, winning Worlds as a purple belt, Pans as a brown belt, and collecting a handful of regional IBJJF titles in Brazil.
Andrew moved to the U.S. in 2019 in the months before ADCC, joining Drysdale at his Las Vegas academy.
Drysdale said he believes Andrew has the right balance of qualities that will help him continue to thrive. Most importantly, Drysdale said, he's coachable.
"Coaching him is like playing a video game," he said. "He listens, and he trusts his coach."
Drysdale added that Andrew has worked to build all angles of his game.
"Fellipe's the kind of guy who can stand up, play guard, be on top or bottom," he said. "He's very well-rounded."
And he's demonstrated his explosiveness and athleticism, which he has utilized to submit high-caliber opponents. Drysdale attributes that, in part, to Andrew's background in parkour, which he practiced in his youth.
"He's kind of like a ninja," Drysdale said. "For his weight, it's unusual how well he moves."
Fellipe Andrew Drilling Guard Passes at Euros Warm-Up Room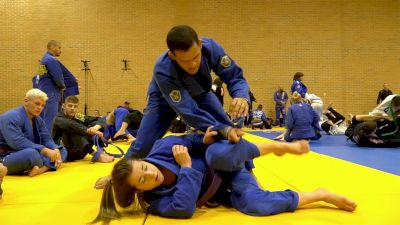 Unlock this video, live events, and more with a subscription!
Get Started
Already a subscriber? Log In
Drysdale said he believes Andrew's priorities will keep him from falling into the traps that sometimes come with success.
"He's not a money- or fame-oriented guy," he said. "He just likes to put his head down and work hard."
Andrew expects to remain active this year. He'll look to protect his spot in the rankings, competing often in the IBJJF circuit; and Drysdale said he's also hoping for more professional superfights. He's also hopeful to secure his first victory as a black belt at the World Championships. He entered Worlds as a heavyweight in 2018 and lost in the semifinals to Felipe Pena. He also lost to Buchecha in the absolute bracket that year in an exciting match in which he nearly took Buchecha's back, and attempted a triangle reminiscent of the one he used to finish Keenan, before being submitted in the waning minutes of the match.
He had another promising start at Worlds last year, defeating his first two opponents in the open weight class; but he was injured in his second match and could not continue through the weekend.
If Andrew is to be successful on jiu-jitsu's biggest stage, he'll have to find a way through the young, explosive world champs in the upper weight classes, namely Nicholas Meregali and Kaynan Duarte, who both have submission victories over him. But Drysdale believes Andrew's presence among the top names in jiu-jitsu is just getting started.
"We want to make him a household name in jiu jitsu for the next 10 years," he said.
---
All Access: The Crazy, Unpredictable Shocking Absolute Division at 2020 IBJJF Euros
The most shocking moment of Euros 2020 happened in the absolute final to give an incredible climax to the weekend. Follow Keenan Cornelius through the tournament and watch as the unthinkable happens against the ultimate underdog, Fellipe Andrew.
Unlock this video, live events, and more with a subscription!
Get Started
Already a subscriber? Log In