On February 8th FloGrappling will proudly host our first event, Who's # 1. The event takes place in Costa Mesa, Ca in the Hangar at the Orange County Fairgrounds. The weighs and press conference will be streamed online on Friday, February 7th at at 6 pm est and the events goes down the next day at 8 pm est.
There will be fifteen superfights, highlighting the next generation of up-and-coming talent in jiu-jitsu. The idea is to put the top ranked athletes in the colored belts up against each other, giving fans a look at who might be the next Buchecha or Rafa Mendes.
Official FloGrappling Rankings
Then capping off the night are two mega black belt superfights, with some of the most exciting athletes at the highest level going head-to-head in two co-main events. Here I'll give you a quick breakdown of who is competing and what to expect, make sure you tune in Saturday night for all the action.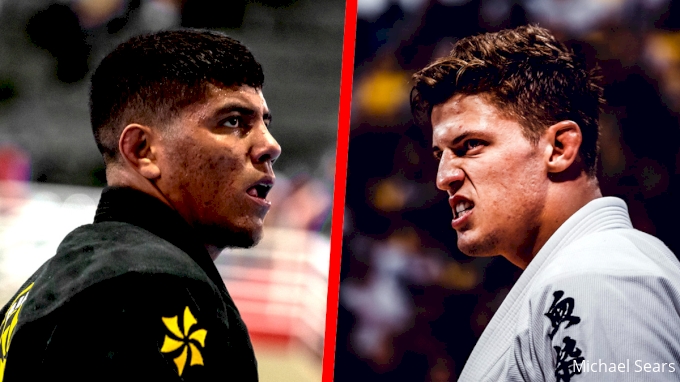 # 1 Nicholas Meregali (Alliance Mario Reis) vs # 4 Victor Hugo (Ribeiro)
Two of the most successful colored belts of the last decade, both Nicholas and Victor won the open class at Worlds as a purple and brown belt. Nicholas has gone on to win Worlds twice already as a black belt, while Victor is entering his rookie season as a black belt after doing the double grand slam at brown in 2019.
Both guys are finishers, with Nicholas having an impressive 79% submission rate as a black belt. They both have an old school game as well, Nicholas deadly from the collar/sleeve position while Victor is a killer from the closed guard. Victor has the size advantage, Nicholas has the experience, this one should be fireworks.
Watch: Victor Hugo Is Dangerous From Everywhere
---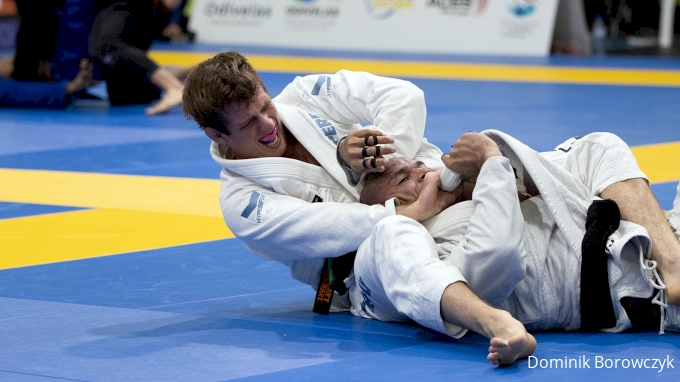 # 2 Keenan Cornelius (Legion American Jiu-Jitsu) vs Roberto Jimenez (Alliance)
This is another match between two of the most heralded prospects of different generations, with Keenan being the veteran and Roberto entering his rookie year at black belt. Keenan obviously needs no introduction, the Pans and Euros champ is one of the most accomplished American jiu-jitsu athletes on the scene.
Roberto first gained fans attention while a juvenile blue belt, but really rose to prominence when he won double gold at Worlds as a purple belt. Roberto submitted all ten opponents on that day. Roberto is always a threat to take the back and thrives off scrambles, the question in that match is whether he can avoid Keenan's lapel entanglements long enough to create an opening.
Watch: 48 Minutes Of Keenan Rolling At Legion
---
# 2 Anderson Munis (Alliance/Dream Art) vs # 3 Conner Deangelis (Atos)
P4P number one Erich Munis had to pull out of this match late, luckily he has a doppelganger in his brother Anderson Munis who was also a purple belt world champ in 2019. Anderson will face off with another 2019 world champ at purple in Conner Deangelis. The pair fought in a close match in the Worlds open class at that tournament, with Anderson advancing to close out with his brother Erich in the final. This should be a clash of Conner's smash passing against Anderson's lasso guard.
Watch: The Van Life With Conner Deangelis
---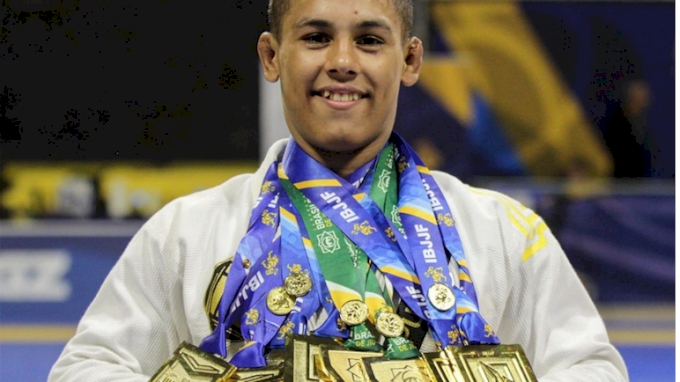 # 3 Micael Galvao (Alliance/Dream Art) vs # 4 Mateus Rodrigues (Atos/AOJ)
One of my favorite matches on the entire event, this match puts one of the most hyped juvenile prospects of all-time against an already established competitor at the adult level. Mateus Rodrigues has been incredibly successful already at the blue and purple belt level as an adult, and we will see how ready Micael Galvao is for the adult level when they match up.
Micael is an exciting up-and-comer, winning the double grand slam at juvenile one and then going to purple before he is even an adult. He is still not eligible to compete at adult in the IBJJF, but here in a superfight we get to see what he looks like against the elite at adult.
Read: Micael Galvao The Next Big Thing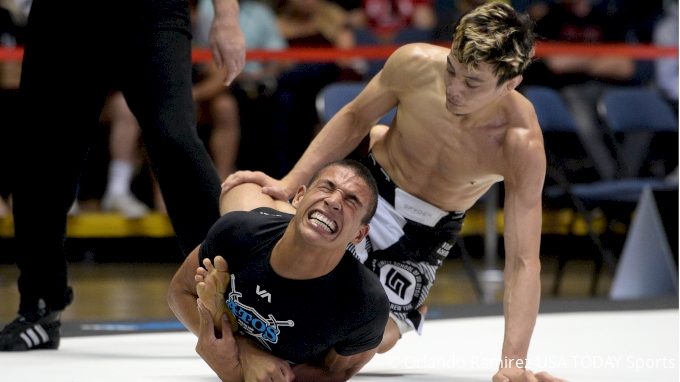 Tye Ruotolo (Atos) vs # 1 Jhonathan Marques (Alliance/Dream Art)
A similar matchup to the Galvao/Rodrigues matchup, with a juvenile purple belt going up against the best at his weight at adult. Jhonathan "Moicano" Marques recently won the purple belt lightweight division at Euros, submitting his opponent in the finals and claiming the top spot in the rankings.
Moicano is matched up here with one of the best juveniles in the world, ADCC fourth place finisher Tye Ruotolo. Tye has been hailed as a prodigy since the kids level, he and his twin brother have won everything in their path so far. Tye's ADCC run at 16 years old was legendary, making his way to the 3rd place match and nearly finishing Paulo Miyao with a devastating kneebar. This is Tye's purple belt debut, and who better to put him against then the current top ranked purple belt at his weight.
Watch: Tye Ruotolo Vs Paulo Miyao At ADCC
---
# 3 Lucas Protasio (Checkmat) vs # 1 Andy Murasaki (Atos)
This is one of the most prominent rivalries in the colored belts in recent years, with Murasaki and Protasio fighting almost 10 times already. They've gone back and forth, with Protasio winning at Worlds in 2019 but Andy taking the most recent meetings at the Abu Dhabi Grand Slam and Euros.
No matter how many times we see it, this is bound to be an exciting match. Andy is a finisher and Lucas is a highlight machine, this match is guaranteed to be fast paced and one of the most exciting on the card.
Watch: Lucas Protasio World Champion Highlight
---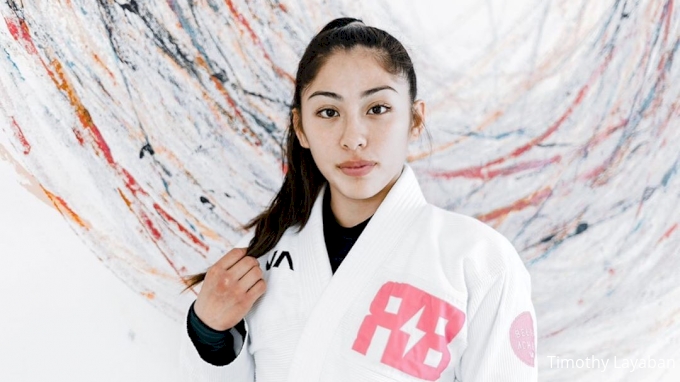 # 1 Jessa Khan (Atos/AOJ) vs # 2 Vicky Hoang (Jiu-Jitsu For Life)
Jessa Khan has been one of the best female prospects recently, winning everything at blue and purple belt over the last couple years. She was the P4P number one at purple before getting her brown belt from Gui Mendes at the Long Beach Open a few months ago.
She's matched up here with a proven competitor at the brown belt level, 2019 Worlds bronze medalist Vicky Hoang. The two met up recently in the finals at Euros, with Jessa winning on points. This second match will no doubt be one of several between Jessa and Vicky this year, and the pair should be contenders in the women's black belt roosterweight division shortly.
Watch: Jessa Khan Promoted To Brown Belt By Gui Mendes
---
# 1 Meyram Alves (Guigo/Team Lloyd Irvin) vs # 3 Joshua Cisneros (Cleber Jiu-Jitsu)
Meyram Alves is one of the most exciting colored belts in the game, he never has a boring match and has a ridiculously high finishing rate. The 2019 Worlds silver medalist at purple recently won the Sul Americano in this division and moved into the top spot in the rankings.
He's matched up here with Joshua Cisneros, an athlete who finsihed second in this division in 2019 to current black belt Diego "Pato" Oliveira. Josh recently won the No-Gi Worlds as well. Both athletes are extremely well rounded, with good takedowns, passing and guard play and this one should be fun wherever it ends up.
---
Chad Wesley Smith (Gracie Barra) vs Nsima Inyang (Cassio Werneck)
This is the only match that mixes belt levels, with a top-ranked blue belt in Smith going up against a top-ten athlete at purple in Inyang.
Both athletes are not only accomplished in the jiu-jitsu scene but celebrities in the weightlifting community, pitting two fitness gurus againts each other in what should be an exciting matchup. These men are both massive and the only ultra-heavyweights on the card.
---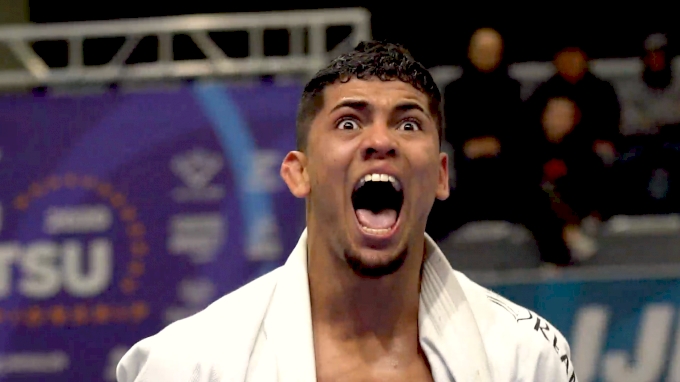 # 1 Rui Alves (Alliance/Dream Art) vs # 3 Steffen Banta (Ares)
Rui Alves has established him as a force in the absolute divisions in the last year, winning the open class at Worlds, Euros and Sul Americano. The lapel wizard from the Dream Art Project is the current P4P number one at purple belt and on a roll after his run at Euros.
This is a rematch from the 2019 Worlds, where Steffen Banta knocked off Rui in the weight class before Rui went on to win the open class later in the day. That's become a bit of a pattern with Rui, who also lost in his weight at Euros and Sul Americano before bouncing back to win the open.
Watch: Rui Alves Worlds Highlight
---
# 1 Rico Staton (Team Lloyd Irvin) vs # 4 Robin Bohlin (Atos/AOJ)
Rico Staton enters the season ranked first, after finishing second at Pans in this division a year ago. Coming after him and his top spot is 2019 blue belt Worlds champ Robin Bohlin from AOJ. Rico is a product of the TLI kids program, Robin is from Sweden and relocated to California to train at AOJ.
---
# 1 Lucas Montalvao (GF Team) vs # 4 Elder Cruz (Checkmat)
Lucas Montalvao recently won Euros at purple belt in Lisbon, after winning Pans at blue and finishing third in the world in 2019. He's matched up here with 2019 Worlds runner-up at blue in Elder Cruz, a student of Lucas Leite and Checkmat representative. Montalvao looked great at Euros and just recently moved into the number one spot, he has a tough test here in Cruz however though.
---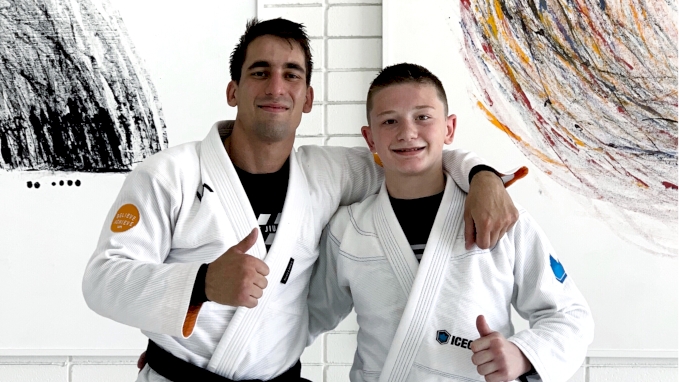 Cole Abate (Atos/AOJ) vs Sebastian Oyervidez (Urban Jungle)
Cole Abate has been well known for years already and he is just entering his first year at juvenile now. Cole was a human highlight reel at the kids level and has recently relocated to train at AOJ with Professor Gui Mendes and further his jiu-jitsu career. He's matched up with another Pan Kids champ from a year ago in Oyervidez, who won the weight class above him last year in Long Beach.
Watch: Three Training Rounds With Cole At AOJ
---
Dominic Mejia (Gracie Barra) vs Andrew Tackett (Checkmat)
Two more great juveniles going head-to-head here, with Californian Mejia matching up with Texan Andrew Tackett. Tackett is very accomplished No-Gi, just like his older brother William, but has some great gi accomplishments as well. Mejia has been on our radar since the Kids Pans level, both of these athletes should be making waves at adult in a year.
Read: Dominic Mejia Interview
---
Jonah Gratt (Unity) vs Gustavo Ogawa (Atos/AOJ)
A match up between two of the best juveniles from a pair of the Worlds top teams, this match puts East Coast up against the West Coast when Unity Jiu-Jitsu and AOJ clash. Gratt is a year older than Ogawa and these two will not meet in IBJJF this year, making this a match you will only see at Who's # 1.
Read: Jonah Gratt Interview

---