Unlock this article, live events, and more with a subscription!
Get Started
Already a subscriber? Log In
Dante Leon is in the prime of his career right now, and it's important to understand why. In today's breakdown, we examine Dante's world-class ability to wrestle up from De La Riva and why it's placed him as the no.8 No-Gi P4P.
Case Study: ADCC 2019
Dante Leon lept into the spotlight last year after beating the best lightweight in history. Lucas Lepri is an authority on the knee slice pass, arguably the best to ever do it. So when Dante and Lucas faced off at the quarter-finals of ADCC 2019, fans were curious to see if Dante's guard was strong enough to keep Lepri at a distance.
How did Dante pull off one of the most impressive upsets of the tournament? I brought in wrestling expert Mike Mal to show you.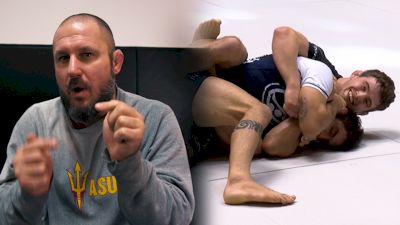 Unlock this video, live events, and more with a subscription!
Get Started
Already a subscriber? Log In
By The Numbers
So what's the secret sauce? Last year, Leon took home victories against many high-ranking competitors. However, when we look at his submissions, he's not using anything fancy.
RNC 28%
Armbar 23%
Kneebar 13%
So what makes Dante Leon so unique? Why is he taking the podium and rising in the rankings?
The Strategy
Mastering the transition between De La Riva and wrestling makes Leon a very difficult opponent for anyone who is looking to pass. By combining his De La Riva systems with high-level wrestling, Dante Leon is constantly off-balancing his opponent making them unable to implement their game effectively. While you are tangled up in his guard, he might burst up to his feet and get the single leg. Being constantly unbalanced and worried about the takedown can put even the most season competitor on edge.
Whenever the match begins, Dante always looks to make the first move and control the action. By keeping his opponent one step behind, he is able to create the opportunities he needs to secure a dominant position.
Dante in 2020
This weekend Dante Leon will take on Tye Ruotolo at Grapplefest 8. This matchup couldn't be a better test of his ability to keep Tye at a distance. Once the ATOS prospect passes your guard, he is an absolute nightmare to deal with. Fans are curious about what Dante's approach will be this weekend. Will he choose to wrestle or test Tye's passing and look for the sweep?
Typically juveniles take a few years to acclimate to the adult division before holding their own against the adults. However, Tye seems to have no issues hanging in there. Dante has come forward and stated that he is not underestimating Tye at Grapplefest. Be sure to tune in and expect the best this weekend. Live only on Flograppling.com