Unlock this article, live events, and more with a subscription!
Get Started
Already a subscriber? Log In
With every major title you acquire in this sport comes more and more responsibility to the community that has contributed to your success. It's not anything written in stone, but when jiu-jitsu shapes who you are and has given you opportunities beyond your imagination it's natural to want to give back.
Nathiely has checked off quite a few of her life goals and is currently settling into the next phase of her jiu-jitsu journey. Now she is using her platform to continue to fight for equality and growth within the sport for women. Having seen the evolution first hand, Nathiely is encouraged about the future.
"When I first started training we didn't have a lot of girls, but today women's jiu-jitsu is growing and the next generation is coming."
Now with four years at black belt, Nathiely is transitioning from "new generation" to veteran. In the meantime, she's been watching year after year as more and more gifted female athletes come on to the scene.
And Nathiely is happy with the direction her career has taken, too. As a five-time world champion she has been able to build her name and acquire seminars, but that's not to say it hasn't been difficult. She is quick to point out that equality goes both ways and offers a rallying cry for other women in the sport.
Women's jiu-jitsu has grown all over the country and produced many homegrown high-level black belts. But still, oftentimes it can be difficult for promoters to put together a tournament of the best females and Nathiely wants to see this change.
"Here in the U.S. we have a lot of black belts, but they don't always want to compete too. So we can't try to say you guys have to pay more if we don't show up and support the sport as women."
Supporting women in the sport is Nathiely's No. 1 priority now. She teaches women's-only seminars all over the world and holds daily women's-only classes at her gym in San Antonio.
"Of course my goal is always to inspire the other girls.

"We have a women's-only class and I love to teach the girls because now I can see myself as a professor. It's something I've always wanted to do since I was a kid."
Nathiely has grown up with jiu-jitsu and experienced all the highs and lows of a professional athlete. So if she had one piece of advice to give to the next generation of female competitors trying to get noticed, it would be to promote yourself and your own image. Control what you can.
"It's not only the jiu-jitsu media — it's about your personal media. If you don't post about yourself or show confidence in yourself, they aren't going to notice you."
Watch Nathiely's 2019 IBJJF World Championship Final: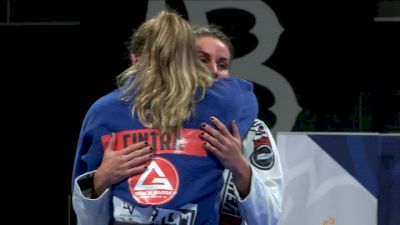 Unlock this video, live events, and more with a subscription!
Get Started
Already a subscriber? Log In