Create a free account to unlock this article!
Get Started
Already a subscriber? Log In
Soon to be a household name, Kendall Resuing may be the fastest rising star in the female division. After a short career as a freestyle wrestler, Kendall is dominating in jiu-jitsu competition. Now she prepares to face off against her toughest opponent yet, ADCC legend...Gabi Garcia.
---
Kendall's Wrestling Background
It's no secret that Kendall is comfortable on her feet. After winning a California state championship, as well as four U.S. National Championships in high school, Kendall then went on to wrestle for Team USA internationally and trained at the U.S. Olympic training center in Colorado Springs.
Being the daughter of accomplished competitor Tom Reusing, her transition from wrestling back to jiu-jitsu was a natural one. Kendall enjoyed success as a colored belt making the podium of Worlds, No-Gi Worlds, World Pro, and Pans. While still a blue belt, Kendall placed second in the 2017 ADCC trials. She earned her blackbelt in 2019 after taking double gold at the 2018 World No-Gi championship as a brown belt.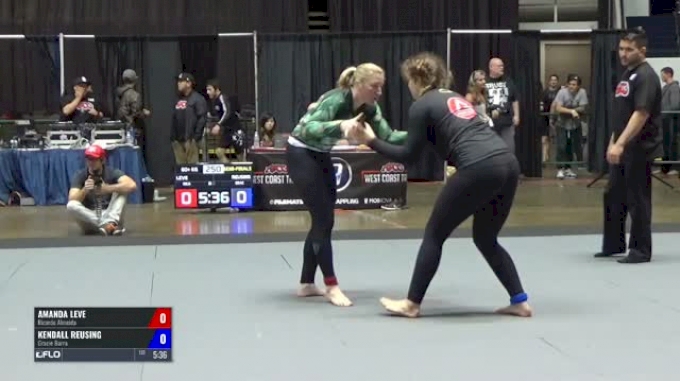 Unlock this video, live events, and more with a subscription!
Get Started
Already a subscriber? Log In
---
Kendall's First Year At Black Belt
After receiving her blackbelt last year, Kendall wasted no time making headlines. She quickly went on to win the IBJJF World No-Gi Championship, the SJJIF World Championship, and took second at the UAEJJF Grand Slam. Although COVID-19 took away the majority of her debut season, Kendall is finishing it with a bang with her F2W matchup against Garcia.
Unlock this video, live events, and more with a subscription!
Get Started
Already a subscriber? Log In
"So with coronavirus shutting everything down, my first year at black belt went from winning my first world championships and launching into a great season... to having to make a huge pivot to focusing on our three schools. I'm a competitor, but I'm also a business owner/operator and full time instructor — 365 days/year, competing or not. So we were basically in an operational war zone. It was a huge emotional shift. But I made the decision right there to focus everything I have on ADCC. As a blue belt in 2017 I took second at trials, 2019 I separated my ribs away from my sternum [during the] week of trials. I am [now] more tunnel-visioned on 2021 ADCC than I've ever been on anything before. Gi season coming to a halt was a weird blessing in a way. My first year at black belt has been blessing after blessing — hardships and all."
---
Kendal Reusing vs Gabi Garcia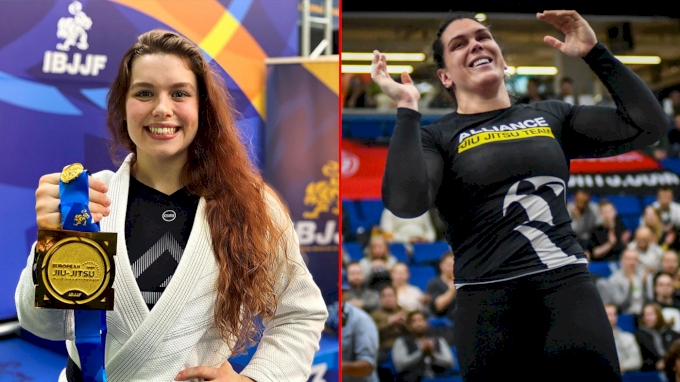 To the general public, Reusing is the underdog during this matchup with Gabi. However, Kendall believes that this will be her opportunity to step into the limelight and turn heads. A win over Gabi Garcia would be the catalyst she needs to gain the respect and notoriety Kendall deserves from the jiu-jitsu community.
"Going into this match, there is a lot of respect along with a lot of excitement. Gabi has never fought someone with my size, strength, and athleticism combined with my skills on my feet. Especially when you combine that with the fact that I am not scared of her at all — which is why many people lose to her before the match even starts. She has paved the way for many of us coming up and I have watched her since I was a young kid. But I believe I will come out on top and set the expectation for this new generation of athletes. I think I am going to shock a lot of people. Except for my team — because they have seen and felt what is coming from my jiu-jitsu and power lately. They won't be surprised at all. I want this match to be an example of what will happen at ADCC 2021." –Kendall Reusing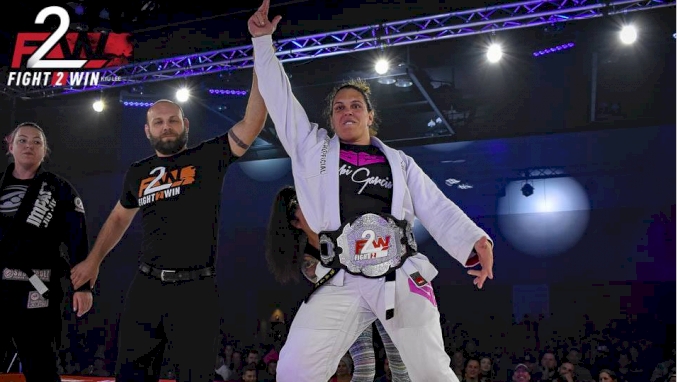 Unlock this video, live events, and more with a subscription!
Get Started
Already a subscriber? Log In
Watch Fight To Win 142: Kendall Reusing vs Gabi Garcia