Unlock this article, live events, and more with a subscription!
Get Started
Already a subscriber? Log In
This weekend we've got tons of great matches live on FloGrappling — from the return of pound-for-pound No. 1 Gordon Ryan to the blue-collar battle between John Combs and Andrew Wiltse, or the technical Fight to Win main event with Edwin Najmi vs Quexinho.
We've got it all but for my money, there's one matchup that stands above them all… Nicky Rod vs Roberto Jimenez!
Watch Nick Rodriguez vs Roberto Jimenez LIVE on Flo
Saturday, July 11 | Third Coast Grappling


It's important to note this is just the first-round matchup of the much anticipated Absolute Kumite which Third Coast has stacked with some of the biggest names in the sport. The entire tournament is great; it features Cyborg, Gabriel Almeida, and many more, but before I get too far ahead of myself we've got to dive deeper into the most intriguing match of the night and possibly of the whole year.
If you've had eyes on the FloGrappling channel over the last few years then neither Roberto nor Nick is new to you. We've been following Roberto for years now, since he was just an 80lb green belt snatching up necks all across Texas. He was the original "prospect." To see him now as a mature black belt with HUGE wins over accomplished black belts like Manuel Ribamar, Keenan Cornelius, and Vagner Rocha is surreal. But his upcoming test against the specimen, Nicky Rod, will be a completely new challenge.
Nicky will be one of the most explosive and physical grapplers Roberto has faced in his career. That's what makes this matchup so intriguing. Both guys thrive off of momentum and whoever takes control first is going to have the upper hand throughout.
On the feet we have to assume neither will be pulling guard. I've never seen Nicky on his butt and Roberto always likes to test the waters on the feet before going to the ground. Nicky has the edge in wrestling and if he's able to pull off a monster double leg or a back-to-belly suplex he'll be sitting pretty. Nick loves to attack the open guard with relentless cartwheels and jumping knee slices; if you aren't ready for the physicality, he will break his opponents. I'm assuming like all other Nick Rodriguez matches this is the game plan for Roberto as well.
However, Roberto is no slouch on the feet, either. If he stops the shot and is able to wrestle with Nicky that doesn't bode well for the ADCC silver medalist. Going to the ground on Roberto's terms is what he'll be trying to avoid. Roberto has been working very closely with the berimbolo king Mikey Musumeci and if you've been watching him recently, it shows. Roberto has always been a back hunter but the new addition of inversions to his game has brought some of his biggest wins to date.
We've seen Roberto berimbolo opponents who are much much bigger than him so I don't think he'd have any problem doing it to Nicky. His no-gi Worlds performance against the towering Roosevelt Souza comes to mind as a particularly impressive performance from Roberto. Roosevelt, who coming into the match held a win over Roberto and outweighed him by at least 50lbs, didn't respect the inversion capabilities of Roberto and paid dearly for it.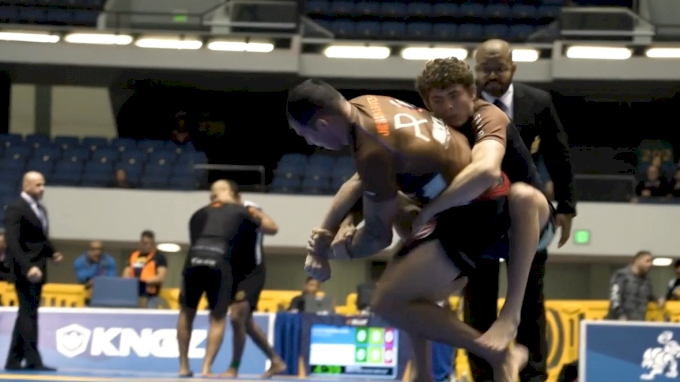 Unlock this video, live events, and more with a subscription!
Get Started
Already a subscriber? Log In
Another area that I think Nicky will have a big advantage is in the leg entanglement positions. It's no secret at this point that Roberto has had struggles in these positions. He only has a few submission losses on his record and they almost all come by way of heel hook. Having been training with John and the Danaher Death Squad these are position Nicky has intimate knowledge of and can finish elite competition with it. Just take a look at his match with Bruno Bastos — Nicky can snatch heels from many different positions and this could be Roberto's kryptonite.
Of course, we'll never know how this goes down until they step on the mats this Saturday at Third Coast Grappling. Let me know who you think is going to take this one and don't forget to tune in LIVE July 11th only on FloGrappling!
If You need more Nicky Rod or Roberto Jimenez in your life, lucky for you we've made documentary films on both! You can watch The Black Belt Slayer: here and The New Guard: here.