Unlock this article, live events, and more with a subscription!
Get Started
Already a subscriber? Log In
Poor Craig Jones. The referee at Submission Underground read the Australian's infamous rashguard and interpreted the phrase "F**k Craig Jones" as an instruction.
The #1-ranked 88kg grappler in the world was on a nine-month win streak until Sunday, July 12, at SUG 16. A much-disputed call handed the win to his opponent Mason Fowler, who has publicly stated he feels dissatisfied with the victory.
And he's not the only one who has criticized the call. Everybody from Joe Rogan to Gordon Ryan, Rafael Lovato Jr. to Edwin Najmi and even ADCC promoter Mo Jassim have voiced their shock and disappointment with the result.
What happened that was so controversial?
The first portion of the match played out as you'd expect – Jones butt scooted forward trying to connect with Fowler, who wisely stayed away from the Aussie's traps. Jones was able to score a sweep and attacked with a guillotine, the same submission that he used to tap Fowler at the 2019 ADCC World Championships last September.
SUG uses a five-minute round; if there is no winner via submission they go to EBI overtime rounds. Jones started in control and Fowler was able to escape after a protracted battle.
Here's where it all went horribly wrong for Jones.
A grievous officiating error during the OT rounds saw the referee bizarrely stop the match because he believed Jones verbally tapped during a submission attempt. Fowler had locked on a tight body triangle and was ripping away with a face crank – the referee claims Jones verbally tapped, telling him "you screamed, bud."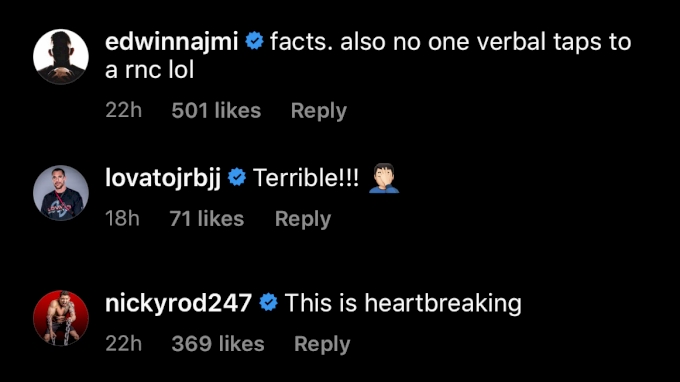 ---
Craig Jones responds
With such public outcry I reached out to Craig to see how he felt about the result. As one of the top professional grapplers in the world, Jones is used to being in the spotlight, albeit for his accomplishments and not controversies.
"I'm just disappointed that we were robbed of a climatic ending after such a boring regulation period. Unfortunately the referee interpreted grunting from a body triangle squeeze as a verbal submission and called it. Mason encouraged it by squeezing me and yelling at the referee that I was verbal tapping."
The outpour of comments from the grappling community came thick and fast. From established names like Gordon Ryan to Joe Rogan, and even former opponents such as Gabriel Checco – everybody agreed the call was bogus.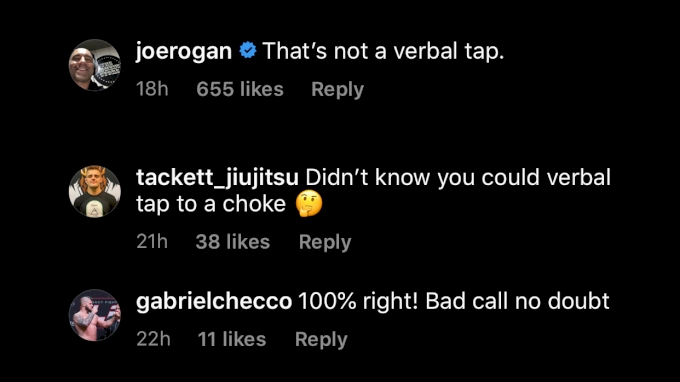 Whatever way you spin it, the face crank looked pretty gnarly. I had to ask – was Craig close to tapping? Does he think he could have gotten out?
"What's funny is the face crank was so high it was just a lever for him to press his hips in and compress my stomach. If my neck or jaw was in jeopardy there is no way I wouldn't tap," said Jones.
---
Gordon Ryan was one of the harshest critics of the entire debacle, and it was his page where the majority of the debate took place. As you can imagine, the comments section got pretty fiery with very few posting in defense of Fowler.
---
The loss will stand
As much as Jones protested to the referee, there was no going back on the result. Many commenters questioned the referee's credentials, wondering what qualified him to officiate a grappling bout when his background is in MMA.
It's important to state that Mason Fowler is not at fault in this situation. He benefitted from the call but had no influence in it being made. He even posted about the result, saying that he would do it again without the verbal tap rule.
"The win is not satisfying, and I feel the fans deserve more. Craig was kind enough to offer me another shot after our first match and I will happily do the same. Chael, let's run this back. Craig see you on the next SUG. Let's take the verbal tap rule out of the picture."
In some grappling federations, any kind of scream or cry of pain is considered a verbal tap. ADCC promoter Mo Jassim was quick to point out that in ADCC there were many examples of matches where athletes had had limbs stretched to breaking point only to escape and go on to win: consider the cases of Paulo MIyao vs Tye Ruotolo in 2019 or Vinny Magalhaes and Fabricio Werdum in 2011. If the referee had stepped in to protect them against injury when he felt that they were in danger, they both would have lost.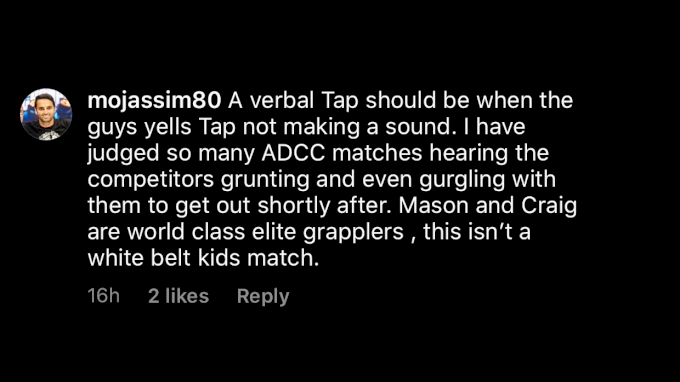 For Jones, it's a tough result to swallow and we'll likely see a rematch as soon as possible. The one positive may come from this is that Submission Underground will review their rules and we may see changes made for future events
"We spoke after," said Jones, referring to a conversation with Chael Sonnen. "[They're] definitely going to implement some changes for future events."
WATCH: Craig Jones vs Mason Fowler ADCC 2019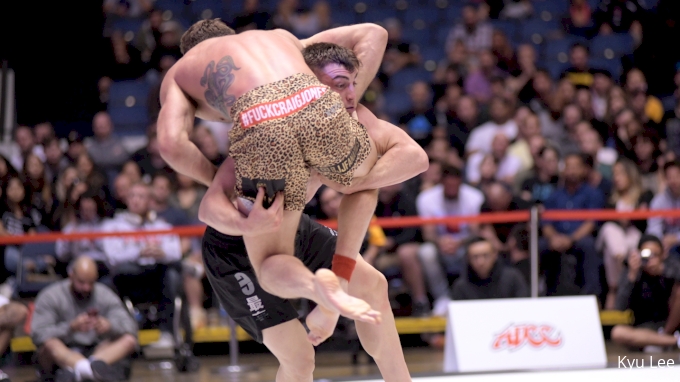 Unlock this video, live events, and more with a subscription!
Get Started
Already a subscriber? Log In