Unlock this article, live events, and more with a subscription!
Get Started
Already a subscriber? Log In
Belt ranks don't always carry over from gi to no-gi competition. Some may call them different sports entirely, and it reflects in the rankings.
Some purple and brown belts are among the names to beat in their respective divisions.
Nine of the top 75 male competitors are purple or brown belts including one in the top 15 pound-for-pound. Among female divisions, one brown belt stands alone in the top 30.
These are the colored belt athletes who stand out even among the best black belts in the world (in no particular order).
---
Elisabeth Clay
How tough is Lis Clay? Well, she just called out Gabi Garcia.
This Ares brown belt has had a rockstar summer, taking out black belts Kendall Reusing, Chelsah Lyons, Maggie Grindatti and even Luiza Monteiro. The 20-year old has earned her spot among the toughest heavyweight female competitors in the world in no-gi competition. And she's hoping to keep that momentum going against the best female competitor of all time.
Watch: Elisabeth Clay vs Luiza Monteiro at Fight to Win 147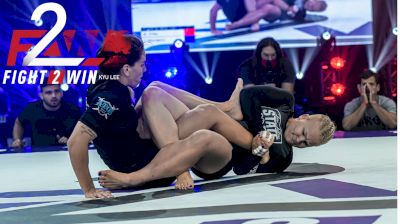 Unlock this video, live events, and more with a subscription!
Get Started
Already a subscriber? Log In
---
Nick Rodriguez
He's young, explosive, and game to take on anyone. Nicky Rod won the 2019 ADCC West Coast Trials with just nine months of jiu jitsu training, and went on to ADCC to defeat Mahamed Aly, Orlando Sachez and Roberto "Cyborg" Abreu before losing to Kaynan Duarte in the finals.
Then he earned his purple belt.
Since then, he's continued to battle with the toughest big guys in grappling, including Victor Hugo, Lucas "Hulk" Barbosa, and Roberto Jimenez.
The "black belt slayer" may have another rung to climb before he can consistently beat top talent, but he deserves to be on everyone's radar.
Nick Rodriguez vs Orlando Sanchez
---
Ethan Crelinsten
Ethan Crelinsten is no stranger to prime time competition. Even three years ago, at ADCC, he tested AJ Agazarm in a quarter-final round, and was taking control of the match as overtime expired. He won ADCC trials in consecutive years, and he's only been building momentum.
He won the JitzKing tournament this summer, and took second in the BJJ Fanatics Grand Prix behind TriStar/DDS teammate Oliver Taza.
He's had back-to-back submission only losses to Johnny Tama and Kade Ruotolo, but both matches were closely contested.
Watch: Ethan Crelinsten vs AJ Agazarm at ADCC World Championship 2017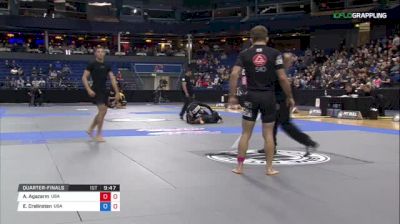 Unlock this video, live events, and more with a subscription!
Get Started
Already a subscriber? Log In
---
Pedro Marinho
Marinho has to be close to earning his black belt, right? He had a breakout performance at No-Gi Pans last year, winning the absolute bracket with his sensational guillotine choke after taking silver in the heavyweight bracket behind arch-rival Roberto Jimenez.
That showing stamped his ticket to ADCC 2019, where he had two tough draws, losing in the 88 kg bracket to the eventual champion, Matheus Diniz, and losing in the absolute bracket to Gordon Ryan.
At No-Gi Worlds, Marinho earned his revenge against Jimenez, defeating him in the heavyweight finals to earn gold.
He's been on a tear ever since. He took out four black belts at JitzKings in June, including a heel hook victory over Jimenez and a points win against Oliver Taza. He's been a mainstay on the Third Coast Grappling: Kumite series, guillotining Johnny Tama and fighting Vagner Rocha to an overtime loss.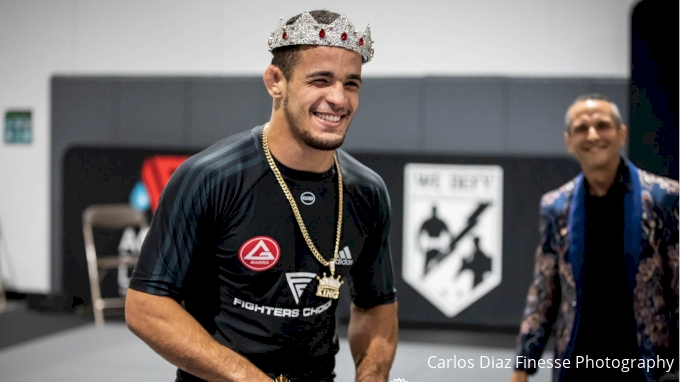 Pedro Marinho after winning JitzKings
---
Tye Ruotolo
Last year, Tye Ruotolo became the youngest competitor in history to reach the semifinals in ADCC. He beat veterans Bruno Frazatto and Pablo Mantovani to get there. Since then, he's defeated black belts Tom Halpin and Vagner Rocha and Renato Canuto.
Like others on this list, Ruotolo is developing a rivalry with Roberto Jimenez. Jimenez beat Ruotolo at Third Coast Grappling: Kumite III in overtime. Their second match was a back and forth affair, and was ultimately ruled a no-contest due to a refereeing mistake.
Ruotolo is only 17, and still a purple belt. So we could see him as a top contender for years to come.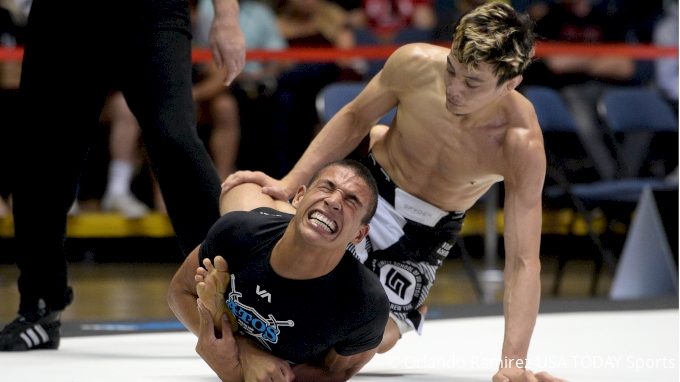 Tye Ruotolo vs Paulo Miyao at ADCC 2019
---
Kade Ruotolo
Although he didn't have an opportunity to show it at ADCC, Kade Ruotolo is every bit as tough as his twin brother. And he has the record to back it up. He submitted Jeremy Skinner and defeated Ash Williams via points to become the Grapplefest 70 kg Champ. He put on a show against Ethan Crelinsten at Who's Number One in June to win a close decision victory. Most recently, he edged out veteran black belt Vitor Olivera at Third Coast Grappling: Kumite V before losing to — who else? — Roberto Jimenez.
The Ruotolo brothers utilize a leg stepping pass system and a leaping D'Arce attack which has proven a challenge for even the best opponents.
Watch: Kade Ruotolo vs Jeremy Skinner at Grapplefest 7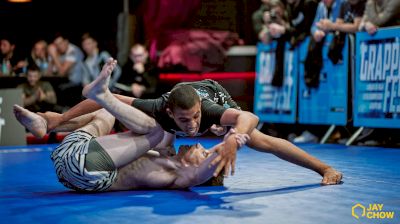 Unlock this video, live events, and more with a subscription!
Get Started
Already a subscriber? Log In
---
Nicky Ryan
Nicky Ryan was a late fill in for ADCC 2017, but in 2019 he earned his own way. At the West Coast Trials, he won each of his five matches by submission to stamp his ticket to ADCC. There, he took out Shane Jamil-Hill Taylor in the opening round before losing in the quarter finals.
Ryan is familiar with top talent. He beat Geo Martinez two years ago at Kasai 2, and he trains in one of the toughest no-gi rooms in the world, the famous "blue basement."
Now a brown belt under John Danaher, Ryan is coming off a loss to Tye Ruotolo at Who's Number One. But he's looking ahead.
Now competing in a higher weight class, we expect him to be a major wildcard in ADCC's always-stacked 77kg division in 2021.
---
William Tackett
William Tackett will fight anybody. The Fight to Win Middlewight Brown Belt No-Gi Champ held his own in the black belt open weight BJJ Fanatics Invitational in November as a purple belt. And once again, he's asking for tougher opposition.
He's already proven he belongs there at JitzKings in 2019, winning the tournament and submitting three-time ADCC trials winner Enrico Coco.
He's eyeing the trials podium, himself. In 2018, he made it to the semifinals of the East Coast Trials. This year, he wants gold.