Unlock this article, live events, and more with a subscription!
Get Started
Already a subscriber? Log In
Now the event is in the bag we take a quick look at the 3 on 3 team challenge event. A lot of crazy results to digest, here are the most noteworthy.
First check out the full results page here and watch the entire event replay.
Notable moments:
Samuel Nagai's first black belt match was against Fred Silva of Alliance Black Team, which he won via unanimous decision. We've been keeping an eye on him since he was a purple belt (watch this video from 2018 Worlds). He's got sick guard passing and nasty submissions, which we saw in his later match with Sam Snow of Alliance Gold team. Impressive stuff. His kneebar loss to Carlos Souza means he still has a lot of work to do but for a rookie black belt I'm excited and can't wait to see more.
Devhonte Johnson's win over Fellipe Andrew was huge– a career-best performance against a top-ranked super heavyweight. Devhonte – who we've seen everywhere from medium-heavyweight to super-heavy, said he's walking around at that upper end of that range right now, and intends to stay at that weight class. He was previously unranked, and this will certainly propel him into the top 10.
Lots of fast submissions tonight, many under 30 seconds: Marcelo Nunes caught Yuri Santos with a fast kneebar, Tex Johnson smashed on an ankle lock versus Michael Egley, Nathalie Ribeiro got Checkmat's fastest submission by beating Jo Maisonneuve via kneebar, and Fellipe Trovo tapped Seth Daniels with a triangle. All of these were 40 seconds or less.
Best comeback of the night goes to Team Lead's Emily Fernandez. She was getting mashed by Luciano Mota, who swept and mounted her early. Fernandez fought hard, found a way out and came back to win via armbar.
Levi Jones-Leary hit a rarely-seen baratoplata in his match with Samuel Snow. Fancy stuff.
The athletes with the most submissions were Kendall Reusing (3) and Jena Bishop (3).
In total there were 45 matches, and a huge 28 of them ended via submission (62.2%).
Rankings updates coming soon!
INTERVIEW: Team Gracie Barra Clams Subversiv 3 Title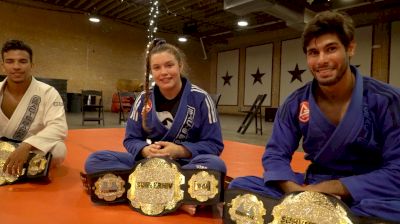 Unlock this video, live events, and more with a subscription!
Get Started
Already a subscriber? Log In