WNO: Gordon Ryan vs Matheus Diniz
The Stats Behind Gordon's Evolution | Grappling By The Numbers
The Stats Behind Gordon's Evolution | Grappling By The Numbers
Gordon reputation has him as a leglocker and a guard player. His jiu-jitsu has developed far beyond those narrow confines.
Sep 24, 2020
by Corey Stockton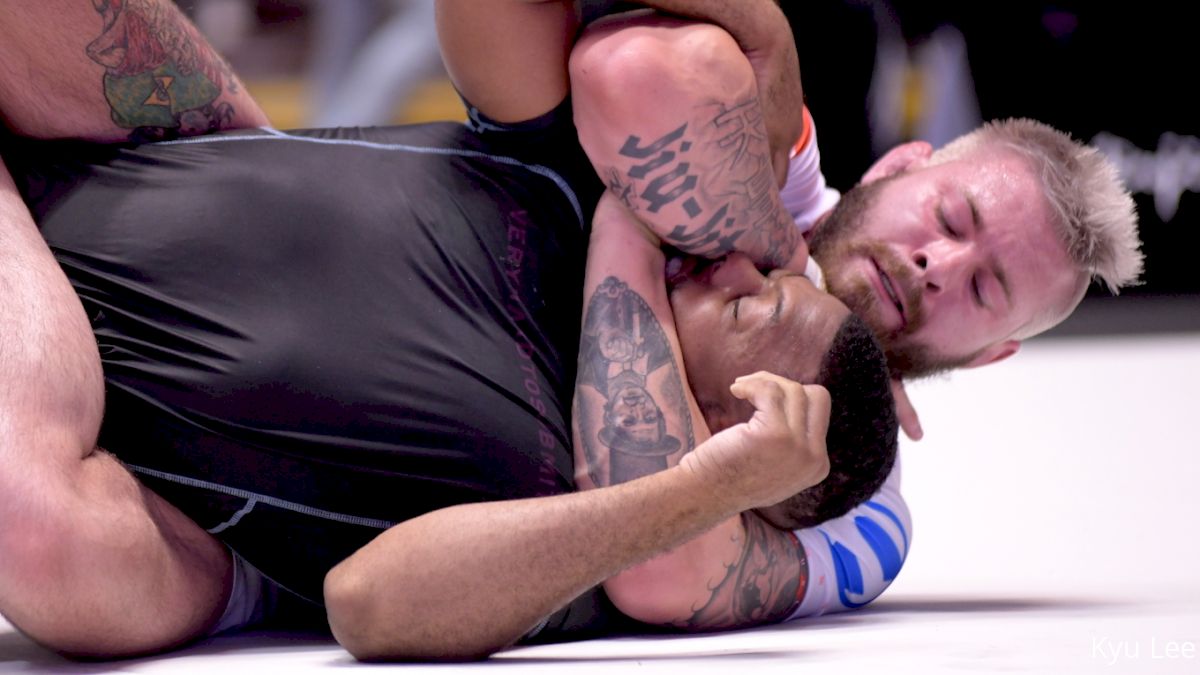 Unlock this article, live events, and more with a subscription!
Get Started
Already a subscriber? Log In
First impressions can really be a burden.
There's no denying it: Gordon Ryan was a leglocker when he burst onto the black belt scene in 2016. Gordon built his brand with devastating heel hook victories on platforms such as EBI, joining Garry Tonon and Eddie Cummings in the push for a new era of no-gi specialists.
But that was years ago. People change.
While Gordon has sustained a reputation as a leglocker and a guard player, his jiu-jitsu has developed far beyond those narrow confines.
Here are the numbers to back it up.
80% submission rate
This can't be overstated. Gordon Ryan has won 80 percent of his 80 total victories by submission. His finishing rate is similar even in the apogee of no-gi competition: the ADCC World Championship. He has won 15 of his 16 ADCC matches, and 11 of those victories — 73 percent — have been submissions.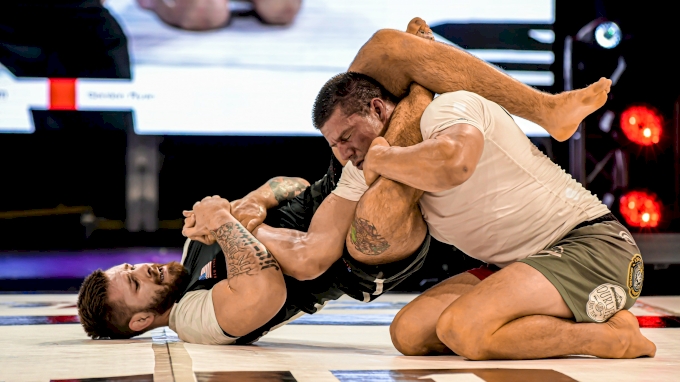 ---
34-win streak
Gordon has won 34 matches since the last time he lost a match. That loss was by points to Vinny Magalhaes at ACBJJ in 2018. To find Gordon's only submission loss, you have to look all the way back to 2017 when he lost to Felipe Pena by rear naked choke. Gordon has achieved 49 submission wins since that defeat. In total, Gordon has a 94-percent win rate with a record of 80-5.
13 heel hooks
Gordon has won via leglock in 16 matches since 2016. Thirteen of those have been heel hooks. But those numbers are mostly indicative of Gordon's early career. All but two of his heel hook victories came before 2018. Since then, Gordon seems to have shifted his attention to other means of ending his matches.

---
25 chokes
After his 88 kg gold medal run at ADCC 2017, Gordon quickly switched his focus from leg attacks to back control. He's always had a talent for finishing from the back; he had nine back control submissions before 2018. But John Danaher's straight jacket back control system became an obvious staple in Gordon's game over the last few years. To date, Gordon's achieved most of his submission wins from back control, where he has earned 25 victories by choke.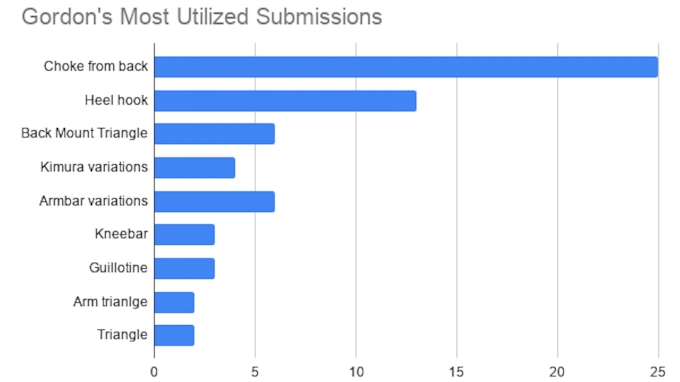 ---
21 minutes in top position
Despite being considered a guard player, Gordon spent much of his ADCC debut on top. In 72-minutes of offensive or neutral positions across eight matches, Gordon spent more than 21 minutes on top. He used the top position to take Romulo Barral's back for a choke, to submit Craig Jones and Keenan Cornelius.
He also spent a considerable length of time in leg entanglements, from which he achieved two submission victories.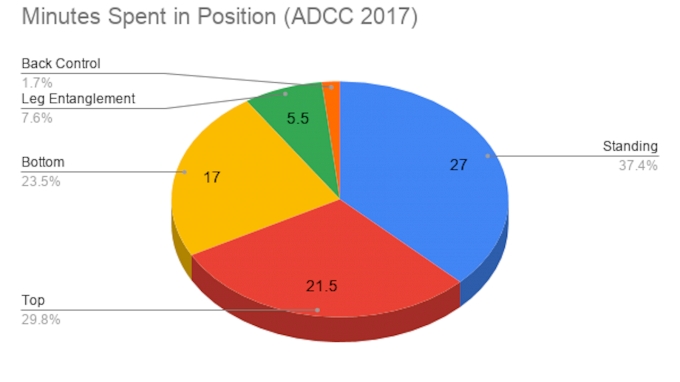 ---
5 submissions in 11 minutes
Gordon's approach seems to have changed when he made his second appearance at ADCC in 2019. He spent a total of 90 seconds in leg entanglements, and two of the three leg exchanges were initiated by his opponent. He spent less time fighting for takedowns, instead opting to pull guard and sweep to the top. But from the top, his sole aim seems to have been back control.
In total, Gordon spent more than 11 minutes behind his opponents. He earned four of his six back takes from top position, and submitted from the back in all but one opportunity. Lucas "Hulk" Barbosa was the only athlete that weekend to survive Gordon's back control.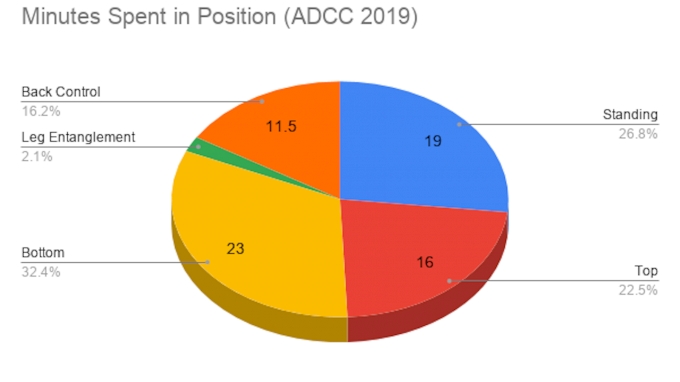 ---
The next evolution
From a small sample size this year, Gordon's victories have been opportunistic displays of control. In the main event at Who's Number One: Gordon Ryan vs Kyle Boehm, for example, Gordon appeared somewhat bored and frustrated by Boehm's passivity. But when Boehm tried to generate a leglock attack, Gordon used the opportunity to open up his offense.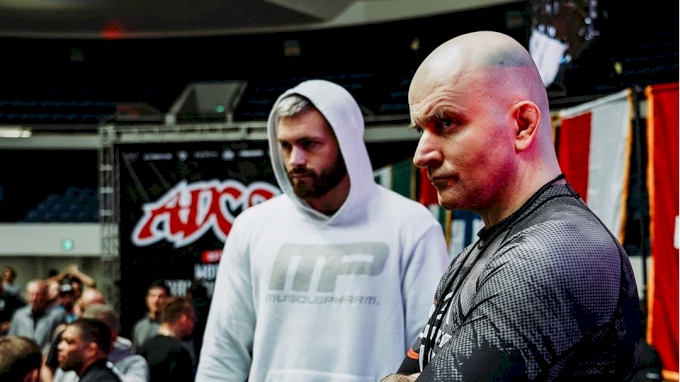 This open-ended style may signify a new wrinkle in Gordon's jiu-jitsu.
In a recent interview, John Danaher estimated that Gordon has not yet reached his full potential, and that his game is still developing rapidly.
"People may have a hard time believing me when I say this, but I think Gordon's made more progress in the last 12 months than he has in the previous four years," he said.
If this is true, what can we expect from the next evolution of Gordon Ryan?
We may not have to wait long to see. Matheus Diniz will be his toughest opponent in a year. He'll bring out the best of Gordon at Who's Number One: Ryan vs Diniz.
See every edition of Grappling By The Numbers | The Stockton Stats Report here.