Unlock this article, live events, and more with a subscription!
Get Started
Already a subscriber? Log In
In her debut at black belt, 18-year-old Grace "The Silent Assassin" Gundrum made quick work of her opponent, Pati Fontes. At Fight to Win 155 last weekend, Grace pulled Fontes into her butterfly guard, worked into closed guard and then climbed her legs up to a Dead Orchard: a popular position in the 10th Planet system which frames both of the defender's arms inside a closed triangle.
From there, it was typical Grace Gundrum. She inched Fontes deeper into the position methodically, withstanding a few slams and settling in mount before returning to her back to finish the armlock.
In less than three minutes, Grace won her black belt opener by submission over Fontes, a multiple-time no-gi world champion.
Watch: Grace Gundrum vs Pati Fontes At Fight to Win 155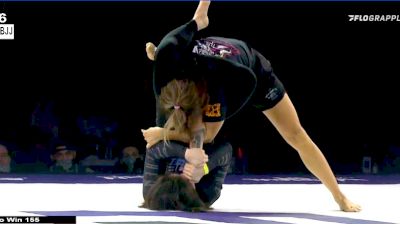 Unlock this video, live events, and more with a subscription!
Get Started
Already a subscriber? Log In
For those who haven't followed Gundrum's early career, this result might appear a major upset. But Grace had made a habit of earning shockingly easy submission regardless of her opponent.
Before earning her purple belt in April of 2019, Gundrum was part of a five-woman squad at the Quintet team tournament in Japan. There, she fought four-time IBJJF World Champion Rikako Yuasa to a draw.
A Prodigy Of The 10th Planet Style
Grace has been competing at superfights since she was 12 years old, when she fought at EBI 3. Since then, she has also competed at KASAI, Fight to Win, Submission Underground, the Onnit Invitational and Finishers Only.
Grace was born in China and she grew up in Pennsylvania, where she started practicing karate and jiu-jitsu at age four. She earned her karate black belt in just a few years, but left that behind to continue pursuing jiu-jitsu with her coaches, JM Holland and Zach Maslany at 10th Planet Bethlehem.
By age 10, Gundrum was competing in expert divisions at local tournaments and executing advanced moves.
"We took her out to (10th Planet) HQ and she rolled out there with some of the other kids her size, and she was hitting adult moves," Maslany said. "We were like, 'holy crap, she's really good. She has the opportunity to be next level if she sticks with it.'"
Holland and Maslany have taken Grace to train with 10th Planet founder Eddie Bravo regularly, and she's also trained with Geo Martinez, Jean Jacques Machado, the Miyao brothers, John Danaher, Reilly Bodycomb, and others. Maslany said that the diverse amount of training partners she's experienced has helped her flourish.
The Guard Player Has A Competitive Wrestling Record
Although Grace has relied on her tricky guard game in most competitions, she has been developing her wrestling for the last few years. She regularly works with her wrestling coach, former Lehigh University standout Jon Trenge. In 2018, she spent a season competing in wrestling and earned third at the Cadet & Junior National Championships in Fargo, North Dakota.
Watch: 100 lbs 3rd Place - Grace Gundrum, Pennsylvania vs Julianne Moccia, Maryland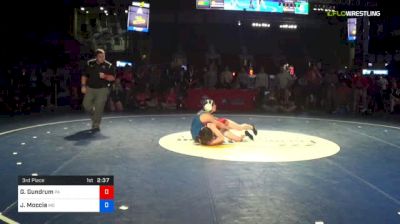 Unlock this video, live events, and more with a subscription!
Get Started
Already a subscriber? Log In
Maslany said that Grace's wrestling experience has allowed her to develop a standing game, but it has also added another layer to her jiu-jitsu.
"What really added to her game when she started wrestling is her head positioning, and hand fighting," Maslany said. That has helped Grace to close the distance and to bring the match into her guard, where she excels.
Grace Isn't In It For Fame Or Awards
Grace is currently the no. 7-ranked female grappler under 56 kg, and her most recent opponent is ranked no. 4. But it's unlikely that Grace knows these rankings. According to Maslany, Gundrum pays little attention to her own accolades. Nicknamed the Silent Assassin for her taciturn demeanor, Grace isn't outspoken on social media, and doesn't closely follow the trends or the top competitors in jiu-jitsu.
"She doesn't research jiu-jitsu at all," Maslany said. "Because she's not focused on what other people do… that makes her game so much different than anyone else's."
Grace doesn't seem motivated by trophies or awards. But she's still driven by competition.
"I think she just loves to compete," Maslany said. "She's really willing to take on anybody. I have to hold her back from taking a match against someone bigger than her."
What's Next For The Silent Assassin?
Still, Grace has her eyes set on ADCC, and will likely compete in the next West Coast Trials. In the meantime, she could be looking ahead to the top-ranked 56 kg-ers: Amanda Canuto, Talita Alencar and Mayssa Bastos.
Maslany said he would also like to see Grace in a matchup against some of the top women in MMA.
"I think it would be cool to see Grace go against Michelle Waterson or, like, Angela Lee," Maslany said. "It would be cool to see Grace try to stifle some MMA champions."
In the meantime, Grace is starting college soon, where she'll be pursuing a degree in computer science. And she's likely to continue building on the training that has gotten her to the top of her division. Maslany said that Grace went to wrestling on Saturday after her match with Pati Fontes; she trained on Sunday, and returned to her normal training routine on Monday morning.