Unlock this article, live events, and more with a subscription!
Get Started
Already a subscriber? Log In
Once in a generation an athlete will appear and do the unthinkable. Barriers will be broken, records will be set and names will be written into history books.
Rodolfo Vieira is one of those such figures. One of the best-known and most accomplished grapplers of the early 2010's, Vieira's meteoric rise to the top of the jiu-jitsu world signaled the arrival of a special talent. For five years he conquered title after title before abruptly transitioning to the world of mixed martial arts.
The grappling world's loss was MMA's gain. For the last three years Rodolfo has carved through the opposition. He has tested his ferocious style of jiu-jitsu in the cage against an increasingly difficult series of opponents, with his last two fights being in the UFC.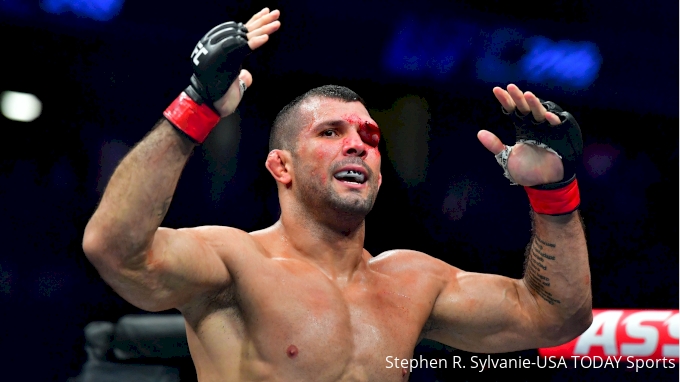 Words don't do justice to Rodolfo's grappling skill. Superlatives are easily dismissed as hyperbole, especially in the case of Vieira. You might not fully realize just how effective his grappling is until you dive into his career and thoroughly analyze his performance. Only then it becomes clear. This man stands apart.
There was only one way to get a proper idea of Rodolfo's grappling game now he's an MMA fighter and not just a world class black belt. I had to watch every single one of his seven MMA fights and catalogue every takedown, every guard pass, every second of positional control, and every submission.
The numbers paint an impressive picture. Based on his near-flawless execution of grappling technique in the cage, Vieira is by far the most dangerous jiu-jitsu convert currently active in MMA. I even compared his performance against other notable crossover fighters, and once again I was staggered by just how special he is.
---
Rodolfo Vieira's MMA Career at a Glance
Since making his MMA debut in February 10, 2017 Rodolfo Vieira has fought a total of seven times. He is undefeated and has finished all seven of his opponents, six via submission and one via TKO. Only two of his opponents have managed to make it out of the first round, and only one survived until the third round.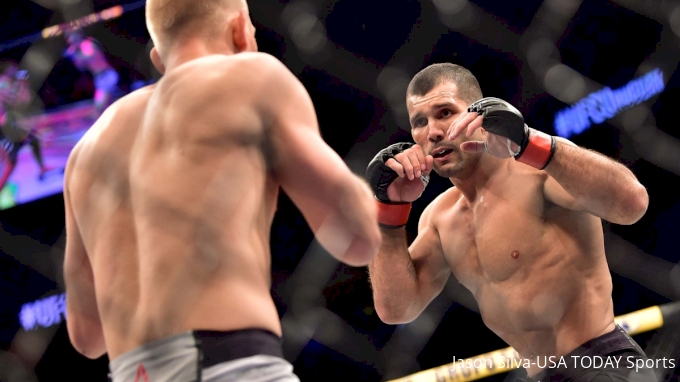 Rodolfo Vieira vs Oskar Piechota
Let's take a look at the quality of Vieira's opposition first. As you'd expect for somebody only three years into his MMA career, Vieira has fought a series of successively tougher opponents. All except one (Rakchal) had winning records, and a handful of them (Neufang, Nemchinov and Piechota) were proficient grapplers in their own right. The numbers below were Rodolfo's opponents' records at the time he fought them.
| | | | | |
| --- | --- | --- | --- | --- |
| Opponent | Wins | Losses | Wins via sub. | Losses via sub. |
| Daniyar Zarylbekov | 1 | 1 | 1 | 0 |
| Fagner Rakchal | 2 | 3 | 0 | 1 |
| Alexander Neufang | 3 | 2 | 3 | 0 |
| Jacob Holyman-Tague | 3 | 1 | 0 | 1 |
| Vitaliy Nemchinov | 10 | 0 | 3 | 0 |
| Oskar Piechota | 11 | 1 | 5 | 1 |
| Saparbek Safarov | 9 | 2 | 2 | 1 |
| TOTAL: | 28 | 10 | 14 | 4 |
It's interesting to note that Rodolfo handed two of his seven opponents their first submission loss. Also, three of his past opponents– Fagner Rakchal, Alexander Neufang and Jacob Holyman-Tague– have not fought again since losing to Rodolfo.
---
Rodolfo's Vieira Jiu-Jitsu in MMA
I'll admit that I wasn't prepared for what I discovered when tallying up the data for this study. Vieira has always had a reputation for his crushing top game– his friends and former rivals from his jiu-jitsu career are quick to describe the immense pressure he can generate (enough to break your jaw, they say). Watching his MMA fights I kept waiting to see him fight from bottom position, and it just never came.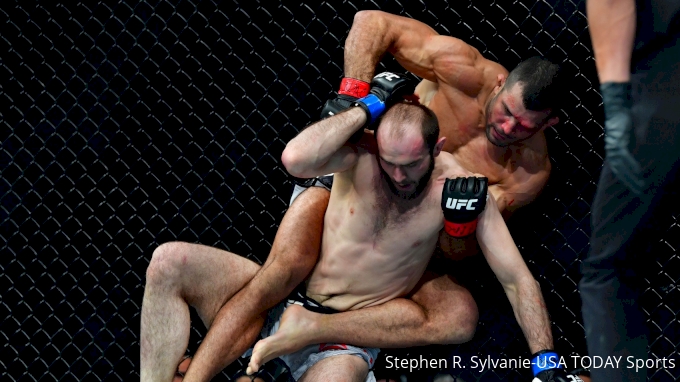 Rodolfo Vieira vs Saparbeg Safarov
Vieira has spent 39 minutes and 12 seconds in the cage. 16 minutes and 38 seconds of those were spent grappling on the mat– I didn't count the time spent wrestling against the cage, as I wanted to assess Rodolfo's jiu-jitsu. I saw him cycle through all of the classic jiu-jitsu positions; half guard, side control, knee ride, mount and back control. There was one place you'd almost never see Rodolfo though– he never went to his back.
| | | | | | | |
| --- | --- | --- | --- | --- | --- | --- |
| | Fight time | Time on ground | Top | % Top | Bottom | % Bottom |
| Daniyar Zarylbekov | 2:27 | 1:15 | 1:15 | 100.00% | | |
| Fagner Rakchal | 14:47 | 3:44 | 3:40 | 98.21% | 0:04 | 1.79% |
| Alexander Neufang | 3:42 | 2:54 | 2:54 | 100.00% | | |
| Jacob Holyman-Tague | 3:51 | 1:40 | 1:40 | 100.00% | | |
| Vitaliy Nemchinov | 2:01 | 0:40 | 0:40 | 100.00% | | |
| Oskar Piechota | 9:26 | 4:33 | 4:29 | 98.53% | 0:04 | 1.47% |
| Saparbek Safarov | 2:58 | 1:52 | 1:52 | 100.00% | | |
| TOTAL | 39:12 | 16:38 | 16:30 | 99.20% | 0:08 | 0.80% |
In nearly 40 minutes of fighting Rodolfo has spent a grand total of eight seconds in bottom position. Yes, you read that correctly: Eight. Seconds…
Four of those seconds were following a trip that saw Vieira fall to his back. Another four were when Oskar Piechota briefly sprawled and shut down one of his takedown attempts.
It would be flippant to tell Rodolfo's opponents "Don't let him get on top of you" but the truth is that's not an option: he WILL take you down, and he will be on top, as we have seen. And speaking of takedowns.
---
Rodolfo Vieira's Wrestling in MMA
Vieira has always had a reputation for being a strong wrestler, and that's not judging him by the vastly reduced standards of the jiu-jitsu community. Vieira is a good wrestler, period. Proof of that can be seen in his MMA results, where he employs a relatively simple yet tenacious wrestling game to get on top of his opponents.
| | | | |
| --- | --- | --- | --- |
| | Takedown attempts | Takedowns scored | Tdn % |
| Daniyar Zarylbekov | 1 | 1 | 100.00% |
| Fagner Rakchal | 11 | 3 | 27.27% |
| Alexander Neufang | 1 | 1 | 100.00% |
| Jacob Holyman-Tague | 7 | 4 | 57.14% |
| Vitaliy Nemchinov | 1 | 1 | 100.00% |
| Oskar Piechota | 7 | 3 | 42.86% |
| Saparbek Safarov | 2 | 2 | 100.00% |
| TOTAL | 30 | 15 | 50.00% |
His main attacks are the double and single leg, and he is incredibly persistent in getting his opponents down to the mat. In seven matches he has attempted a total of 30 takedowns and has a success rate of 50%.
It was only when I compared his takedown game to more established crossover names did I appreciate just how impressive this was. Vieira is one of the most accomplished jiu-jitsu representatives in MMA, but he's far from the only one. Consider World and ADCC champions such as Ronaldo Jacare, Gilbert Burns and Davi Ramos. All are considered fine examples of well-applied grappling in MMA, yet none can boast takedown accuracy like Vieira.
| | |
| --- | --- |
| | Tdn % |
| Antonio Carlos Junior | 44% |
| Davi Ramos | 40% |
| Ronaldo Jacare Souza | 38% |
| Gilbert Burns | 37% |
| Fabricio Werdum | 31% |
| Demian Maia | 26% |
| Ryan Hall | 16% |
* Information retrieved from www.ufcstats.com
---
Rodolfo Vieira's Submissions in MMA
With six submissions in seven fights, it's easy to see where Vieira's preference lies. He's put away every single person who's stepped into the cage with him, and all of his submissions have been via choke. He even told us he doesn't like hitting his opponents!
"It's not something I enjoy much, to be honest, beating people up," he told us. "What I really like is to get there and... I'm doing MMA, of course, so I have to hit people, so I should change that. I even joke often that if I manage to take a guy down - and he didn't hit me first - I'll avoid punching him as much as possible and will try to submit him. But the opponent usually hits me with some blow before I take him down so then I keep praying to put him down so I can hurt him. But only because he hit me first.
"If he doesn't hit me and I manage to take him down, then I only try to do jiu-jitsu. It's good, it feels real good ... not fighting MMA, for me fighting MMA is horrible, I hate it. But winning in MMA feels really good, submitting in MMA is very good, especially in the UFC."
Whereas Vieira often has to hustle his opponents down to the mat, once they're there it's seemingly a matter of time before he finds the finish. In five out of his six submission wins he only had to start a single submission attack. Only two opponents were able to escape from his submissions, with Rakchal slipping out of two loose attacks before succumbing, and Alexander Neufang squirming out of a choke only to be stopped via ground and pound.
Vieira's 85% submission rate in MMA places his ahead of his contemporaries, who I've included below for comparison.
| | | | |
| --- | --- | --- | --- |
| Notable MMA fighters with jiu-jitsu backgrounds | MMA wins | Wins via sub | Finishing rate |
| Rodolfo Vieira | 7 | 6 | 85.71% |
| Antonio Carlos Junior | 10 | 8 | 80.00% |
| Davi Ramos | 10 | 7 | 70.00% |
| Ronaldo Jacare Souza | 26 | 14 | 53.85% |
| Gilbert Burns | 19 | 8 | 42.11% |
| Fabricio Werdum | 24 | 12 | 50.00% |
| Demian Maia | 28 | 14 | 50.00% |
| Ryan Hall | 8 | 3 | 37.50% |
Whether Vieira can continue this run of dominance remains to be seen. As he progresses he will face tougher and more experienced foes who will be well informed and prepared to handle his grappling onslaught.
---
Summary: Rodolfo Vieira Is The Best Grappler in MMA
At this stage in his career it's maybe a little early to make such a bold statement. The 30-year-old has plenty of time to further develop his legacy, but I think the numbers speak for themselves. His relentless wrestling, his utter dominance on the ground and his laser-guided submission attacks make Rodolfo Vieira the most dangerous grappler currently active in MMA.
Vieira rose to the top of the jiu-jitsu world in short time. He debuted as a black belt in 2009 and won his first World title in 2011. This run of success culminated in him taking gold at the 2015 ADCC World Championships, widely known as the toughest no-gi tournament on the global grappling circuit. The title followed an incredible campaign in which he defeated the likes of Xande Ribeiro and Felipe Pena.
---
What's Next for Rodolfo Vieira: WNO vs Kaynan Duarte
Vieira takes his first no-gi match in over five years when he faces Kaynan Duarte on December 11, 2020 at Who's Number One. Duarte was named 2019 Black Belt of the Year for an incredible run that saw him claim ADCC gold, among many other accolades. The Atos rep is one of the very best exponents of the modern jiu-jitsu game, both gi and no-gi. His meteoric rise to the top of the grappling world elicits comparisons to Rodolfo's own early trajectory in the sport.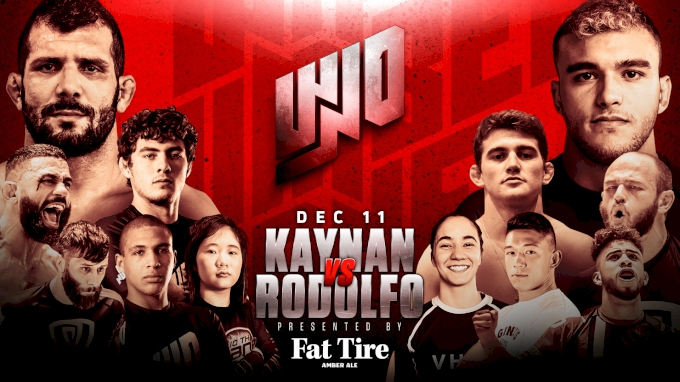 Dec. 11 on FloGrappling– Rodolfo and Kaynan will main event WNO
Held under submission-only rules, the match will pit 30-year-old Vieira against 22-year-old Duarte in a clash of styles and generations. They met once before in a gi match at the 2019 Spyder BJJ Invitational, a lackluster six-minute gi match that was decided by a single sweep.
Though Vieira has a laundry list of achievements in the gi he has trained with a singular focus since 2015 on developing his MMA game. Putting on a gi after over four years away and taking on the reigning world champ was maybe a step too far.
A no-gi match will be a lot more competitive as Vieira's never stopped wrestling or doing jiu-jitsu as part of his MMA training. And he's spent the last few weeks training in the pressure cooker that is Roberto Cyborg's gym Fight Sports in Miami. Not only is this one of the toughest rooms on the East Coast, but Cyborg has the honor of being the person to last submit Kaynan having heel hooked him in a superfight in September.
• Go inside Rodolfo Vieira's WNO Training Camp
I'm expecting this encounter to be much more competitive than either Kaynan's last match with Rodolfo or his match with Cyborg. Duarte looked untouchable when he recently cruised to gold at the IBJJF Pan No-Gi, and has been back in San Diego training with Andre Galvao and the assorted killers at Atos Jiu-Jitsu in preparation for this match.
It's unlikely Rodolfo will enjoy the same level of dominance versus Kaynan at WNO as he has enjoyed in his MMA career, as Kaynan is light years ahead in terms of grappling skills than anybody Vieira has faced. Whereas Rodolfo was out of his element in the gi at Spyder, he will be in nothing less than prime shape and fully focused to take on the technician Duarte.