Unlock this article, live events, and more with a subscription!
Get Started
Already a subscriber? Log In
Anyone who has trained with Grace Gundrum will tell you. She absorbs technical knowledge. She listens to feedback from her coaches, JM Holland and Zach Maslany, and incorporates new moves and ideas seamlessly into her game.
"She's the ultimate student," said 10th Planet founder Eddie Bravo. "She listens to instruction and goes out and executes. That's her secret weapon. She takes in knowledge and doesn't forget."
But Grace doesn't study jiu-jitsu on her own. She doesn't watch matches or technique videos. She doesn't analyze her opponents. She didn't know anything about the no. 3-ranked strawweight, Pati Fontes, before she faced her at Fight to Win 155.
Watch: Grace Gundrum Submits Pati Fontes With A Dead Orchard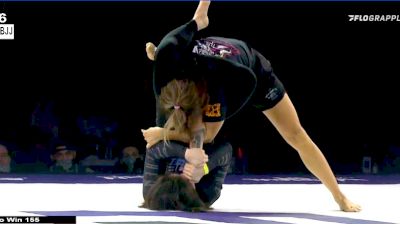 Unlock this video, live events, and more with a subscription!
Get Started
Already a subscriber? Log In
That was Gundrum's black belt debut, and whether she knew it or not, Fontes is a three-time no-gi world champion. It didn't matter to Grace, who pulled Fontes into her guard and submitted her in less than three minutes with a Dead Orchard.
It was a stunning performance, but not a deviation from the norm for Gundrum, who has gone undefeated in competition since she was 12 years old. She faced many of the most talented teens of her generation, and soon moved on to adult competition. In 2019, before earning her purple belt, Grace fought a multiple-time world champion, Rikako Yuasa, to a draw in the team-based Quintet tournament.
Tuning out the noise seems to have allowed Grace to focus on developing a style that is uniquely her own. "Because she's not trying to emulate anyone, she just does whatever move is best for her situation," Maslany said.
Grace's teammate, Jon "Thor" Blank, said her familiarity with her techniques and her ability to think through them in real time is one of the things that makes her such a challenging opponent. "She's so fluid with her motions, and you can tell she's mostly ad libbing it as she goes," Blank said.
Never outspoken, Gundrum has been nicknamed the Silent Assassin. She lets her jiu-jitsu speak for itself. While she's constantly pursuing competition, she seems disinterested in the spoils. After winning the Fight to Win title against Fontes, Grace gifted her championship belt to her academy 10th Planet Bethlehem, explaining it would otherwise live in a closet in her basement.
What she is interested in is further developing her jiu-jitsu in all spheres. "She makes the best decisions for her training. She really takes things seriously," Maslany said. "If me and JM suggest something to her and she thinks it's a good idea, she doesn't waste time implementing it into her daily routine."
Some of the regimens she's introduced include strength training and wrestling. Grace competed in freestyle wrestling for a season in 2018 and earned third at the Cadet & Junior National Championships in Fargo, North Dakota. She continues to work with her coach, former Lehigh University icon Jon Trenge.
Watch: Grace Gundrum Can Wrestle Too!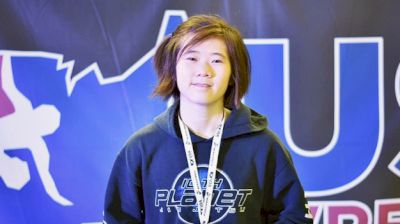 Unlock this video, live events, and more with a subscription!
Get Started
Already a subscriber? Log In
Grace is not only a 10th Planet prodigy, but also something of an important figure in American jiu-jitsu history. Gundrum received her black belt just a month after her 18th birthday, making her the youngest American woman to earn the rank.
She could earn another top honor on December 11th, when she's scheduled to take on the no. 1-ranked strawweight, Mayssa Bastos at Who's Number One: Kaynan Duarte vs Rodolfo Vieira. Gundrum, currently one spot behind Bastos, would take the top spot with a successful performance. It's unlikely that Gundrum knows much about Bastos. It's equally unlikely that the Silent Assassin cares where she fits into the rankings.
But Grace could cause shockwaves in jiu-jitsu with a win over Bastos, who has never been submitted in her black belt career. Bastos is a gi and no-gi world champion, an EBI champion, and will be Gundrum's toughest opponent to date. She's tackled every challenge put in front of her so far. She may surprise us again.