Unlock this article, live events, and more with a subscription!
Get Started
Already a subscriber? Log In
A truly great grappler is not only defined by the number of titles they have collected, but also the opponents they've beaten to earn those titles.
While some multiple time champions have dominated their divisions due to shallow talent pools, others have consistently bested icons of the sport. Those champions — the Gordon Ryans, the Buchechas, the Rodolfo Vieiras — deserve a separate measurement to distinguish them for their dominance among the best in the world.
FloGrappling's Power Rating does just that.
We've assigned a value to every major title in grappling, from Euros, Pans and Brasileros champion to ADCC and World Pro champion. Absolute titles are worth more. Every competitor who has earned one or more of the major titles is assigned a value based on the accolades they've collected. If the subject of study has defeated that opponent, that opponent's value gets added to the subject's power rating.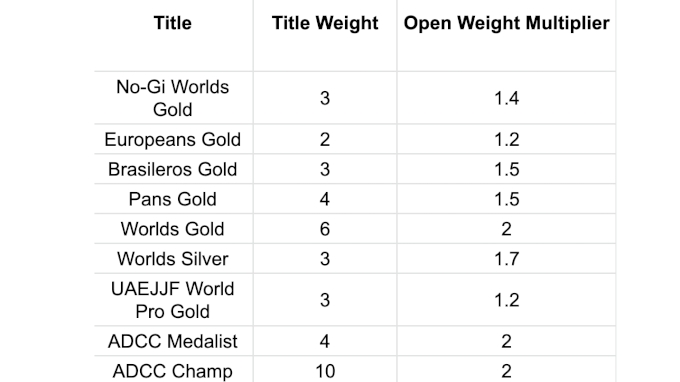 There's no better subject to start with than "The Black Belt Hunter," Rodolfo Vieira. Vieira was at the pinnacle of competition for six years, during an era when the super heavyweight roster was flooded with legendary opposition. Still, Vieira had an unfathomable rate of victory, winning nearly 90% of his career matches.
It's not only that he won, it's who he beat. Some of the most noteworthy names on that lengthy list include Braulio Estima, Xande Ribeiro, Andre Galvao, Bernardo Faria, Leandro Lo, and Marcus "Buchecha" Almeida.
Rodolfo has beaten 18 world champions, nine ADCC champions, and 20 Pans champions. For that, he's earned a power rating of 3,283. For perspective, the median value of his 32 opponents was 44.4, and the individual who contributed that value to Vieira's rating was a two-time world champion.
While 32 individual opponents have contributed points to Rodolfo's power rating, four of them are responsible for the lion's share. Xande Ribeiro, Leandro Lo, Andre Galvao, and Buchecha have the most — and the most prestigious — titles of anyone Rodolfo has beaten, so they account for more than half of his points.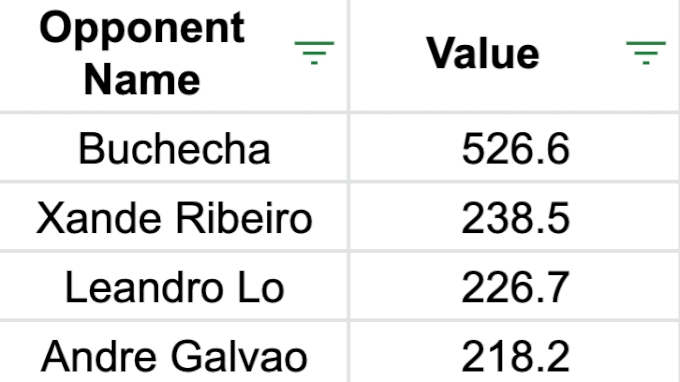 Vieira is one of just four men to have submitted Buchecha, and also one of the four men to have tapped Andre Galvao. He is the only person who can say he's submitted both of them, and for that, he's being heavily rewarded in his power rating.
The power rating gives a 50% bonus for having submitted an opponent. This drastically buffers Rodolfo's stats, as he's collected 63 submission victories in his career. In total, he's submitted nine world champions and four ADCC champions.
Vieira has very few black marks on his record. He's only lost to five individuals in his career, including Buchecha, who beat him five times. He's only been submitted once in his career, a loss to Dean Lister at ADCC via heel hook. Rodolfo's most recent defeat was to Kaynan Duarte in 2019.
For Duarte, that victory has helped to propel him to a high power rating of his own just two years into his black belt career. Duarte's current power rating is 1,443. Like Viera's rating, Duarte's rating benefits from a few major victories over outliers. His victories over Leandro Lo, Buchecha, and Rodolfo Vieira have contributed to 63% of his overall points.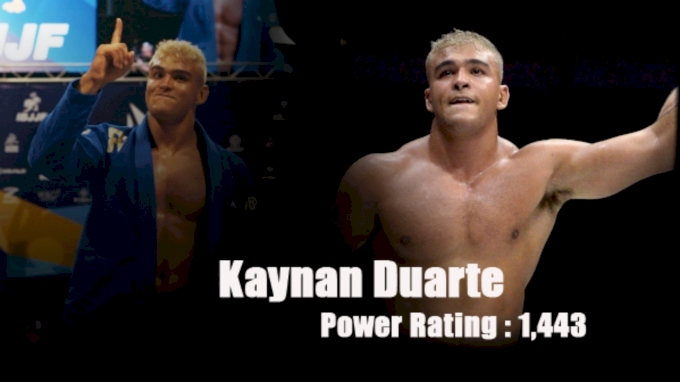 But Kaynan's power-rating is still growing. Most of Rodolfo's old rivals have retired after years collecting premiere titles. Most of Kaynan's cohorts, meanwhile, are still in the early stages of their black belt careers, and their values could grow over the next several years as they begin collecting championships.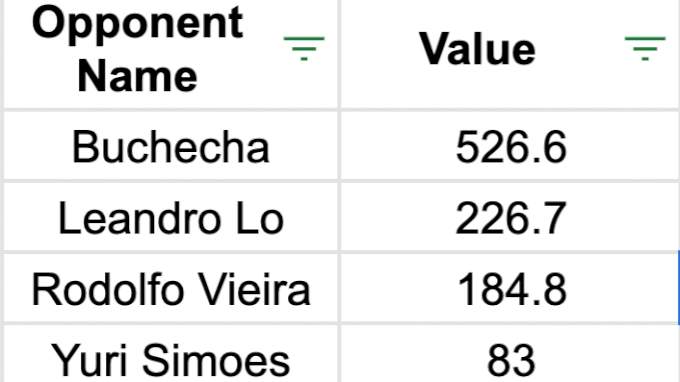 Kaynan has proven that he can beat many of the greatest of past and present generations, and he'll look to do it again on December 11 in the main event at Who's Number One against Rodolfo.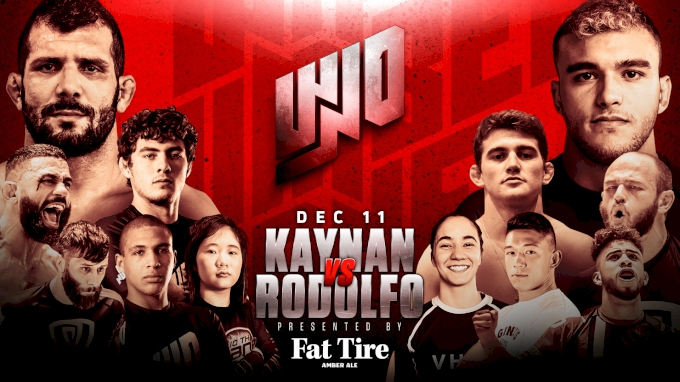 If Kaynan submits the legend, he could increase his power rating by 92 points, bringing him to 1,535. That will be no easy task. As previously mentioned, Rodolfo has only been submitted once in competition. Rodolfo has the numbers to back it up; he's one of the greatest competitors of all time.
But Kaynan has the potential to achieve similar greatness. Already, he's one of just two men to have beaten Rodolfo and Buchecha; the other was Joao Gabriel Rocha.